Calliope Productions
Presents
MONTY PYTHON'S "SPAMALOT"
A Musical by Eric Idle and John du Prez
Performances:
December 2, 3, 4, 9, 10 & 11, 2021 at 7:30pm
December 5 & 12, 2021 at 2:00pm
Calliope Productions, 150 Main Street, Boylston, Mass. 01505
Phone # 508-869-6887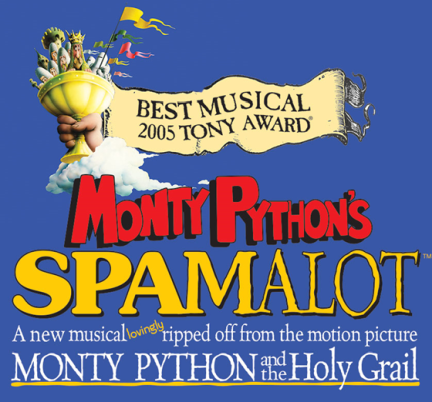 ABOUT THE SHOW
Lovingly ripped off from the classic film comedy MONTY PYTHON AND THE HOLY GRAIL, SPAMALOT is an irreverent retelling of the legend of King Arthur and his Knights of the Round Table, which features a bevy of beautiful show girls, cows, killer rabbits, and French people, not to mention classic musical numbers such as the inspirational "Fisch Schapping Song," the memorable "Song That Goes Like This," and the introspective "Always Look on the Bright Side of Life."
Anyone who has a Calliope TheatrePass, requires wheelchair seating, or cannot access online ticketing services should contact Calliope at 508-869-6887 for assistance.
COVID-19 PROTOCOL
IMPORTANT: In keeping with Calliope's current Covid-19 protocol, all performers and staff are fully vaccinated, and all audience members will be required to wear masks and present proof of vaccination or negative PCR test results.
For more information or to reserve or purchase tickets, please contact the Calliope box office at 508-869-6887.
We look forward to seeing you at the theatre!

ABOUT CALLIOPE PRODUCTIONS
Calliope Productions is a year-round non-profit theatre company founded in 1982 that serves the needs and interests of audiences and performers in the Central Massachusetts region. Calliope Productions presents six main-stage productions each year, and operates performance training workshops for students (ages 9 - 18) and adults. Calliope Productions is a member of the American Association of Community Theatre, the Eastern Massachusetts Association of Community Theatres, and the Worcester Cultural Coalition.
Calliope Productions
150 Main Street
Boylston, MA 01505
508-869-6887