The Hanover Theatre for the Performing Arts
Presents the Broadway Musical
"MEAN GIRLS"
Book By Tina Fey
Music By Jeff Richmond
Lyrics By Nell Benjamin
Director And Choreographer Casey Nicholaw
Additional Creative Team:
Scott Pask - Scenic Design; Gregg Barnes - Costume Design; Kenneth Posner - Lighting Design; Brian Ronan - Sound Design; Finn Ross & Adam Young - Video Design; Josh Marquette - Hair Design; Milagros Medina-Cerdeira - Makeup Design; Mary-Mitchell Campbell - Music Supervisor; Benedict Braxton-Smith - Music Director; John Clancy – Orchestrations; Glen Kelly - Dance And Incidental Music Arrangements; Howard Joines - Music Coordinator; The Telsey Office – Casting; Casey Hushion - Associate Director; John Macinnis - Associate Choreographer; Michelle Dunn - Production Stage Manager; Emma Ramsay-Saxon - Stage Manager; John Carpentier & Rachael Wilkin - Assistant Stage Managers; The Booking Group - Tour Booking Agency; Allied Global Marketing - Tour Marketing & Press; Thompson Turner Productions - General Manager; Micah Frank & Caroline Maroney - Associate Producers; Lorne Michaels, Stuart Thompson, Sonia Friedman & Paramount Pictures – Producers; Holly Coombs- Production Stage Manager - Broadway (NOTE: Information obtained from tour website subject to change)
Performances:
October 11, 12 & 13, 2022 at 7:30pm
October 14, 2022 at 8:00 pm
October 15, 2022 at 2:00pm and 8:00pm
October 16, 2022 at 1:00pm and 6:30pm
Presented at the Hanover Theatre for the Performing Arts, 2 Southbridge St., Worcester.
For More Information:
877-571-SHOW (7469)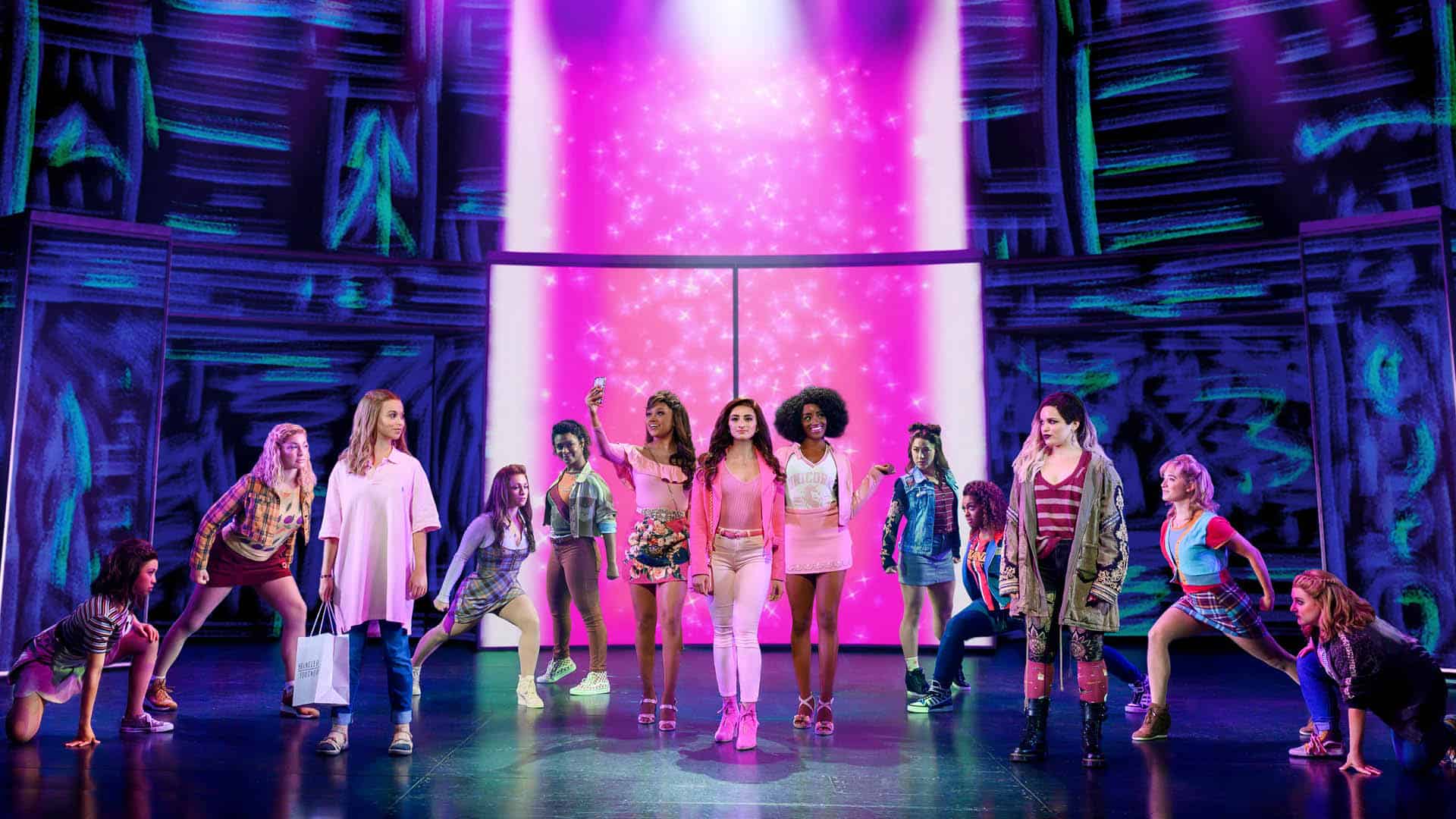 (Photo: CAST of the musical "Mean Girls" playing at the Hanover Theatre in Worcester, MA. Photo Courtesy of the Tour web site)
ABOUT THE SHOW
IT'S NOT A REGULAR MUSICAL. IT'S A COOL MUSICAL.
Vogue cheers, "MEAN GIRLS is HILARIOUS! The cast is sensational – expert comedians with fierce voices and acting chops to match."
MEAN GIRLS is a ferociously funny new musical from an award-winning creative team, including director Casey Nicholaw (Aladdin, The Book of Mormon), composer Jeff Richmond ("30 Rock," "Unbreakable Kimmy Schmidt"), lyricist Nell Benjamin (Legally Blonde), and book writer Tina Fey ("30 Rock," Bossypants).
Cady Heron may have grown up on an African savanna, but nothing prepared her for the wild and vicious ways of her strange new home: suburban Illinois.
How will this naïve newbie rise to the top of the popularity pecking order?
By taking on The Plastics, a trio of lionized frenemies led by the charming but ruthless Regina George.
But when Cady devises a plan to end Regina's reign, she learns the hard way that you can't cross a Queen Bee without getting stung.
Produced by Lorne Michaels, Stuart Thompson, Sonia Friedman, and Paramount Pictures, MEAN GIRLS gets to the hilarious heart of what it means to be a true friend, a worthy nemesis, and above all, a human being.
Contains adult language and situations.
Audio Description services available at the Sunday matinee performance, 1 pm

ASL available at the Sunday evening performance, 6:30 pm (If you are using ASL services, please let the ticket office know when you are ready to purchase tickets, so we can place you in seats in front of the ASL interpreter.)
COVID-19 PROTOCOL
Most recent Hanover Theatre safety protocol details may be found here:
https://thehanovertheatre.org/plan-your-visit/safety-protocols/

Worcester Center for Performing Arts is a registered not-for-profit 501(c)(3) organization, which owns and operates The Hanover Theatre and Conservatory for the Performing Arts. All donations are tax deductible to the fullest extent allow