Theatre Group of Millis
in Consortia with
Millis High and Middle Schools
Presents the

Disney and
Cameron Mackintosh
Musical
"MARY POPPINS

"
Based on the books of P. L. Travers and the classic Walt Disney film
Book written by Julian Fellowes
Music written by Richard & Robert Sherman, Anthony Drewe and George Stiles.
Directed by M.S. AtKisson
Music Director Mark Femino
Choreographer Stephanie Copice
Millis High School Auditorium, 245 Plain Street, Millis.

Performances:
March 24, 25, 31, 2023 and April 1, 2023 at 7:00pm
TICKETS
Adults $17.00
Seniors & Students $10.00
At the door ticket prices are: $20.00 for Adults/ $10.00 Seniors & Students
Tickets and further information www.millistheatre.org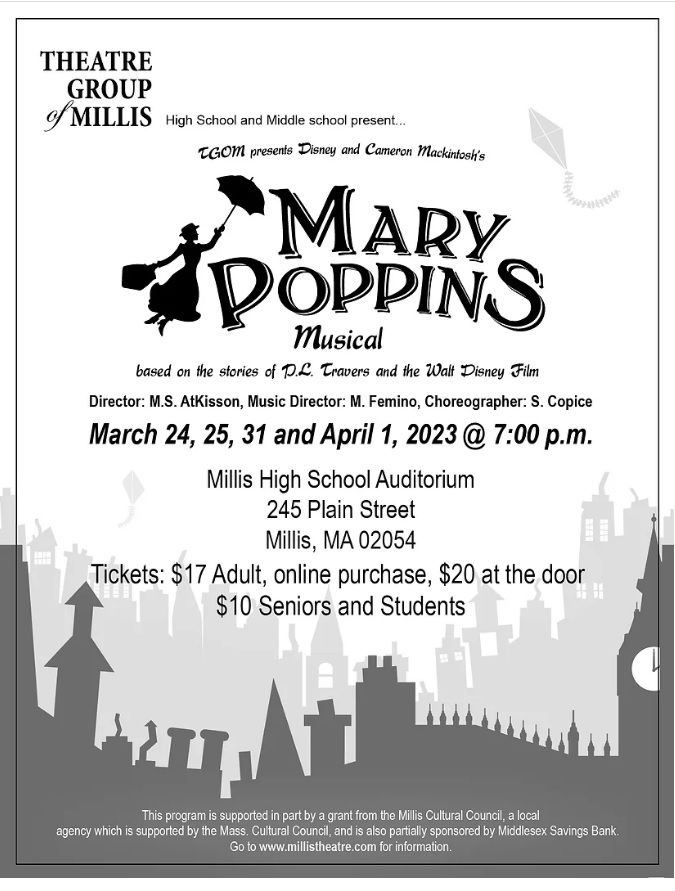 ABOUT THE SHOW
Based on the books of P. L. Travers and the classic Walt Disney film, "MARY POPPINS" has delighted Broadway audiences for over 2,500 performances.
The jack-of-all trades, Bert, introduces us to England in 1910 and the troubled Banks family.
Young Jane and Michael have sent many a nanny packing before "MARY POPPINS" arrives on their doorstep.
Using a combination of magic and common sense, she must teach the family how to value each other again.
Some of the most memorable songs ever written including "Spoonful of Sugar," Chim Chim Cheree," "Supercalifragilisticeexpialidocious" and others with choreography not to be missed.
This program is supported in part by a grant from the Millis Cultural Council, a local agency supported by the Mass. Cultural Council, and is also sponsored in part by Middlesex Savings Bank.
COVID-19 PROTOCOL
Please consult directly with venue for latest COVID-19 and any other health and safety protocols.
ABOUT THEATRE GROUP OF MILLIS
In early 1993, Millis resident Rya Lory offered an acting class through the Millis Recreation Department. Ms. Lory had a strong background in theater and dramatic arts in New York, and had recently moved to the Boston area, settling in Millis.Her original goal was for the student/actors to present script readings on stage. However, the amateur actors exceeded her goals, and presented their first play in November of 1993 — Neil Simon's comedy "Plaza Suite," which incidentally was a sell out!!!Since 1995, the Millis Theatre Group has become a non-profit community theater membership organization, which produces a fall and spring play each year.In 1992, the theater group formed a partnership with Millis Middle and High School, where the group volunteers production of an annual spring musical with the schools.