Westfield Theatre Group
Presents Scott McPherson's
"MARVIN'S ROOM"
Written by Scott McPherson
Director Michael Budnick
Co-Producer Eva Stockhamer
Co-Producer Sophie Stevenson
Stage Manager Lynnmarie May
Cast Includes:
Bessie: Tracy Grammer
Lee: Gilana Chelimsky
Dr. Charlotte/Nursing Home Director: Nichole Calero
Ruth: Theresa Allie
Hank: Joe Wilcox
Charlie: TBD
Bob/Marvin: John Golden
Dr. Wally: Jim Merlin
Performances:
October 14, 15, 21, and 22, 2022 at 7:30pm
October 22, 2022 at 2:00pm.
All performances will take place at the Westfield Woman's Club, 28 Court Street, Westfield, MA 01086. Phone # 413-572-6838
TICKETS: www.westfieldtheatregroup.com/reservations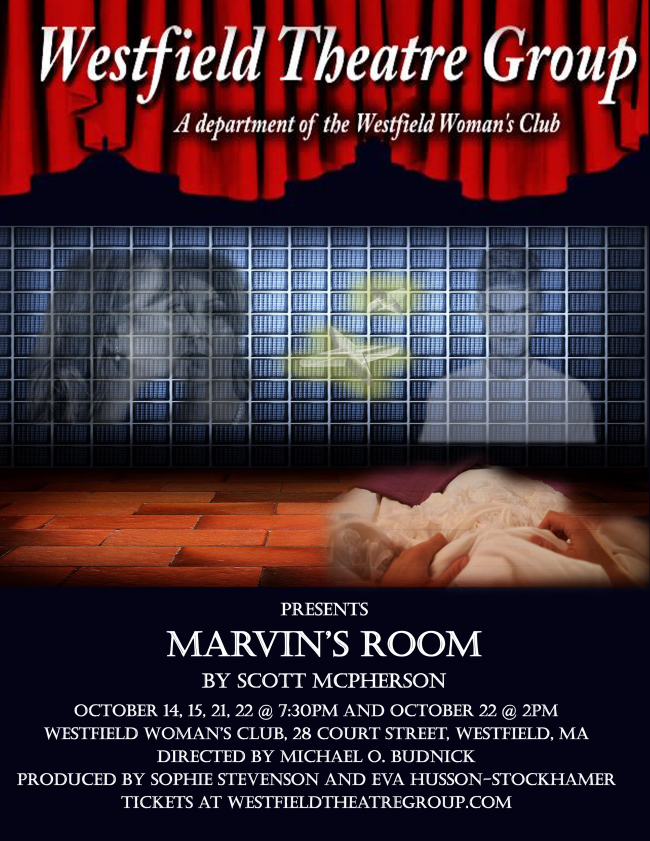 ABOUT THE SHOW
Bessie lives in Florida where she cares for her pain-ridden aunt and ailing father, Marvin, who is confined to his bed and unable to speak.
When Bessie is diagnosed with leukemia, her only hope is to contact her long-estranged sister, Lee, to see if their bone marrow is compatible for a transplant.
Lee reluctantly makes the trip from Ohio, bringing along her two sons, one of whom, Hank, has just been released from an institution after a wave of arson.
The sisters' reunion is uneasy at best, with long buried recriminations coming to the surface even as love slowly overwhelms Lee's veneer of selfishness and glib denial.
Bessie's challenge becomes reuniting Lee and Hank before he rejects her completely for her years of neglect.
Beloved for its mordant humor and unflinching wisdom, Scott McPherson's dark comedy "Marvin's Room" allows us a moving view of one woman's commitment to family and response to despair.

ABOUT WESTFIELD THEATRE GROUP
The Westfield Theatre Group is a department of the Westfield Woman's Club. Located at 28 Court Street in Westfield, the theatre group has been in existence for over 80 years. The purpose of the Westfield Theatre Group is twofold: to provide quality live theater to the community and to encourage members of the community to participate in our productions to learn more about theater. The group performs a full-length comedy or drama in the fall, with a full-scale musical production in the spring of each season. At times we have also produced holiday musicals written and directed by WTG members in December and an "Evening of One-acts" on occasion. The Westfield Theatre Group is open to all ages and abilities. We are always welcoming new members and experience is not required.
The Westfield Theatre Group
P.O. Box 1512
Westfield, MA 01086-1512
Phone # 413-572-6838