Theatre at the Mount
Presents
"MAN OF LA MANCHA"
Book by Dale Wasserman
Music by Mitch Leigh, Lyrics by Joe Darion
Directed by Terrie Hyde
Music Director David Twiss
Cast Includes: Chris Cenotti - Don Quixote; Andrea Moore - Aldonza; Craig Cormier - Sancho Panza; Jeremiah Riordon - The Innkeeper; Taylor Lawton - The Padre; Andy DeSisto - Dr. Carrasco/Knight of the Mirrors; Mitchell Grosky - The Barber; Victoria Sebastian - Antonia; Mindy Lordan - The Housekeeper.
Mount Wachusett Community College, 44 Green Street, Room 182, Gardner, MA.
Performance Dates:
February 24, 25, March 3, 4, 2023 at 7:30pm
March 5, 2023 at 2:00pm
Tickets are available online at mwcc.universitytickets.com or by phone at 978-630-9388.
For additional information contact Professor Gail Steele at 978 630-9162 or g_steele@mwcc.mass.edu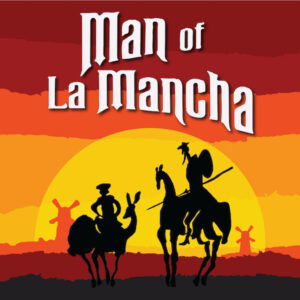 ABOUT THE SHOW
Inspired by Miguel de Cervantes' seventeenth century masterpiece, "Don Quixote," "MAN OF LA MANCHA" is one of the most successful musicals in Broadway history.
Powerful, brutal, hilarious, and heartbreaking, "MAN OF LA MANCHA" celebrates the perseverance of a dying old man who refuses to relinquish his ideals or his passion.
The celebrated score includes "Little Bird," "I, Don Quixote," "To Each His Dulcinea," and "The Impossible Dream."

Mount Wachusett Community College
444 Green Street
Gardner, MA 01440