The Majestic Theater
Presents the Broadway Smash Musical
"MAMMA MIA!"
Book by Catherine Johnson
Music and Lyrics by Benny Anderson and Bjorn Ulvaeus
Performance Dates:
September 8, 2022 through October 16, 2022
(Contact Box Office for Exact Times)
Tickets range from $31-37 and can be purchased at the box office or by phone at # 413-747-7797. All audience members must be fully vaccinated and wear masks inside the theater. Majestic Theater, 131 Elm Street, West Springfield, MA 01089
Love, friendship, and plenty of dancing and singing to the timeless music of ABBA make Mamma Mia a joyous celebration, which is the perfect way to kick off the Majestic Theater's 25th Anniversary season!
Joining in the festivities will be YOU and some of our Majestic friends, old and new, who have graced our stage over the years:
• Ben Ashley (The Buddy Holly Story, Miss Saigon, La Cage Aux Folles)
• Real-life mother and daughter duo Cate Damon (Blood Brothers, Enchanted April, Alabama Story) and Vivienne Damon (9 to 5, Guys & Dolls, The Miracle Worker)
• Paula Cortis (A Funny Thing Happened on the Way to the Forum, The Full Monty)
• Buzz Roddy (Stones in His Pockets, 33 Variations, Guys & Dolls)
• Robbie Simpson (Lost in Yonkers, The Last Five Years, Breaking Up Is Hard to Do)
• ... and 14 additional wildly talented cast members to be announced! Come join the party as we celebrate a quarter century of quality professional theater in West Springfield.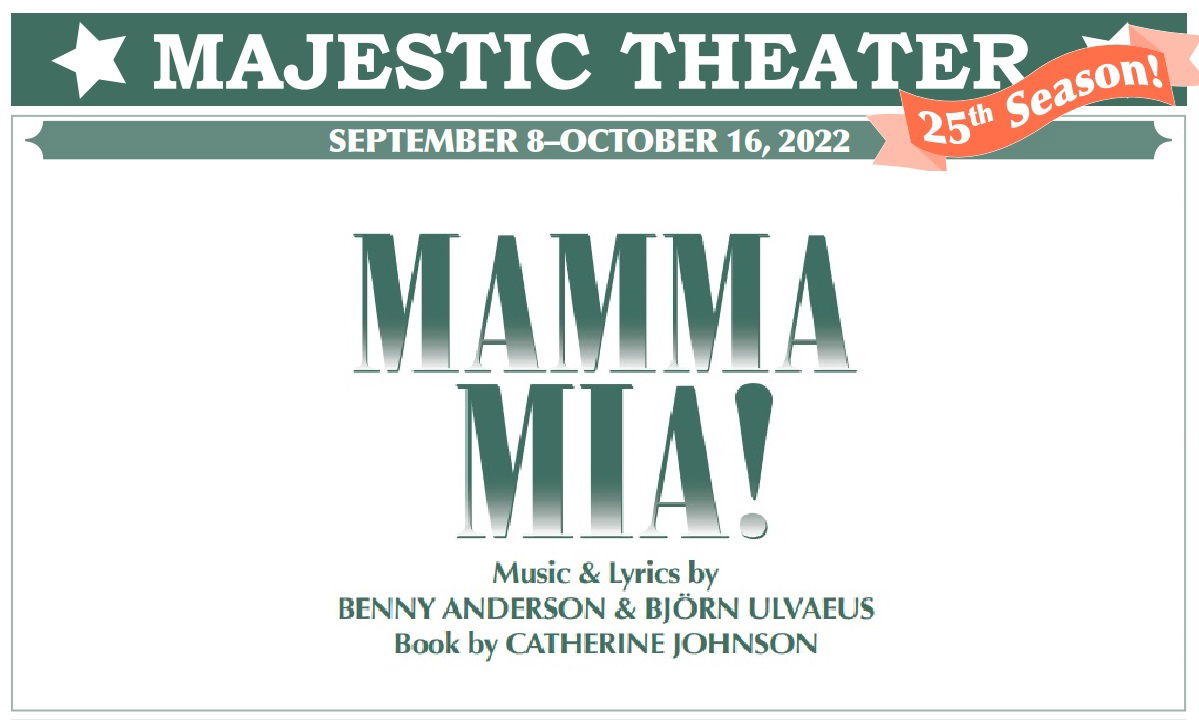 ABOUT THE SHOW
Mamma Mia tells the story of Donna, who lives a quiet life on a Greek Island, which is nearly upended when her daughter, Sophie, gets engaged.
Never knowing the identity of her father, Sophie hatches a scheme to invite the three men who may be her dad to the wedding.

ABOUT THE MAJESTIC THEATER
Locally-produced professional live theater since 1997Before it was a live theater, local residents may remember the Majestic Theater as a movie house. It has since been renovated and reimagined to bring live performances to the West Springfield area, giving local performance and technical artists the opportunity to thrive. Every season at the Majestic consists of five productions (including at least one musical) featuring local actors. In addition to the subscription season, the summer includes children's theater, concerts, plays, open mic nights, and improvisational comedy shows. Recently named the best place to see live theater in the Pioneer Valley in the Valley Advocate Readers' Poll, the Majestic continues to offer great theater thanks to the support and generosity of its 4200+ subscribers.
Majestic Theater
131 Elm Street
West Springfield, MA 01089
# 413-747-7797