Boston Lyric Opera
Presents Giacomo Puccini's
"MADAMA BUTTERFLY"
Music by Giacomo Puccini
Libretto by Luigi Illica and Giuseppe Giacosa
Stage Director Phil Chan
Cast Includes: Karen Chia-Ling Ho as "Butterfly"; Alice Chung as "Suzuki"; Dominick Chenes as "B. F. Pinkerton"; Troy Cook as "Sharpless"; Rodell Rosel as "Goro"; Vera Savage as "Kate Pinkerton"

"MADAMA BUTTERFLY" will be conducted by BLO Music Director David Angus and presented at the Emerson Colonial Theater

Performances:
September 14, 2023 through September 24, 2023
(Contact Box Office for Exact Times)
SUBSCRIPTIONS/TICKETS
Four- and three-part opera subscriptions (known as "Quartet" and "Trio" packages) are on sale now at BLO.org or by contacting Audience Services at boxoffice@blo.org or 617-542-6772. Individual tickets go on sale in July.
COVID 19 PROTOCOLS
Contact Venue for Most Updated COVID-19 Safety Protocols and Information.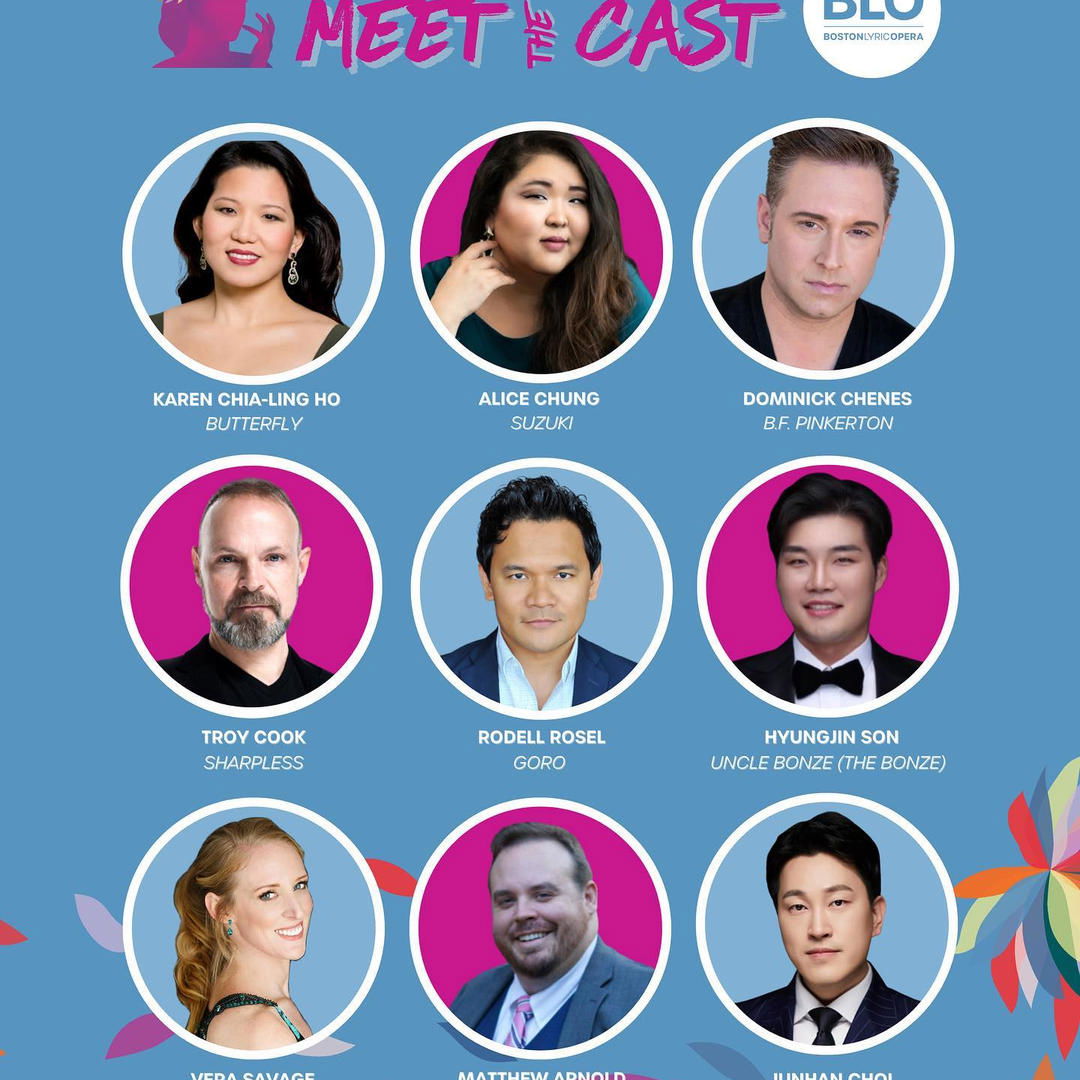 ABOUT THE SHOW
BOSTON LYRIC OPERA (BLO) opens its 2023/24 Season with a four-performance, two-week run of Giacomo Puccini's "MADAMA BUTTERFLY" – a title the company has not presented since 2012.
The production is directed by Phil Chan who makes his opera directing debut, with dramaturgy by BLO Artistic Advisor Nina Yoshida Nelsen, filmmaker/author Arthur Dong (Forbidden City, USA and Hollywood Chinese), and Indiana University Associate Professors Karen Inouye (Director, Asian American Studies Program) and Ashlyn Aiko Nelson.
Chan's production brings the story of Butterfly and American Naval Officer B.F. Pinkerton into the world of 1940s California, where many Japanese Americans lived, and racial prejudice was heightened by World War II.
Butterfly is a performer in a historically inspired world of Chinatown nightclubs of the time that employed Asian American artists and drew white American audiences by promising exoticism.
Butterfly and Pinkerton fall in love before he must leave her – and a son he never knew – for military duty in the Pacific Rim.
Swept up in a wave of xenophobia, Butterfly waits for her lover's return.
Chan says this new production tells a decisively American story. "All the characters in this 'BUTTERFLY' are American citizens, and none of the story takes place in Japan – or anywhere outside California," he says. "As we look to keep the artform thriving, we need to make its stories relevant to the audiences and the people of our time, while making sure the timeless Puccini score is still heard."
This production of "MADAMA BUTTERFLY" is the first to be informed by "The Butterfly Process," BLO's extensive exploration of how opera companies can build intentional and authentic productions that invite everyone to participate, inspire new thinking, and strengthen both communities and audiences through the music and stories presented.
Casting for "MADAMA BUTTERFLY" includes Karen Chia-Ling Ho as Butterfly, Dominick Chenes as Pinkerton; Alice Chung as Suzuki, Troy Cook as Sharpless, Rodell Rosel as Goro and Vera Savage as Kate Pinkerton.
Additional casting will be announced later.
The artistic team for "MADAMA BUTTERFLY" includes Set Designer Yu Shibagaki, Costume Designer Sara Ryung Clement, Lighting Designer Jeannette Oi-Suk Yew and Choreographer Michael Sakamoto.

ABOUT BOSTON LYRIC OPERA
BOSTON LYRIC OPERA (BLO) inspires, entertains, and connects communities through compelling opera performances, programs, and gatherings.
MISSION
VISION
To create operatic moments that enrich everyday life.
VALUES
Boldness - We tell evocative stories through music and drama on a large scale and in unexpected settings.  We celebrate the rich history of opera and promote adventurousness, which advances the art form, accesses our imaginations, and inspires new thinking.
Collaboration - Opera is deeply interconnected storytelling, music, and design on an ambitious level that requires many people's artistry, technical skill, passion, participation, and support. We nurture creative people and partnerships that are diverse in thinking and experiences, and we provide structure and support for everyone to thrive.
Connection - We nurture a vital ecosystem of relationships and exchanges that elevate the human experience and impact people.  These connections are the force that strengthens us and our communities.
Learning - We seek opportunities to learn new ideas and expand our minds, which drives progress. We create time and space to listen, engage and grow together.
Belonging - We are committed to storytelling that reflects a wide variety of perspectives and identities and invites everyone to participate. We create welcoming and accessible spaces that celebrate the uniqueness of our communities.
BOSTON LYRIC OPERA (BLO)
Administrative Office
Midway Artist Studios
15 Channel Center St. # 106
Boston, MA 02210
WEBSITE: www.blo.org