Commonwealth Shakespeare Company
Presents William Shakespeare's
"MACBETH"
Free Shakespeare on the Boston Common
Written by William Shakespeare
Directed by Steven Maler
Cast Includes: Faran Tahir* - Macbeth; Joanne Kelly - Lady Macbeth; Marianna Bassham* - Malcolm; Jesse Hinson* - First Witch; Nael Nacer* - Macduff; Maurice Emmanuel Parent* - Banquo; Joe Penczak* - Duncan/Siward; Daniel Rios, Jr.* - Ross; Fred Sullivan Jr.* - Sergeant/Porter/Doctor; Eviva Rose - Young Macduff; Ensemble: Lily Ayotte, Nick Baum, John Blair, Elijah Brown, Annika Burley, Alexa Cadete, Jack Greenberg, Jessica Golden, Bella Grace Harris, Cleveland Nicoll, Xander Viera.
* MEMBER OF ACTORS' EQUITY ASSOCIATION, THE UNION OF PROFESSIONAL ACTORS AND STAGE MANAGERS IN THE UNITED STATES
Performances:
July 19, 2023 through August 6, 2023
(Contact Box Office for Exact Times)
"MACBETH" will take place at the Parkman Bandstand on the Boston Common and performances are FREE of charge.
For more information visit commshakes.org.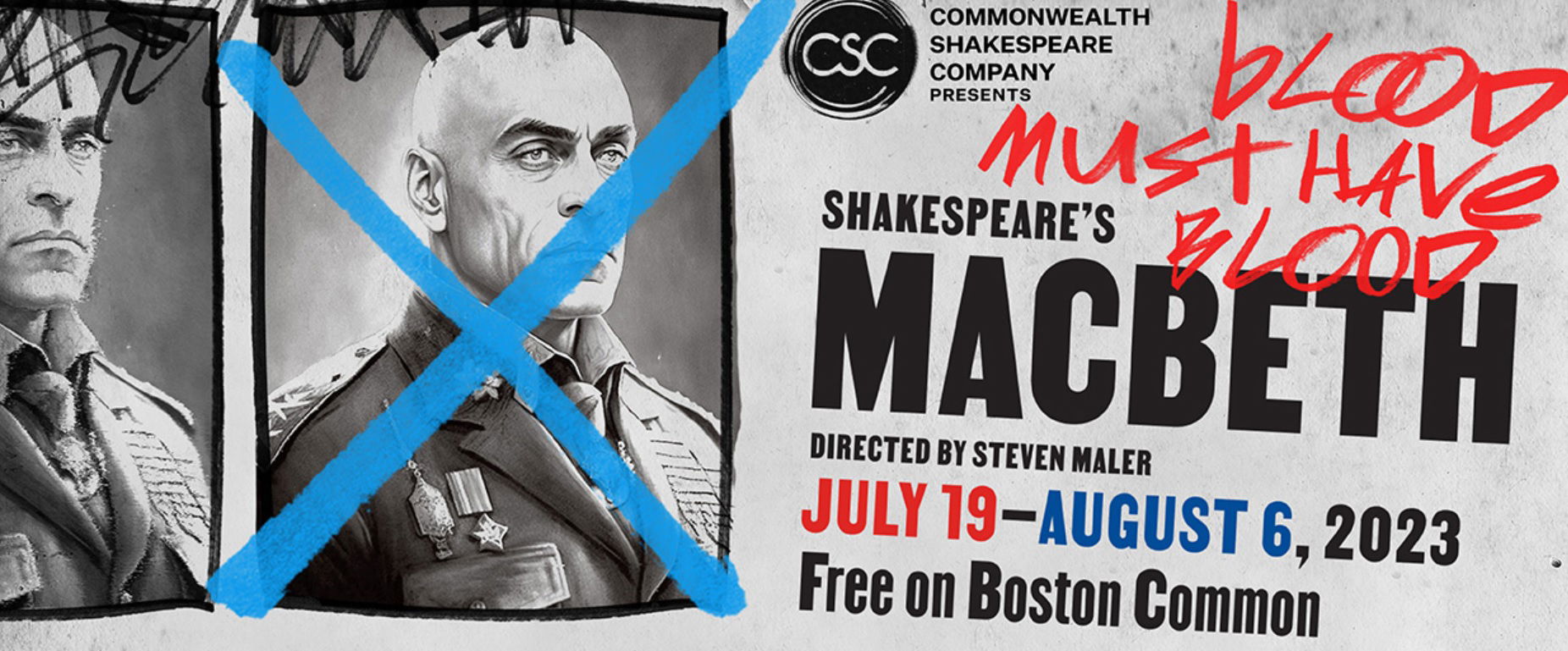 ABOUT THE SHOW
Amid intense civil strife and a decaying social fabric — an insurrection takes hold.
Consumed by ambition and prompted to action by his wife, "MACBETH'S" desire for power unleashes his unbridled hunger for power.
In Shakespeare's classic tragedy, an unexpected prophecy sends "MACBETH" (Faran Tahir) on a fervent and murderous quest to become the new King of Scotland.
A timeless story of ambition versus loyalty and a mainstay of Shakespeare's canon, our production of "MACBETH" will be directed by Commonwealth Shakespeare Company's visionary Founding Artistic Director, Steven Maler, and performed for FREE in the heart of Boston at the Parkman Bandstand on Boston Common.
This murderous tale explores the consequences of our choices when we lose our moral compass.
Audience members can bring blankets or chairs or can rent chairs in advance or on-site for $10 and are permitted to bring modest food items to consume at the show.
Seats in the CSC Friends section will be available for reservation in late May along with your donation.
Dinner-and-a-Show Packages will be available in partnership with Boston Chops Downtown Crossing.
CSC provides a range of accessibility services, including open captioning, assistive listening devices, and large print programs at every performance, and ASL interpretation and audio description at selected performances.
Audio Description and ASL Interpretation will be offered Saturday, July 29, 2023, at 8:00 PM and ASL Interpretation on Friday, August 4, 2023 at 8:00 PM, with a Rain Date for Audio Description and ASL Interpretation at Sunday, August 6, 2023 at 8:00 PM.
All Performances will be Open Captioned as part of our new Access Infrastructure Initiative, made possible through the generous support of the Richard and Susan Smith Family Foundation.
For more information visit commshakes.org.

ABOUT COMMONWEALTH SHAKESPEARE COMPANY
COMMONWEALTH SHAKESPEARE COMPANY (CSC) is dedicated to artistic excellence, accessibility, and education. We present plays of the highest artistic caliber that celebrate ideas and language to create dialogue around compelling issues of our time. We eliminate barriers – physical, economic, and cultural – to bring live theater to audiences throughout Greater Boston. We cultivate in young artists the value of community engagement, and collaborate with educators to bring literature to life in the classroom.