The Majestic Theater
Presents a NEW Comedy about OLD Love
"LOVE, MILLY & MURRAY"
Written by T. Emerson

Performance Dates:
October 27, 2022 through December 4, 2022
(Contact Box Office for Exact Times)
Tickets range from $31-37 and can be purchased at the box office or by phone at # 413-747-7797. All audience members must be fully vaccinated and wear masks inside the theater. Majestic Theater, 131 Elm Street, West Springfield, MA 01089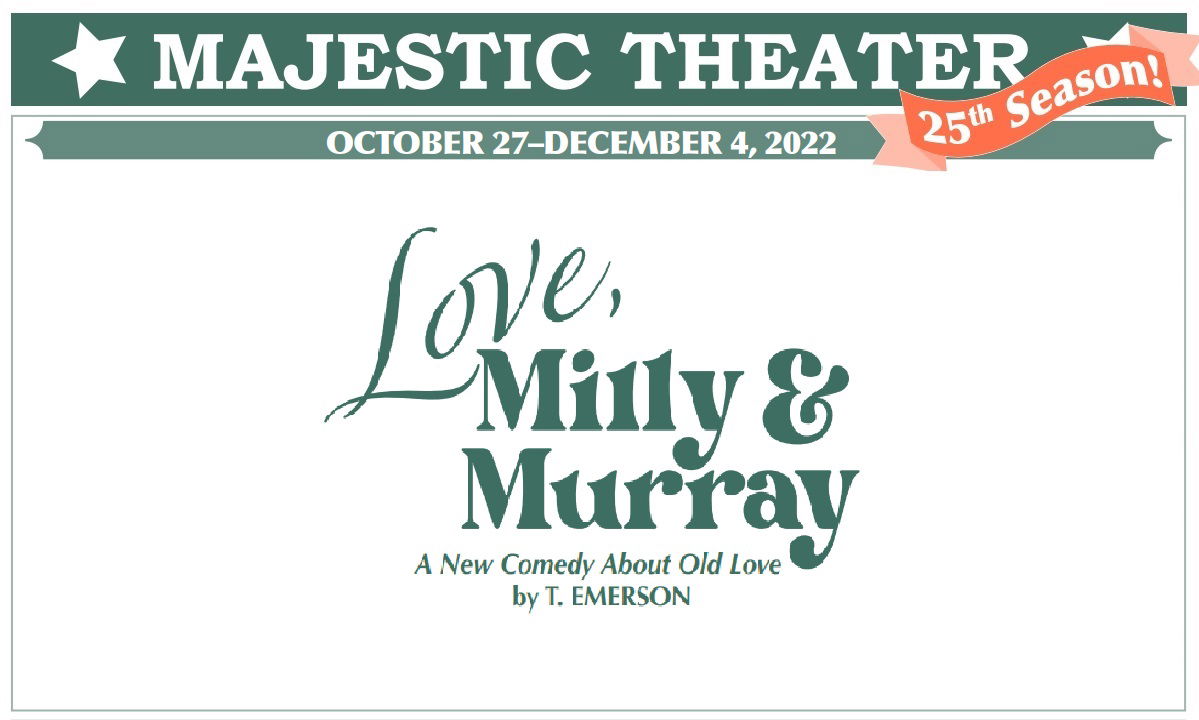 ABOUT THE SHOW
Milly and Murray have been married for 57 years.
Their well-practiced routines, revolving around constant medical appointments, banter and barbs, are the stuff of true love, which is on full display as these two laugh, play, joke and dance their way through their anniversary in their little kitchen, where a couple of sandwiches and the radio are all they need.
Even though their age-related ailments are mounting, both believe that "laughter is the best medicine".
While anxiously awaiting a doctor's telephone call, they replay their lives, telling stories from the past and allowing us a window into their perfectly imperfect love story.
Come and enjoy this poignant and funny love story—the Heinz 57 of love—and theirs is a sauce that we can all treasure!

ABOUT THE MAJESTIC THEATER
Locally-produced professional live theater since 1997Before it was a live theater, local residents may remember the Majestic Theater as a movie house. It has since been renovated and reimagined to bring live performances to the West Springfield area, giving local performance and technical artists the opportunity to thrive. Every season at the Majestic consists of five productions (including at least one musical) featuring local actors. In addition to the subscription season, the summer includes children's theater, concerts, plays, open mic nights, and improvisational comedy shows. Recently named the best place to see live theater in the Pioneer Valley in the Valley Advocate Readers' Poll, the Majestic continues to offer great theater thanks to the support and generosity of its 4200+ subscribers.
Majestic Theater
131 Elm Street
West Springfield, MA 01089
# 413-747-7797