Presents Kevin Cunningham's
A Faithful Adaptation of Louisa May Alcott's Novel for the Theater
Written by Kevin Cunningham
Cast Includes: Laura O'Brien as "Louisa May Alcott/Hannah"; Jim Douglas as "Thomas Miles, Jr./Mr. Lawrence"; Brittany Kimlingen as "Meg"; Margaret McLoughlin as "Jo"; Katarina Bromkamp as "Beth"; Sophie Marcus as "Amy"; Amy Stoelzel as "Marmee"; Jake Wyse as "Laurie"; Jordan Miller as "Mr. Brooke"; Alan Marcus as "Mr. Davis/Dr. Bangs/Father (silhouette)"; Bonnie Theriault as "Aunt March"; Stephen Clark as "Professor Bhaer"
Performances:
February 23, 2024 through March 3, 2024
(Contact Box Office for Exact Times)
THE BRADLEY PLAYHOUSE, 30 Front Street (Route 44) in Putnam, CT.
TICKETS:
All seats reserved. Reservations may be made with a major credit card online at www.thebradleyplayhouse.org or by calling 860-928-7887.
COVID 19 PROTOCOLS
Contact Venue for Most Updated COVID-19 Safety Protocols and Information.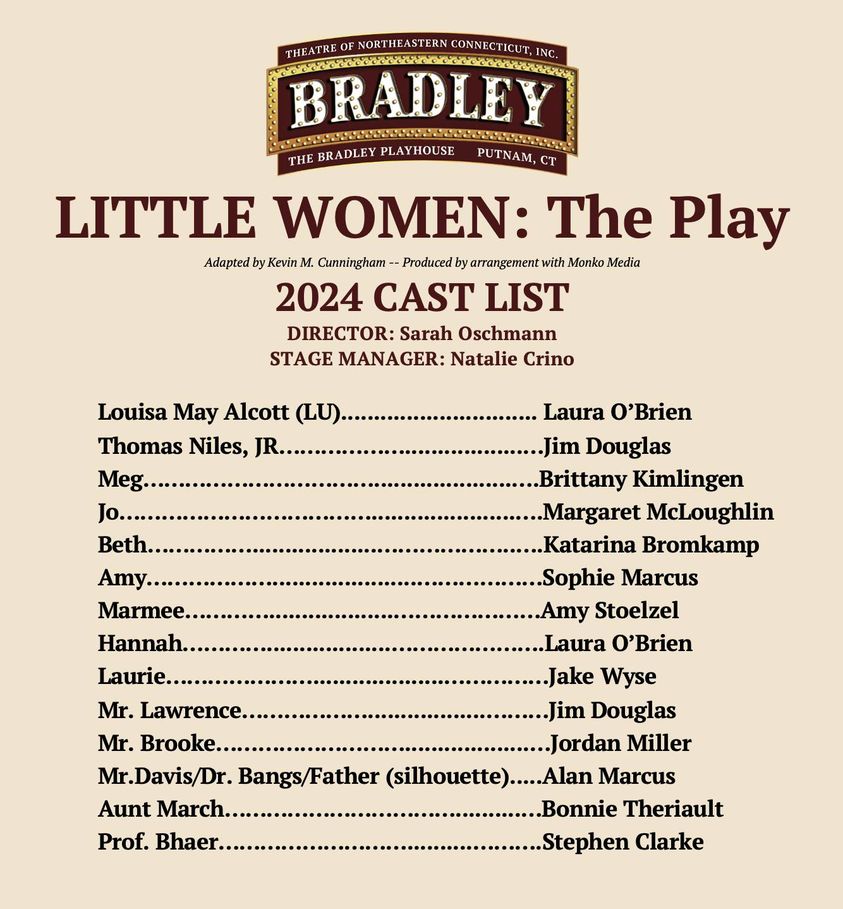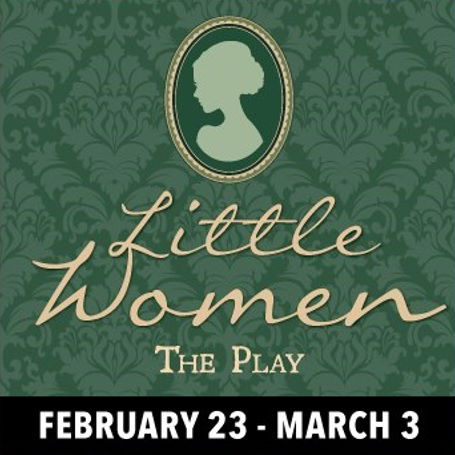 ABOUT THE SHOW
The most faithful adaptation of Louisa May Alcott's "LITTLE WOMEN" for the theater -- and for the casual reader.
Adapting a beloved 400+ page novel for the stage presents a challenge: can any theatrical version really stay true to the heart and spirit of Alcott's timeless "story about girls"?
Many dramatized versions (both stage and screen) eliminate critical events, or even stop at the first half of the book, leaving you wondering: "Huh? What happens to Meg, Jo, Beth, and Amy next? Where are my favorite scenes?"
Kevin Cunningham's full-length play version of "LITTLE WOMEN" is different: all the dialogue (and even the stage directions) are taken directly from the novel you love, preserving intact the full journeys of Meg, Jo, Beth, and Amy.
From their forlorn "Merry Christmas" through their heartaches, disagreements, tragedies, and joys; meeting new friends and finding their "heart's true loves"; taking their "pilgrim's journeys" from selfishness to compassion -- "LITTLE WOMEN THE PLAY" includes all the essential elements of Alcott's story.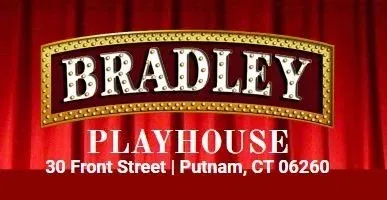 ABOUT THE BRADLEY PLAYHOUSE
THE BRADLEY PLAYHOUSE is a 117 year-old vaudeville theatre in the heart of the Putnam antiques and restaurant district in the "Quiet Corner" of Northeastern Connecticut. Since 1991, THE BRADLEY PLAYHOUSE has been managed by the volunteers of The Theatre of Northeastern Connecticut, Inc. (TNECT).
ABOUT THEATRE OF NORTHEASTERN CONNECTICUT (TNECT)
TNECT produces eight main season shows per year and a number of special fundraising events for The Bradley Playhouse Restoration Fund. TNECT's mission is to produce and sponsor quality theatre and entertainment for the residents of Northeastern Connecticut and the surrounding areas, to encourage the development of creativity through the support of local artists, and to support education and hands-on experience in the creation, direction, and production of theatre and the performing arts.
30 Front Street
P.O. Box 71
Putnam, CT 06260-1942