Huntington Theatre Company
Presents Taylor Mac's
"JOY AND PANDEMIC"
In Association With Magic Theatre
Written by Taylor Mac
Directed by Loretta Greco
Calderwood / BCA, 527 Tremont Street, Boston MA 02116
Performances:
April 21, 2023 through May 21, 2023
(Contact Box Office for Exact Times)
Tickets: $25 - $175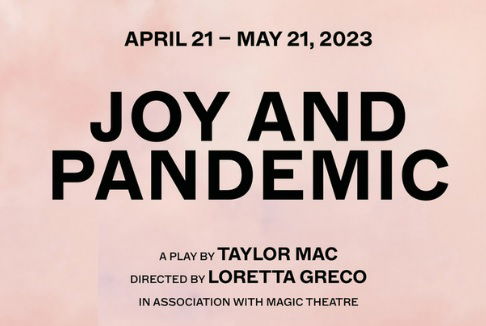 ABOUT THE SHOW
"JOY AND PANDEMIC" questions how our passions regarding family, art, and war impact the very meaning of our lives.
As Joy finds her Philadelphia children's art school at risk in a burgeoning public health crisis, she hopes to keep her dream of the school alive.
When her unyielding faith runs up against another mother's beliefs, an afternoon in the early 20th century transforms the world for both of their daughters for decades to come.
With infinite humor and insight, MacArthur Fellow Taylor Mac and The Huntington's new Artistic Director Loretta Greco explore the complex and ever-evolving relationships between science and faith, art and tradition, and parents and children.
COVID 19 PROTOCOLS
COVID Safety Protocols: For the safety and comfort of all who attend our shows, masks must be worn at all times throughout the building unless actively eating or drinking concessions, available for purchase during intermissions.

ABOUT THE HUNTINGTON THEATRE COMPANY:
The Huntington Theatre Company is Boston's leading professional theatre and one of the region's premier cultural assets since its founding in 1982. Recipient of the 2013 Regional Theatre Tony Award, The Huntington brings together superb local and national talent and produces a mix of groundbreaking new works and classics made current to create award-winning productions. The Huntington runs nationally renowned programs in education and new play development and serves the local theatre community through its operation of the Calderwood Pavilion at the BCA. The Huntington has long been an anchor cultural institution of Huntington Avenue, the Avenue of the Arts, and will remain so on a permanent basis with plans to convert the Huntington Avenue Theatre into a first-rate, modern venue with expanded services to audiences, artists, and the community. The Huntington cultivates, celebrates, and champions theatre as an art form.
For more information, visit huntingtontheatre.org.