Valley Light Opera
Presents Gilbert & Sullivan's
"IOLANTHE"
Libretto by W. S. Gilbert
Music by Arthur Sullivan
Stage Director: Ted Blaisdell
Music Director: Aldo Fabrizi
Cast Includes: Thom Griffin as "Chancellor"; Matt Roehrig as "Lord Mountararat"; Charlie Berrios as "Lord Tolloller"; Michael Gonzalez as "Strephon"; Robin Parsons as "Private Willis"; Kathy Blaisdell as "Fairy Queen"; Elizabeth Neill as "Iolanthe"; Elaine Crane as "Phyllis"; Donna Griffin as "Celia"; Heather Williams as "Leila"; Cassidy Pawul as "Fleta"
Fairies: Ekua Ampiah-Bonney, Lisa Amato, Elysse Link, Mae Philippe-Auguste, Tara McKenna, Nina Fischer, Adriana Morelli, Amy Schrom, Amanda Seymour, Nina Pollard, Nicole Wetherell, Romy Negrin.
Peers: Richmond Ampiah-Bonney, Steven Williams, Thomas Klansek, Gordon Freed, David Mix Barrington, Kevin Cox, Paul Peelle, Mark McMenamin, Zachery Varricchione, James Kitchen, William Tobey.
Performances:
November 3, 2023 through November 12, 2023
(Contact Box Office for Exact Times)
Tickets will be available from the Academy of Music box office on-line, by telephone, by e-mail, in person, or even by mail.
THE ACADEMY OF MUSIC BOX OFFIC

E
boxoffice@academyofmusictheatre.com
413-584-9032 x 105
Tickets: www.aomtheatre.com
Box office hours: Tuesday-Friday 3pm-6pm, and one hour before each performance.
To be held at the Academy of Music, 274 Main Street, Northampton, MA 01060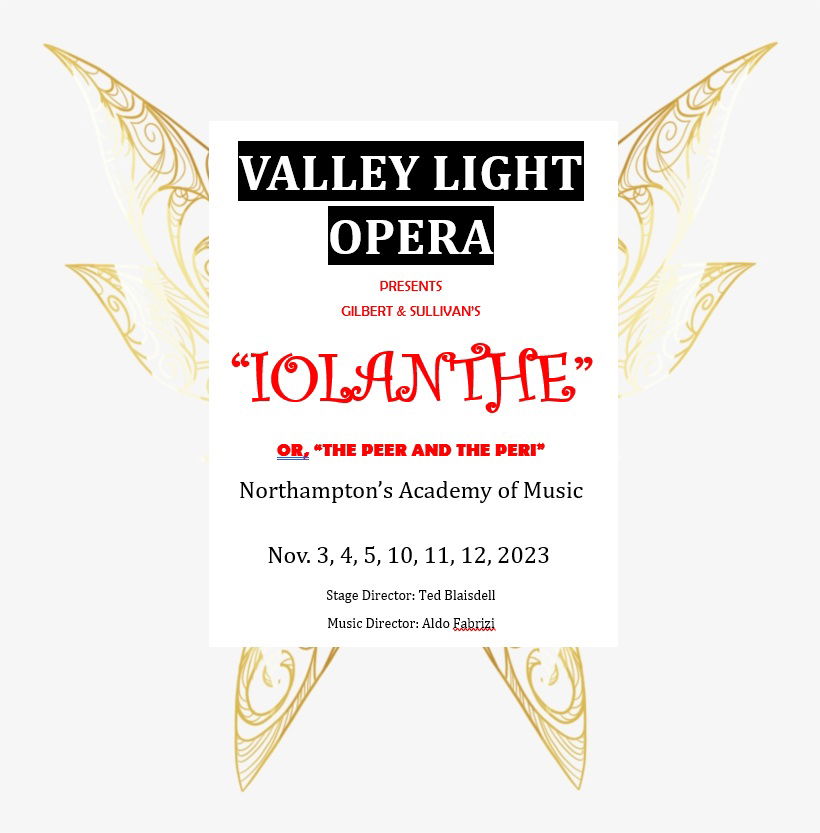 ABOUT THE SHOW
In "IOLANTHE" (or "The Peer and the Peri") Strephon, an Arcadian shepherd, wants to marry Phyllis, a Ward of Chancery. Phyllis does not know that Strephon is half fairy (his upper half — his legs are mortal!) and when she sees Strephon kissing a seemingly young woman, she assumes the worst.
But her "rival" turns out to be none other than Strephon's own mother, "IOLANTHE", a fairy — fairies never grow old.
But Phyllis' guardian, the Lord Chancellor, and half the peers in the House of Lords are sighing after her.
Soon the peers and the fairies are virtually at war, and long friendships are nearly torn asunder.
"IOLANTHE" opened in 1882, three nights after the final performance of Patience at the same theatre, and ran for 398 performances.
Gilbert had taken pot shots at the aristocracy before, but in this "fairy opera," the House of Lords is lampooned as a bastion of the ineffective, privileged and dim-witted.
The political party system and other institutions also come in for a dose of satire.
Yet, both author and composer managed to couch the criticism among such bouncy, amiable absurdities that it is all received as good fun.
Both Gilbert and Sullivan were at the height of their creative powers in 1882, and many people feel that "IOLANTHE", their seventh work together, is the most perfect of their collaborations.(gsarchive.net)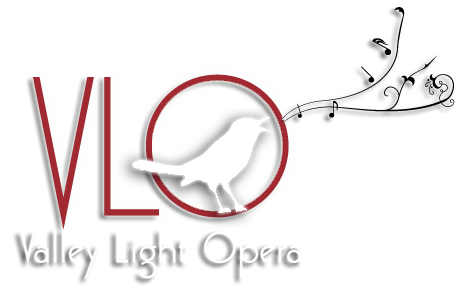 ABOUT VALLEY LIGHT OPERA
THE VALLEY LIGHT OPERA, Inc., is a volunteer-run nonprofit organization based in Amherst, Massachusetts. Founded in 1975 by a group of Gilbert and Sullivan devotees, the VLO presents a fully-staged opera every fall at the Academy of Music in Northampton, with less formal productions each spring.
VALLEY LIGHT OPERA
PO Box 2143
Amherst MA. 01004-2143