Studio Theatre Worcester
Presents
"INTO THE BREECHES!"
The men may be off at war...but the show must go on!
Written by George Brant
Directed by John Somers
Cast Includes: Jessica Rogers, Christina Pierro-Biggins, Jim Douglas, Patricia "Sirena" Esper, Vincent Pellegrino, June Dever, Megan Paulzzi, Juli McGourty.
Additional Creative Team Includes: Co-Producer - Kim Dexter; Co-Producer - Rob Klimeczko; Assistant Director - Katie Moran; Tech Director/Designer - David Plante; Costume Designer - Doreen Croteau; Marketing/Social Media - Kim Bourassa; Dramaturg - Lydia Cochran; Assistant Dramaturg - Aya Khoury;ASM/Production Assistant - Jodi Schoolcraft.
Cole Porter Black Box Theatre, Worcester Academy Performance Center, 14 Marion Avenue, Worcester, MA. 01604
Performances:
December 9, 2022 through December 18, 2022
(Contact Box Office for Exact Dates and Times)
Studio Theatre Worcester presents award-winning playwright George Brant's "INTO THE BREECHES!"
For tickets and more information visit: www.studiotheatreworcester.org
"INTO THE BREECHES!" is presented by arrangement with Concord Theatricals on behalf of Samuel French, Inc. www.concordtheatricals.com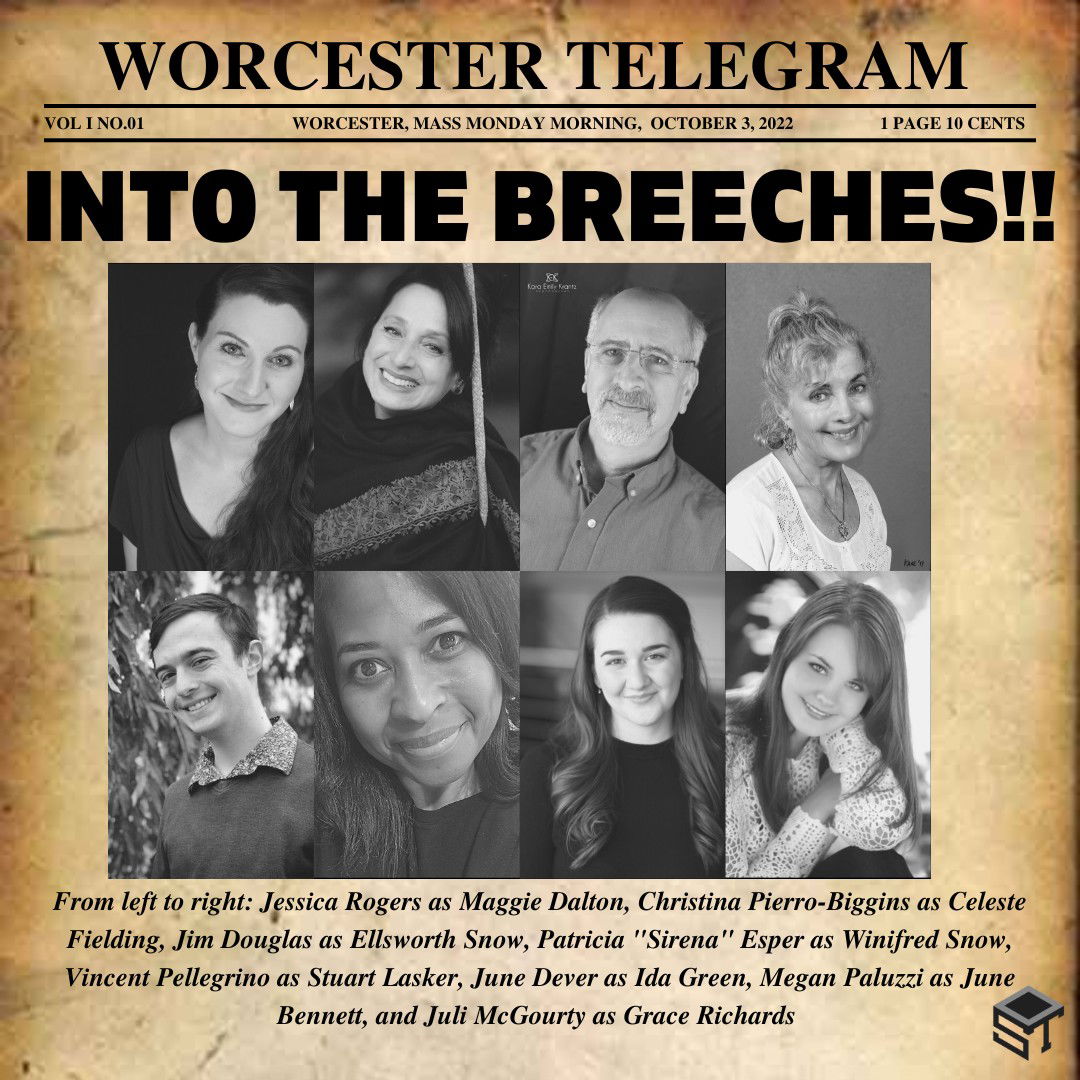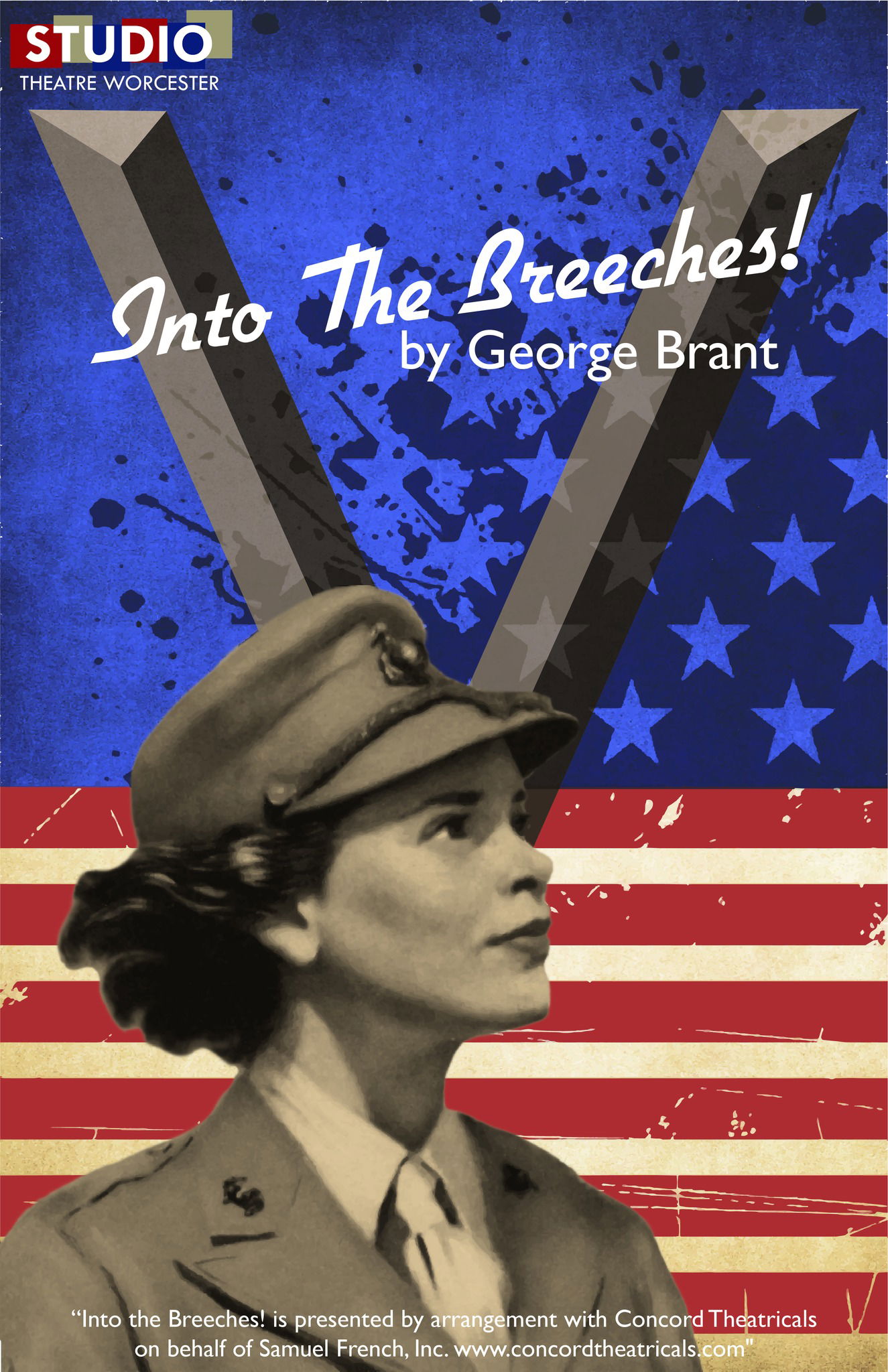 ABOUT THE SHOW
"INTO THE BREECHES!" by George Brant is a laugh-out-loud love letter to theatre and to all those who love it
Oberon Play House's director and leading men are off at war with the Axis.
Determined to press on, the director's wife sets out to produce an all-female version of Shakespeare's Henriad, assembling an increasingly unexpected team united in desire, if not actual theatre experience.

ABOUT STUDIO THEATRE WORCESTER
MISSION
Studio Theatre Worcester is committed to a differentiated, professional theatre experience that reflects the diversity and vibrancy of Worcester communities. Our high quality, theatrical productions and education programs inspire and challenge our audiences while providing compensated opportunities for artists.
VISION
Studio Theatre Worcester will be the professional theatre of choice for artists, designers, educators, and theatre goers in Central Massachusetts.
VALUES:
Produce QUALITY productions that elicit VISCERAL experiences for our patrons. Foster INCLUSIVITY, DIVERSITY, and EQUITY throughout all areas of our organization. Encourage continued learning by providing EDUCATION opportunities. Promote and invest in the use of LOCAL talent. Invest in INNOVATION to keep the costs of our productions and classes affordable. Develop a strong bond with the COMMUNITY. Identify and DISMANTLE SYSTEMS that inhibit access to theatre. Build SUSTAINABLE VALUE through fiscal responsibility.