Calliope Productions
Presents
"GILLIGAN'S ISLAND THE MUSICAL"
Words and Music by Hope and Laurence Juber
Book by Sherwood Schwartz and Lloyd J. Schwartz
Based on the TV Show "Gilligan's Island" created by Sherwood Schwartz
Performance Dates:
May 18, 19, 20, 26 & 27, 2023 at 7:30pm
May 21 & 28, 2023 at 2:00pm
Calliope Theatre, 150 Main Street, in Boylston, MA.
Tickets: https://www.ticketstage.com/T/CALLIOPE
Contact the Box Office at 508-869-6887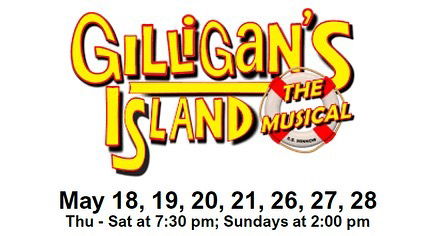 ABOUT THE SHOW
"GILLIGAN'S ISLAND: THE MUSICAL" is a family-friendly stage musical version of the ever popular and iconic 60's TV comedy show "GILLIGAN'S ISLAND."
Shipwrecked on a remote Pacific island, the seven castaways build huts and begin to explore their surroundings.
They discover strange hieroglyphics in a spooky cave, which speak of an ancient legend.
The weather gets rough, Gilligan foils the best-laid of the castaway's rescue plans…romance develops…the castaways have an out-of-this-world encounter…it's fun, wacky and entertaining with 18 original, tuneful and memorable songs.

ABOUT CALLIOPE PRODUCTIONS
Calliope Productions

is a year-round non-profit theatre company founded in 1982 that serves the needs and interests of audiences and performers in the Central Massachusetts region. Calliope Productions presents six main-stage productions each year, and operates performance training workshops for students (ages 9 - 18) and adults.

Calliope Productions

is a member of the American Association of Community Theatre, the Eastern Massachusetts Association of Community Theatres, and the Worcester Cultural Coalition.
Calliope Productions
150 Main Street
Boylston, MA 01505
508-869-6887