Exit 7 Players
Present
"FOOTLOOSE"
Book by Dean Pitchford, Walter Bobbie
Music by Tom Snow, Jim Steinman
Lyrics by Dean Pitchford
Conceived by Dean Pitchford
Based on the Film
Performances:
October 12, 2023 through October 29, 2023
(Contact Venue for Exact Dates and Times)
Exit Seven Players LTD, 37 Chestnut Street, Ludlow, MA 01056
For Tickets or More Information Contact Exit 7 at # 413-583-4301 or via email at
COVID 19 PROTOCOLS
Contact Venue for Most Updated COVID-19 Safety Protocols and Information.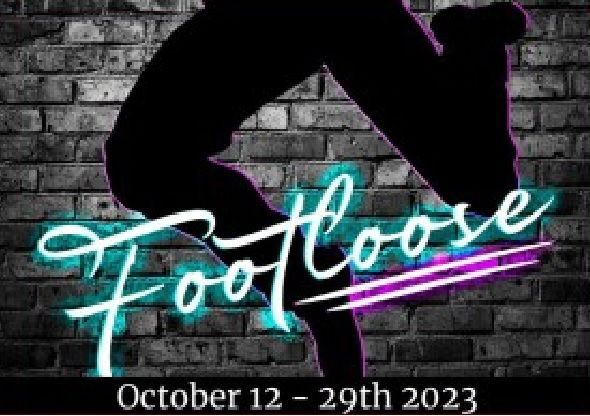 ABOUT "FOOTLOOSE THE MUSICAL"
"FOOTLOOSE THE MUSICAL" is the story of Ren McCormack, a teenage boy from Chicago.
He and his mother move to the small town of Bomont after his father abandons them. Upon arriving,
Ren finds himself at odds with most of the town, including the Reverend Bomont.
The Reverend has convinced the town to outlaw dancing, which Ren finds unbelievable.
With the help of the Ariel (the Reverend's daughter) and Willard (a country hick who becomes his best friend), Ren convinces the Reverend to let the teenagers dance, and in the process helps the town to heal from a tragedy that affected them all.

ABOUT EXIT 7 PLAYERS
Exit 7 is a community theater group located in Ludlow, Massachusetts that was founded in the spring of 1984 and began with a production of Agatha Christie's Ten Little Indians. Located on Chestnut Street in the historic auditorium of what was previously the Ludlow High School, the Exit 7 Players have focused on renovating the Chestnut Street Theater while bringing the arts to Ludlow and the surrounding communities.
Exit Seven Players LTD
413-583-4301
37 Chestnut Street, Ludlow, MA 01056