Boston Lyric Opera
Presents
"EURYDICE"
Music by Matthew Aucoin (Composer & Conductor)
Libretto by Sarah Ruhl
Based on the play by Sarah Ruhl
Cast Includes: Sydney Mancasola as "Eurydice"; Mark S. Doss as "Father"; David Portillo as "Hades"

The production is sung in English with English subtitles and will run for five performances over two weekends at The Huntington Theatre.
Performances:
March 1, 2024 through March 10, 2024
(Contact Box Office for Exact Times)
SUBSCRIPTIONS/TICKETS
Four- and three-part opera subscriptions (known as "Quartet" and "Trio" packages) are on sale now at BLO.org or by contacting Audience Services at boxoffice@blo.org or 617-542-6772. Individual tickets go on sale in July.
COVID 19 PROTOCOLS
Contact Venue for Most Updated COVID-19 Safety Protocols and Information.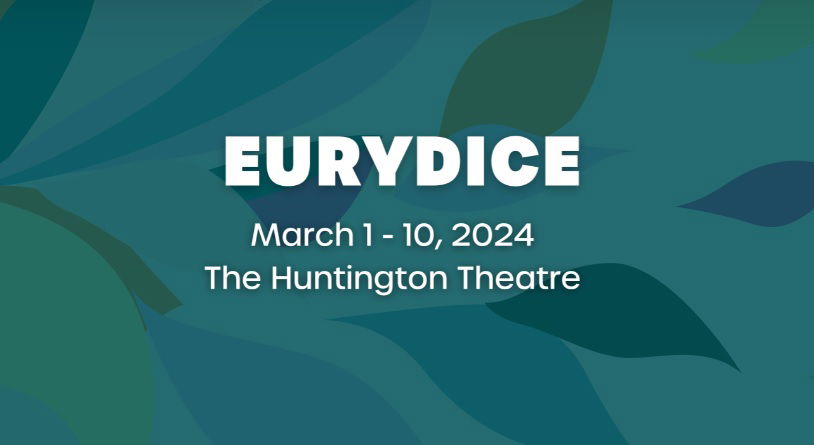 ABOUT THE SHOW
Composer Matthew Aucoin and librettist Sarah Ruhl's adaptation of the Greek myth of "EURYDICE" and Orpheus is based on Ruhl's 2003 play of the same name that refocuses the original story's narrative on Eurydice's perspective.
Aucoin, who will also conduct the BLO Orchestra, grew up in Boston and, at age 33, has become one of the country's most-watched young opera composers.
After attending the show's Metropolitan Opera performance in 2021 (it premiered at LA Opera in 2020), BLO General Director & CEO Bradley Vernatter approached Aucoin to discuss a new chamber edition (in collaboration with Opera Grand Rapids) that would create a more immediate and intimate experience.
"Rethinking 'EURYDICE' in this way is part of BLO's tradition of creating intimate productions of pieces like Bluebeard's Castle or Lizzie Borden that were originally at larger scales," Vernatter says. "Matthew and Sarah have created a beautiful opera rooted in the classical tradition, with a story that reflects contemporary sensibilities."
Casting for "EURYDICE" includes Sydney Mancasola in the title role, David Portillo as Hades, and Mark S. Doss as Father.
Additional casting to be announced.
The commission of "EURYDICE" is supported in part by a gift from Pat and Bill O'Connor.

ABOUT BOSTON LYRIC OPERA
BOSTON LYRIC OPERA (BLO) inspires, entertains, and connects communities through compelling opera performances, programs, and gatherings.
MISSION
VISION
To create operatic moments that enrich everyday life.
VALUES
Boldness - We tell evocative stories through music and drama on a large scale and in unexpected settings.  We celebrate the rich history of opera and promote adventurousness, which advances the art form, accesses our imaginations, and inspires new thinking.
Collaboration - Opera is deeply interconnected storytelling, music, and design on an ambitious level that requires many people's artistry, technical skill, passion, participation, and support. We nurture creative people and partnerships that are diverse in thinking and experiences, and we provide structure and support for everyone to thrive.
Connection - We nurture a vital ecosystem of relationships and exchanges that elevate the human experience and impact people.  These connections are the force that strengthens us and our communities.
Learning - We seek opportunities to learn new ideas and expand our minds, which drives progress. We create time and space to listen, engage and grow together.
Belonging - We are committed to storytelling that reflects a wide variety of perspectives and identities and invites everyone to participate. We create welcoming and accessible spaces that celebrate the uniqueness of our communities.
BOSTON LYRIC OPERA (BLO)
Administrative Office
Midway Artist Studios
15 Channel Center St. # 106
Boston, MA 02210
WEBSITE: www.blo.org