Gateway Players
Presents Jimmy Buffett's
"ESCAPE TO MARGARITAVILLE"
Book by Greg Garcia & Mike O'Malley
Music & Lyrics by Jimmy Buffett
Directed by Bill Guy
Performances:
August 2, 2024 through August 4, 2024
(Contact Venue for Exact Dates and Times)
Performances to be held at Fellowship Hall of Elm Street Congregational Church, 61 Elm Street in Southbridge, MA. Entrance is on Park Street (around corner).
Tickets:
Online credit card ticket sales are available at www.gatewayplayers.org
For more information call 508-764-4531 or visit www.gatewayplayers.org
COVID 19 PROTOCOLS
Contact Venue for Most Updated COVID-19 Safety Protocols and Information.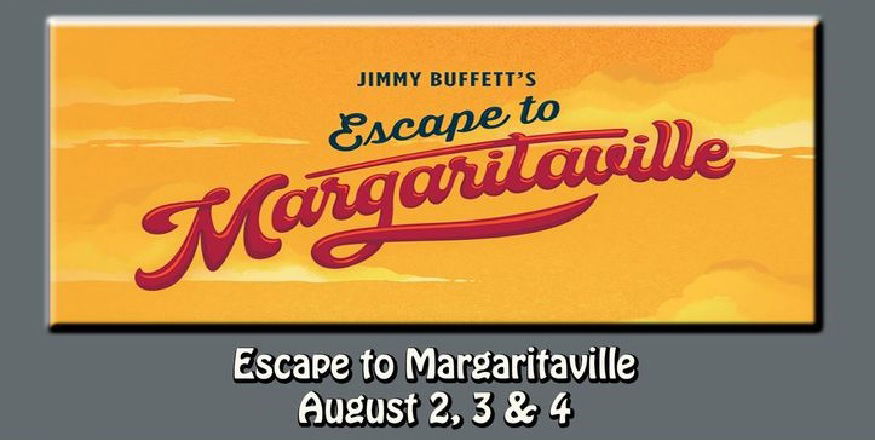 ABOUT "ESCAPE TO MARGARITAVILLE"
Jimmy Buffett's "ESCAPE TO MARGARITAVILLE" is a musical comedy featuring the most-loved Jimmy Buffett classics, including "Cheeseburger in Paradise," "Margaritaville," "It's Five O'Clock Somewhere," "Fins," "Volcano" and many more.
This hilarious, heartwarming musical is the party you've been waiting for!

ABOUT GATEWAY PLAYERS THEATRE OF SOUTHBRIDGE
GATEWAY PLAYERS THEATRE, INC. is an all-volunteer community theater providing quality live theatre performances and workshops to Southbridge, Sturbridge, and Charlton, Massachusetts and surrounding areas. GATEWAY PLAYERS THEATRE, INC. started in 1975, when a group of interested community members decided that Southbridge needed a theater group to bring live productions to the area. First using local schools and borrowed rehearsal and storage space, GATEWAY then moved into its current home in 1978, when Ruth Wells (of the American Optical Company Wells family) donated her home on Main Street as a cultural center in Southbridge. GATEWAY PLAYERS THEATRE offers a full season of productions, usually performed at Elm Street Congregational Church, 61 Elm Street, Southbridge, MA. as well as workshops for youths and adults. Auditions are open to all, and new members are always welcome.
GATEWAY PLAYERS THEATRE, INC.
PO Box 171
Southbridge, MA 01550
508-764-4531