Presents
Music & Lyrics by Bryan Adams and Jim Vallance
Book by Garry Marshall and J.F. Lawton
Directed and Choreographed by Jerry Mitchell
Will Van Dyke - Music Supervision, Arrangements and Orchestrations;
Shane Ffrench - Music Director
Cast Includes: Ellie Baker as "Vivian Ward"; Chase Wolfe as "Edward Lewis"; Rae Davenport as "Kit De Luca"; Adam Du Plessis as "Happy Man"; Liam Searcy as "Philip Stuckey"; Kerry D'Jovanni as "Ensemble/David Morse"; Steven Gagliano as "Ensemble/Alfredo"; Joshua Kring as "Giulio"; Robert Miller as "Swing/Assistant Dance Captain"; Taylor M. Sheppard as "Scarlett/Ensemble"; Elana Valastro as "Dance Captain/ Swing"; Ensemble: Matthew Blum, Brianna Clark, Vincent Diperi, Lauren Esser, Charlie Fusari, Christian Maxwell Henry, Alexandra Kinsley, Bethany McDonald, Hank Santos, Devyn Trondson, Sarah Wang Swing: Justin Glass, Channing Weir.
(NOTE: Information obtained from tour website subject to change)
Additional Creative Team:
DB Bonds - Direction Recreation; Rusty Mowery - Choreography Recreation; David Rockwell - Original Scenic Design; Christine Peters - Tour Scenic Design; Gregg Barnes - Costume Design; Kenneth Posner - Lighting Design; Philip Rosenberg - Lighting Designer; John Shivers - Sound Design; Josh Marquette - Hair Design; Fiona Mifsud - Makeup Design; Pearson Casting CSA CDG CDA - Casting; Randy Cohen - Keyboard Programmer; Molly Goodwin - Production Stage Manager; Nate Coffey - Assistant Stage Manager; Allied Global Marketing - Tour Marketing & Press; Dave Burch - Technical Director; Gregg Damanti - Production Manager.
(NOTE: Information obtained from tour website subject to change)
Performances:
February 27, 2024 through March 3, 2024
(Contact Box Office for Exact Times)
EMERSON COLONIAL THEATRE, 106 Boylston St, Boston, MA 02116
TICKETS:
By phone # 888-616-0272
Box Office Hours: Monday-Friday: 9am - 8pm (EST); Saturday-Sunday: 10am - 8pm (EST)
THE EMERSON COLONIAL THEATRE Box Office is located at 106 Boylston Street, Boston, MA 02116
THE EMERSON COLONIAL THEATRE website is the official source for tickets:
http://www.emersoncolonialtheatre.com/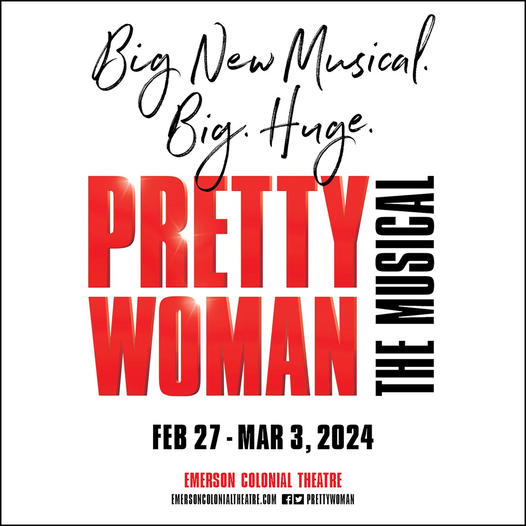 ABOUT THE SHOW
Ready to fall in love all over again?
After an incredible record-breaking run on Broadway, Audience Choice Award winner "PRETTY WOMAN: THE MUSICAL" is coming to Massachusetts!
Based on the 1990 film of the same name, "PRETTY WOMAN: THE MUSICAL" is a modern retelling of the Cinderella story.
Vivian, a Hollywood prostitute is picked up on the street by Edward Lewis, a tough but lonely business mogul.
Employed as his companion, Vivian is immersed into the elite Beverly Hill society, but she soon realizes that she is a fish out of water.
She wants to make something of her life, but she must be true to herself along the way.
During a week of romance, both Vivian and Edward embark on a journey of self-discovery and discover true love along the way.
Edward is softened and transformed by Vivian's joy of life and he comes to realize that he must change his priorities if he wants to hold on to what matters most.
He rediscovers his moral compass and drops his brutal business methods, much to his money-grabbing lawyer's chagrin.
Edward and Vivian's love transcends social divides and this independent Cinderella gets her Prince.
Experience this dazzlingly theatrical take on a love story for the ages.
TICKETS available by phone # 888-616-0272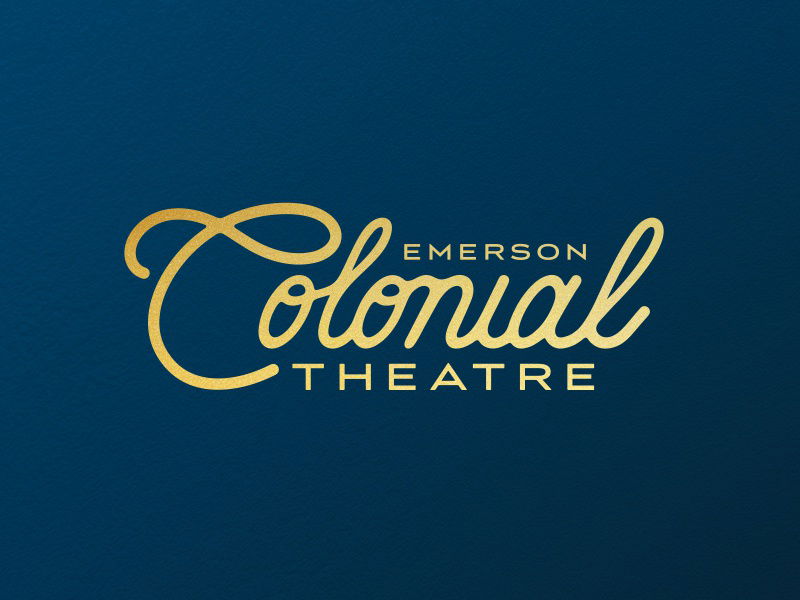 ABOUT THE EMERSON COLONIAL THEATRE
In its storied history, THE EMERSON COLONIAL THEATRE has debuted such seminal Broadway shows as Anything Goes, Porgy and Bess, Oklahoma!, Born Yesterday, Follies, A Little Night Music, Grand Hotel and La Cage aux Folles, among others. Reviving a great theatrical tradition, Boston's newly restored EMERSON COLONIAL THEATRE officially re-opened its doors in July 2018 with the pre-Broadway World Premiere of Moulin Rouge! The Musical. THE EMERSON COLONIAL THEATRE, which opened in 1900 with a production of Ben-Hur, is the oldest continuously operated theater in Boston; as well as being amongst the most magnificent, having retained most of its original period details. A theatre for the community, EMERSON COLONIAL THEATRE will once again contribute to the rich cultural landscape of Boston, with a new and varied program of Broadway shows, live music, comedy and events.
106 Boylston Street
Boston, MA 02116