Umbrella Stage Company
Umbrella Arts Center
Presents
"DRACULA"
Adapted by Kate Hamill, based on the novel by Bram Stoker
Directed by Michelle Aguillon
Additional Creative Team:
Scenic Design by Melody Hsu; Costumes by Anna Silva; Lighting Design by SeifAllah Salotto-Cristobal.
Cast Includes: Dominic Carter*, Gabrielle Hatcher, Maria Hendricks, Bowen Huang, Sara Jones, Joseph Jude, Quinton Kappel, Lisa San Pascual*, Em Sheeran and Dustin Teuber
Performances:
September 30, 2022 through October 24, 2022
(Thursdays, Fridays & Saturdays at 8:00pm, Sundays at 3:00pm)
The Umbrella Arts Center, 40 Stow Street, Concord, MA 01742
Tickets $15-$45
BUY A SEASON SUBSCRIPTION PACKAGE
Phone # 978-371-0820
Email: info@theumbrellaarts.org
Discounts for students, seniors, military families, groups, Card-to-Culture eligible attendees
Group Discounts: Groups of 10 – 14 save 10%; groups of 15 and up save 15%.
EBT, WIC, ConnectorCare Card-to-Culture discounts available.
Contact the Box Office for more details. The Umbrella is wheelchair accessible.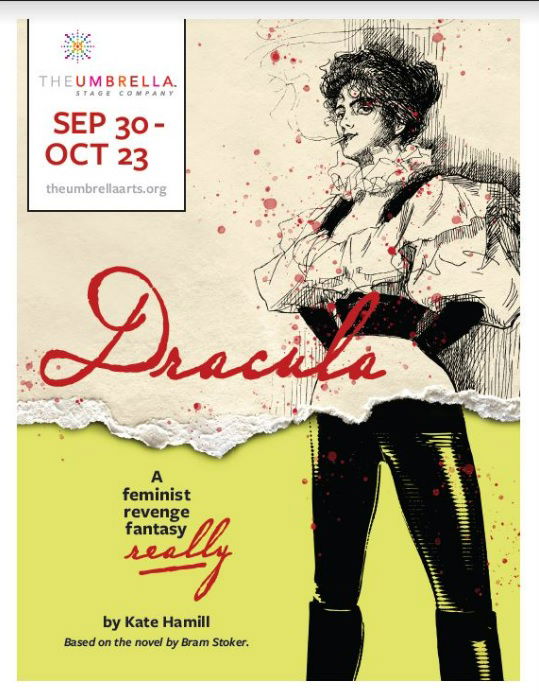 ABOUT THE SHOW
Kate Hamill's wry, edgy "DRACULA" adaptation re-envisions Bram Stoker's classic as a fun, fearless "feminist revenge fantasy" full of colorful characters for our times.
One hundred and twenty five years after its publication, "DRACULA" has continued to thrill and be interpreted by every generation in turn.
Now, in a bold new adaptation, award-winning playwright-actor Kate Hamill sinks her teeth into the sexism in Bram Stoker's classic.
The result is a fun, fearless ride when the "Count" meets his match – and the #MeToo movement – in a fast-paced, theatrical tour de force Hamill calls a "feminist revenge fantasy, really".
One of the most-produced playwrights in America for three years running, Hamill has been deliberate about creating feminist, female-centered classics – whether in new stories or adaptations of such works as Emma, Sense & Sensibility, Little Women and The Scarlet Letter.
Recast with 6 women and 3 men, "DRACULA" reimagines the constellation of characters to foreground strong, complicated women – both living and undead.
Of Doctor Van Helsing, Hamill writes: "A female vampire hunter. She takes no crap from anybody. She is badass– and 19th century men do not, as a rule, appreciate it."
Men like hapless Jonathan Harker, perhaps: "A nice man. A truly decent man. A lawyer; a man of letters; a slight man; a slightly fussy man. If being unkind, one could say he's delicate."

ABOUT THE UMBRELLA ARTS CENTER
The Umbrella enriches lives and builds a vibrant and inclusive community through the arts. We promote creativity, learning, personal growth, and cultural exchange through accessible arts education programs, performing and visual arts presentations, and community collaborations.
The Umbrella Arts Center
40 Stow Street
Concord, MA. 01742
978-371-0820