Presents
Written by Marc Camoletti
Adapted by Robin Hawdon
Directed by Kathleen Atwood
Cast Includes: Dan Healy as "Bernard"; Christine Healy as "Jacqueline"; David Ring as "Robert"; Alison Wiza as "Suzanne"; Tonya Brock as "Suzette"; William Corriveau as "George"
Performances:
January 12, 2024 through January 21, 2024
(Contact Box Office for Exact Times)
THE BRADLEY PLAYHOUSE, 30 Front Street (Route 44) in Putnam, CT.
TICKETS
All seats reserved. Reservations may be made with a major credit card online at www.thebradleyplayhouse.org or by calling 860-928-7887.
COVID 19 PROTOCOLS
Contact Venue for Most Updated COVID-19 Safety Protocols and Information.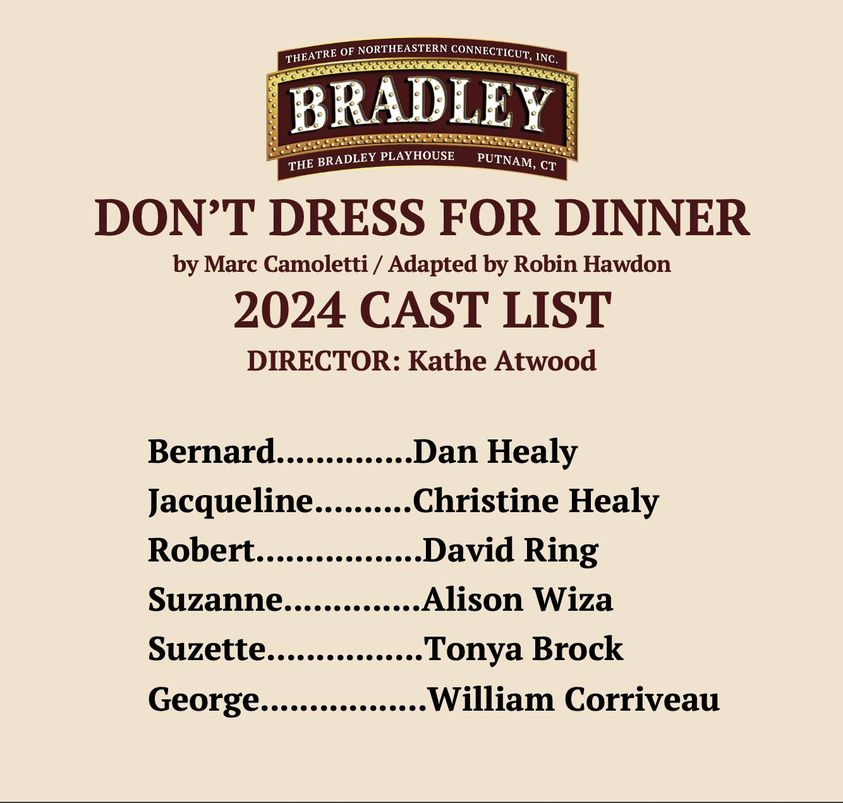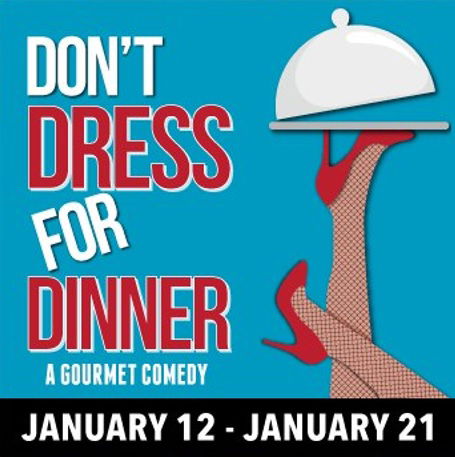 ABOUT THE SHOW
Bernard is planning a romantic weekend with his chic Parisian mistress in his charming converted French farmhouse, whilst his wife, Jacqueline, is away.
He has arranged for a cordon bleu cook to prepare gourmet delights, and has invited his best friend, Robert, along too to provide the alibi.
It's foolproof; what could possibly go wrong?
Well... suppose Robert turns up not realizing quite why he has been invited.
Suppose Robert and Jacqueline are secret lovers, and consequently determined that Jacqueline will NOT leave for the weekend.
Suppose the cook has to pretend to be the mistress and the mistress can't cook.
Suppose everyone's alibi gets confused with everyone else's.
An evening of hilarious confusion ensues as Bernard and Robert improvise at breakneck speed.
This boulevard comedy was a smash hit in Paris, where it played for over two years, and in London, where it ran for six years at the Apollo and Duchess Theatres.
It has since played in theatres all over the USA and the English speaking world and was revived in Chicago and on Broadway at the American Airlines Theatre in 2012.
This production was nominated for two Tony awards.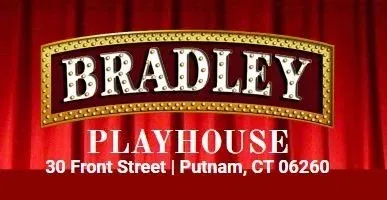 ABOUT THE BRADLEY PLAYHOUSE
THE BRADLEY PLAYHOUSE is a 117 year-old vaudeville theatre in the heart of the Putnam antiques and restaurant district in the "Quiet Corner" of Northeastern Connecticut. Since 1991, THE BRADLEY PLAYHOUSE has been managed by the volunteers of The Theatre of Northeastern Connecticut, Inc. (TNECT).
ABOUT THEATRE OF NORTHEASTERN CONNECTICUT (TNECT)
TNECT produces eight main season shows per year and a number of special fundraising events for The Bradley Playhouse Restoration Fund. TNECT's mission is to produce and sponsor quality theatre and entertainment for the residents of Northeastern Connecticut and the surrounding areas, to encourage the development of creativity through the support of local artists, and to support education and hands-on experience in the creation, direction, and production of theatre and the performing arts.
30 Front Street
P.O. Box 71
Putnam, CT 06260-1942