The Weston Friendly Society
Presents the Disney Musical
"Beauty and the Beast"
"Be Our Guest!"
The Academy Award-winning film comes to life in this romantic and beloved take on the classic fairytale.
Music by Alan Menken
Lyrics by Howard Ashman and Tim Rice
Book by Linda Woolverton
Weston Town Hall, 11 Townhouse Road, Weston, MA. 02493
Performances:
May 14 & 15th Performances of
"Beauty and the Beast"
NEW Performances added
Dear Beauty and the Beast Guests,
We at Weston Friendly regret to inform you that the three performances of Beauty and the Beast scheduled for May 14 & 15 have been canceled. We made this difficult decision as a few of those directly associated with the show have recently turned COVID positive. The welfare of our audience, cast, crew and production team remains our top priority.
We understand that this may cause great inconvenience for you and we are truly sorry.
The good news is that we have been working tirelessly these past 24 hours to bring you two NEW performance dates:
Thursday Night 5/19 at 7:30 pm
Sunday Night 5/22 at 7:00 pm
If you would like to exchange your tickets to the two added performances or would like to switch to any available seating at our other scheduled performances on Saturday, May 21st at 7:30 pm or Sunday, May 22 at 2 pm, please contact Mary Beth at westonfriendlysociety@gmail.com at your earliest convenience.
If you would prefer a refund or to donate some or all of your ticket purchase to Weston Friendly, please also email westonfriendlysociety@gmail.com with details.
Feel free to reach out to us if you have any questions.
We thank you for your understanding and patience as we navigate these times.
(Contact Box Office for Exact Times)
Tickets: https://www.ticketstage.com/T/WFSPA
E-mail: westonfriendlysociety@gmail.com
Cast:
Belle: Nora Sullivan
Maurice: Lance Dillaway
LeFou: Jill Craig
Cogsworth: Rick Grenier
Chip: Nell Jacobsen
Madame de la Grane Bouche: Stephanie Mann
Dance Ensemble: Denali Kikuchi, Rebecca Mayersohn, Laura Sweder
Narrator/Ensemble: Elizabeth Hassett
Beast: Robert Orzalli
Gaston: Michael Sterling
Lumiere: Scott Berozi
Mrs. Potts: Erika Wilde
Babette: Dana Sullivan
Silly Girls/Dance Ensemble: Bridget Sullivan, Jessica Ober, Sarah McGowan
Monsieur Dark/Ensemble: Colin Hurst
Enchantress/Ensemble: Nina Nieves
Ensemble: Madeline Craig, Sterling Karakula, Cara Siobhan, Emily Hurst, Darcy Jacobsen, Colleen Locke, Christian Flannery, Billy Jenkins, Joey Thordarson, Paul Keefe, Lily Gordenstein, Ronnie Schmidt-gross, Grace Wilde
Children's Ensemble: Gavin Patricks, Libby Sweder, Jonah Watkins, Lucie Watkins
Disney's Beauty and The Beast Is presented through special arrangement with Music Theatre International (MTI). All authorized performance materials are also supplied by MTI.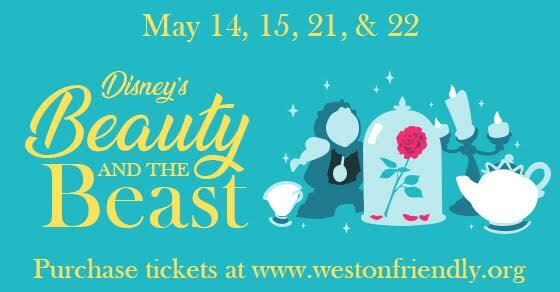 ABOUT THE SHOW
Step into the enchanted world of Broadway's classic, Disney's Beauty and the Beast, an international sensation that has been produced in 37 countries worldwide.
Based on the Academy Award-winning animated feature, the stage version includes all of the wonderful songs written by Alan Menken and the late Howard Ashman, along with new songs by Mr. Menken and Tim Rice. The original Broadway production ran for over thirteen years and was nominated for nine Tony Awards, including Best Musical.
The classic story tells of Belle, a young woman in a provincial town, and the Beast, who is really a young prince trapped under the spell of an enchantress. If the Beast can learn to love and be loved, the curse will end and he will be transformed into his former self.
But time is running out. If the Beast does not learn his lesson soon, he and his household will be doomed for all eternity.
This "tale as old as time" is filled with spectacular costume and set opportunities or, even more simply staged, Disney's Beauty and the Beast offers a great opportunity to bring your entire community together for family theatre at its best.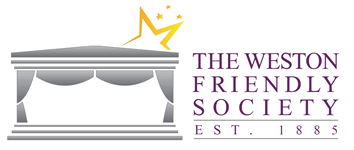 ABOUT WESTON FRIENDLY SOCIETY
The Weston Friendly Society of the Performing Arts, Inc. is the second oldest theatre group in the United States, and has a rich history of putting on quality musicals for enthusiastic audiences from all over the state. The Friendly Society originated as a forum for group readings of classic books, poetry and the Bible in a small theatre on the estate of Mr. Horace Sears.
The organization eventually evolved into cabaret-style performances in our beloved Weston Town Hall, a tradition we keep even today. Historically, Society membership was limited to only Weston residents connected with the First Parish Unitarian Church. Today our membership is non-sectarian, and is open to all residents of metropolitan Boston and beyond.

Despite changes in membership since 1885, the original purpose of The Friendly Society has been steadfastly maintained:
"The Friendly Society is a self-supporting, non-profit performing arts organization which promotes community service and fellowship through support of local charitable causes."
The Weston Friendly Society's mission and goals are as timely now as they were in the late 1800s. Such community spirit has been exemplified by the teamwork of our dedicated casts, production staffs, crews and committees, as well as our tradition of giving to various non-profit agencies and scholarship funds. As the second oldest community theater in the country, our mission continues to be to promote theater, theater education, and local talent to surrounding communities and to provide community service and fellowship through support of local charitable sources.

We thank you, our audience, for your generous support and we invite you to join The Friendly Society. Our productions require a tremendous amount of behind-the-scenes assistance and we hope you'll consider assisting with our charitable fundraising endeavors by joining Friends of Friendly, through sponsorship, or by volunteering to building and painting sets, sewing costumes, or ushering.

For more information about Weston Friendly Society, please email us at westonfriendlysociety@gmail.com