Valley Light Opera
Presents
"DIE FLEDERMAUS"
Come for the farce, stay for the costumes and music.
Johann Srauss II
Thom Griffin as Stage Director
Aldo Fabrizi as Music Director
Libretto in English by Elaine Crane
Cast Includes:
Rosalinde - Elaine Crane; Adele - Nicole Newell; Orlofsky - Heather Williams; Ida - Rory Mason; Eisenstein - Matthew Taylor; Alfred - Tom Gruenthal; Falke - Ramsey Kurdi; Frank - Michael Budnick; Blind - Matt Roehrig; Ivan - Ted Blaisdell; Frosch - Tim McNeirny
Chorus:
Elysse Link, Claire Kenney, Amanda Seymour, Phoebe Knapp, Becca Bly, Helena Donovan, Kathy Blaisdell, Nina Pollard, Jill Franks, Nina Fischer, Deborah Jacobson, Roy Williams, Steven Williams, David Mix Barrington, Ted Fijal, Paul Peelle, Thomas Klansek, Kevin Cox, Gordon Freed, Mark McMenamin, Parker Black, & Fedya Michael
Performances:
November 5, 11 & 12, 2022 at 7:30pm
November 6 & 13, 2022 at 2:00pm
Tickets will be available from the Academy of Music box office on-line, by telephone, by e-mail, in person, or even by mail.
THE ACADEMY OF MUSIC BOX OFFIC

E
boxoffice@academyofmusictheatre.com
413-584-9032 x 105
Tickets: www.aomtheatre.com
Box office hours: Tuesday-Friday 3pm-6pm, and one hour before each performance.
To be held at the Academy of Music, 274 Main Street, Northampton, MA 01060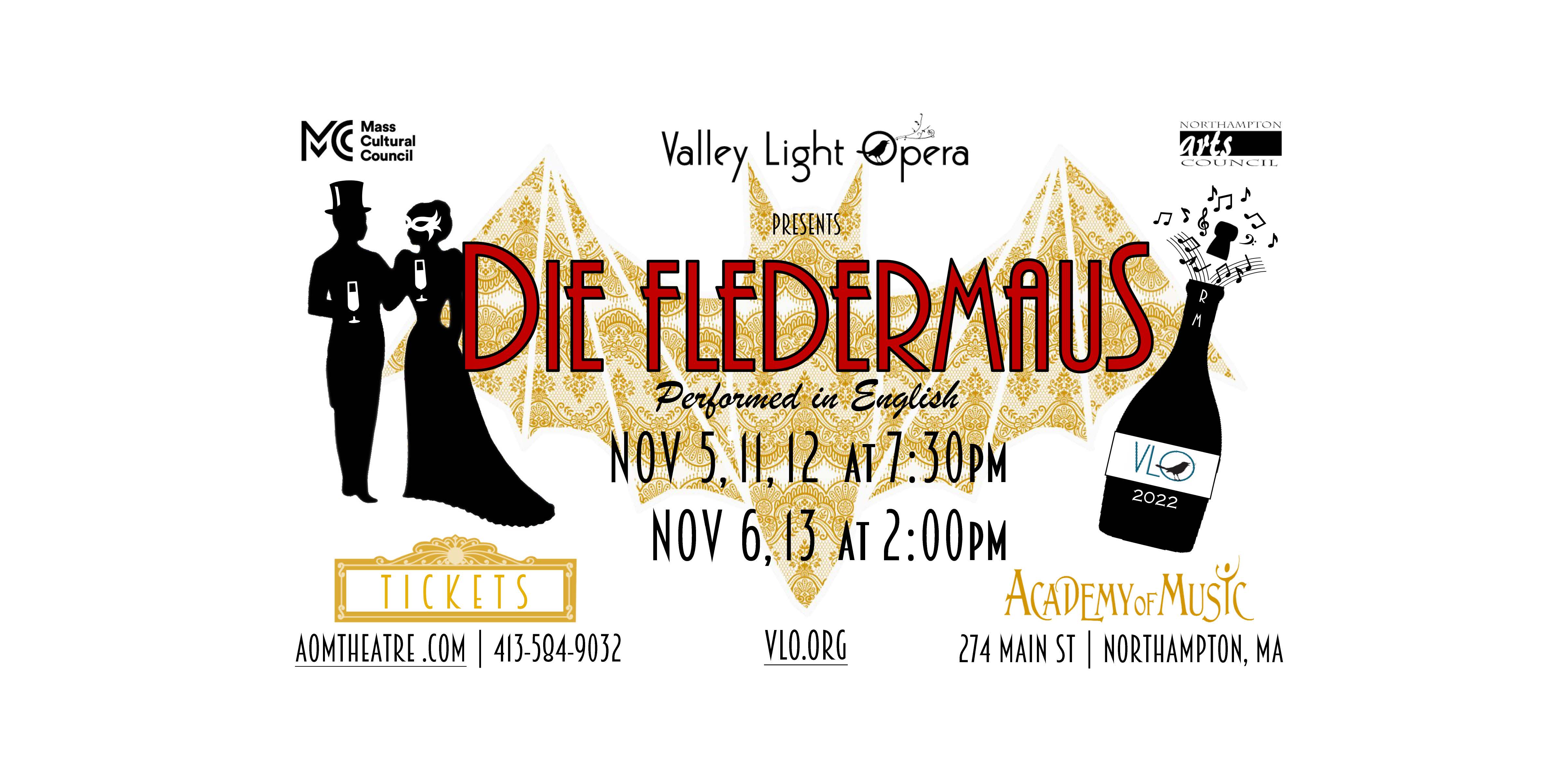 ABOUT THE SHOW
Die Fledermaus was Johann Strauss's third operetta for Vienna's Theatre an der Wien. The piece was based on a popular French vaudeville comedy, its action tidied up for the supposedly more-elevated tastes of Viennese audiences. At its premiere, critics still found it scandalous, in part because its story of a practical joke spinning out of control seemed ill-suited for performance on what happened to be Easter Sunday. Audiences, however, immediately loved it.
Musically, Die Fledermaus is thoroughly high-spirited, with numerous waltz and polka themes. Leading lady Rosalinde is given a faux-Hungarian aria; the maid Adele has her own aria aptly called the "Laughing Song." The entire work has only one really quiet scene: a chorus in praise of brotherhood and love. Young Prince Orlofsky is played by a mezzo-soprano in masculine garb, as would have been the case in the time of Mozart. In all, Die Fledermaus continued to be an audience pleaser into even into the 21st century. (britannica.com)

ABOUT VALLEY LIGHT OPERA
The Valley Light Opera Inc., is a volunteer-run nonprofit organization based in Amherst, Massachusetts. Founded in 1975 by a group of Gilbert and Sullivan devotees, the VLO presents a fully-staged opera every fall at the Academy of Music in Northampton, with less formal productions each spring.
Valley Light Opera
PO Box 2143
Amherst MA. 01004-2143