New Repertory Theatre
Presents
"DIASPORA!"
Written by Phaedra Michelle Scott
Directed by Pascale Florestal °
Cast Includes: Lorraine Kanyike as "Sunny"; Serenity S'rae as "Janae"; Jae Woo* as "John"; Sean Patrick Gibbons* as "Patrick"; Jon Vellante* as "Thomas/Robert"; Valyn Lyric Turner as "Dottie".
Additional Creative team:
Elizabeth Ramirez* - Production Stage Manager; Athéna-Gwendolyn Baptiste - Assistant Stage Manager; Janie Howland - Scenic Designer; Lauren Stetson - Lighting Designer; Becca Jewett - Costume Designer; James Cannon - Sound Designer; Diego Farrell - Technical Director.
* Member of Actors' Equity Association, the Union of Professional Actors and Stage Managers in the United States
** Represented by United Scenic Artists, Local USA 829 of the IATSE
° Stage Directors and Choreographers Society
THE BLACK BOX THEATER AT THE MOSESIAN CENTER FOR THE ARTS
321 Arsenal St, Watertown, MA 02472
Performances:
September 13, 2023 to October 15, 2023
(Contact Box Office for Exact Times)
TICKETS:
https://ci.ovationtix.com/34712/production/1149843
COVID 19 PROTOCOLS
Contact Venue for Most Updated COVID-19 Safety Protocols and Information.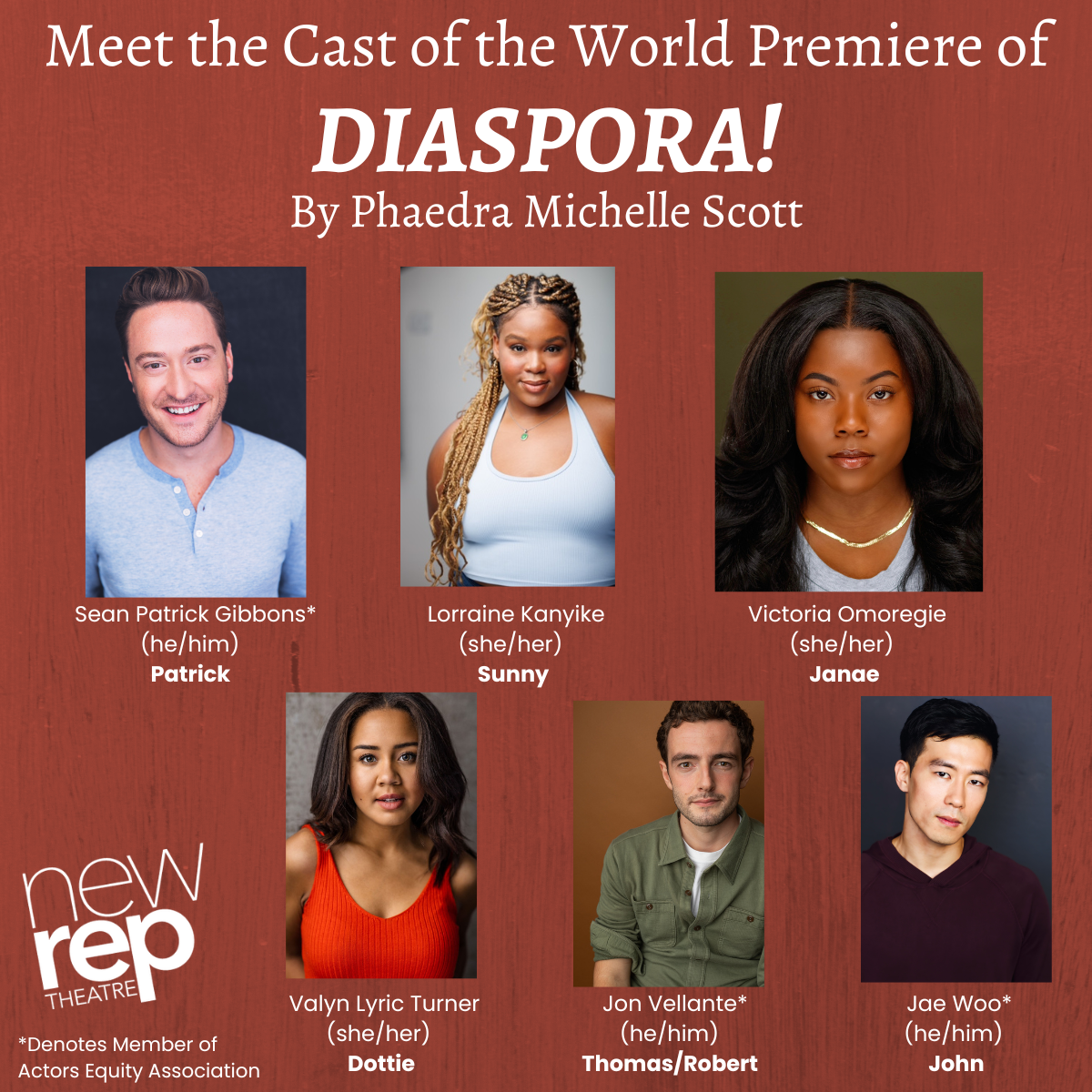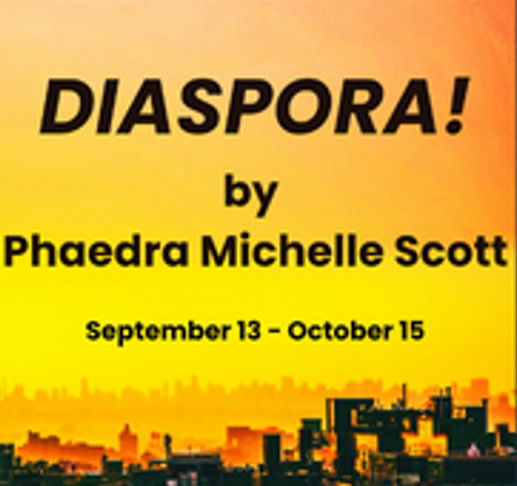 ABOUT THE SHOW
"DIASPORA!" follows Sunny, a writer tracing her lineage to find a long-lost grandparent.
Aided by her niece, her best friend, and her best friend's new boyfriend, she searches for answers in history.
Time begins to cross over, and we find ourselves in Boston during the rise of the civil rights movement and a certain young minister making waves at the Twelfth Baptist Church and Boston University.
Says author Phaedra Michelle Scott:
"Sunny, an idealistic black millennial, is writing a history about the legacy of her family. Her younger sister, Janae wants to reject everything about her ancestry in favor of a created one. Sunny discovers the mystery of her grandparents and decides to confront her past head on in order to put the spirits in her life to rest."
"DIASPORA!" was a SpeakEasy Stage commission as part of their Boston Project, developed and workshopped in Boston from 2017-2019.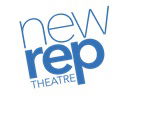 ABOUT NEW REPERTORY THEATRE
New Repertory Theatre (NRT) aims to be regionally focused, driven by diverse interests and stories drawn from the communities surrounding us. We will prioritize a collaborative process centered on new work, new voices, and creative programming in order to produce memorable, evocative performing arts experiences. NRT looks to broaden the theatre scene in greater Boston by giving voice and interpretation to stories and artists whose perspectives are often underrepresented, but whose experiences are relevant for everyone. We want to reimagine how this theatre company can best serve the community that includes both artists and the audience. New Rep remains committed to staging productions and events that speak to the vital ideas of our time. Inclusion, diversity, equity, accessibility, and accountability (IDEAA) will infuse every aspect of our work as we build community collaborations and give voice to the diverse interests of those communities. .
NEW REPERTORY THEATRE
80 Elm Street
Watertown, MA 02472
# 617-923-7060