Theatre Of Northeastern Connecticut, Inc.
at the Bradley Playhouse
Presents
"CLUE: ON STAGE

"
Written by Sandy Rustin, based upon the works by Jonathan Lynn, Hunter Foster, Eric Price.
Adapted from the Paramount Pictures film written by Jonathan Lynn and the board game from Hasbro, Inc.
Bradley Playhouse, 30 Front Street (Route 44) in Putnam, CT.
Performances:
October 7, 2022 through October 23, 2022
Fridays at 7:30pm; Saturdays at 7:30pm and Sundays at 2:00pm
Please note:
Fridays & Saturdays at 7:30pm
Sundays at 2pm
TICKETS
ADULTS: $22
STUDENTS OR SENIORS (60+): $18
VETERANS OR FIRST RESPONDERS: $18
Please note: FLEX PASS holders need to sign-in online or CALL the Box Office to PURCHASE TICKETS
All seats reserved. Reservations may be made with a major credit card online at www.thebradleyplayhouse.org or by calling 860-928-7887.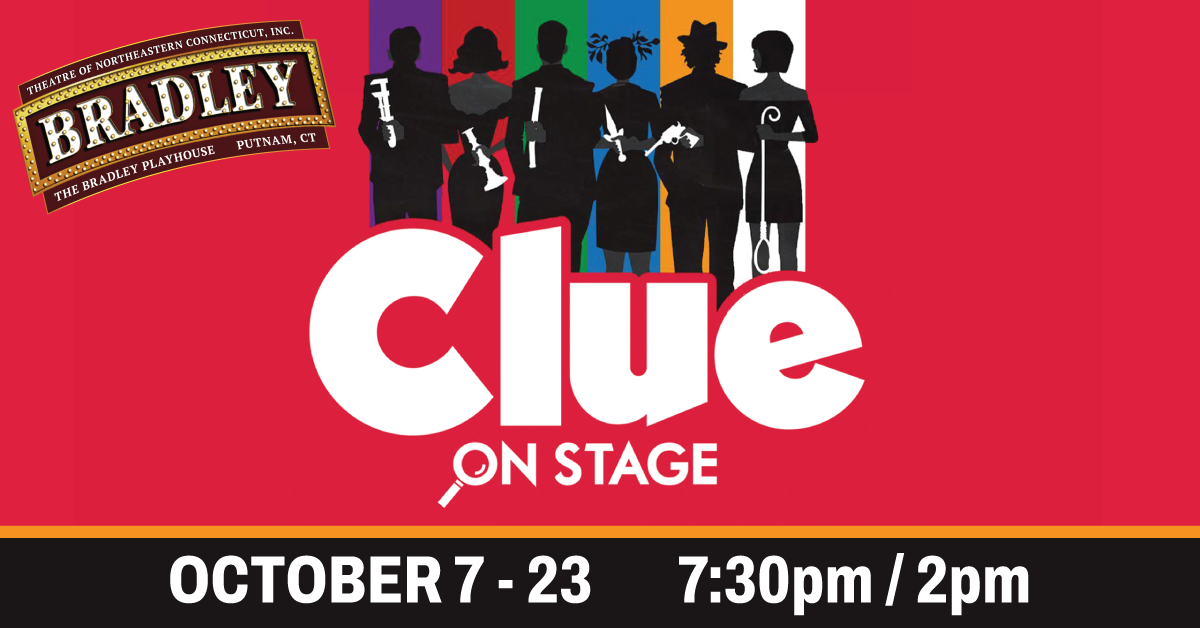 ABOUT THE SHOW
Based on the iconic 1985 Paramount movie which was inspired by the classic Hasbro board game, Clue is a hilarious farce-meets-murder mystery.
The tale begins at a remote mansion, where six mysterious guests assemble for an unusual dinner party where murder and blackmail are on the menu.
When their host turns up dead, they all become suspects.
Led by Wadsworth – the butler, Miss Scarlett, Professor Plum, Mrs. White, Mr. Green, Mrs. Peacock, and Colonel Mustard race to find the killer as the body count stacks up.
Clue is the comedy whodunit that will leave both cult-fans and newcomers in stitches as they try to figure out…WHO did it, WHERE, and with WHAT!
COVID-19 PROTOCOL
Wearing a mask is optional if you are vaccinated. For the safety of patrons, cast, crew, and volunteers, we do request that a mask be worn by those who are not vaccinated.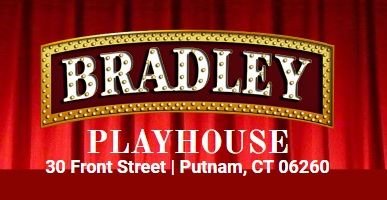 ABOUT THE BRADLEY PLAYHOUSE
The Bradley Playhouse is a 117 year-old vaudeville theatre in the heart of the Putnam antiques and restaurant district in the "Quiet Corner" of Northeastern Connecticut. Since 1991, the Bradley Playhouse has been managed by the volunteers of The Theatre of Northeastern Connecticut, Inc. (TNECT).
ABOUT THEATRE OF NORTHEASTERN CONNECTICUT
TNECT produces eight main season shows per year and a number of special fundraising events for The Bradley Playhouse Restoration Fund. TNECT's mission is to produce and sponsor quality theatre and entertainment for the residents of Northeastern Connecticut and the surrounding areas, to encourage the development of creativity through the support of local artists, and to support education and hands-on experience in the creation, direction, and production of theatre and the performing arts.
The Bradley Playhouse
30 Front Street
PO Box 71
Putnam, CT 06260-1942