Calliope Productions
Presents Rodgers and Hammerstein's
"CINDERELLA"
Music by Richard Rodgers
Lyrics by Oscar Hammerstein II
New Book by Douglas Carter Beane
Original Book by Oscar Hammerstein II
Directed by Chuck Grigaitis
Musical Director Lenny McGuire
Choreographer Denise Day
Cast Includes: Julia Bartoletti, Chris Quigley, Michele Tousignant, Liz Couture, Linnea Lyerly, Jess Guertin, Bethany Arsenault, Spaghetti Jensen-Fellows, Thomas Jaquith-Houston, Paul Arsenault, James Candalino, Meaghan Culkeen, Elise Gallagher, Shannon Grasso, Sabrina Hildreth, Lorraine Hruska, Anya Kipp-Mcgowan, Durriyyah Leonard, Elisha Musgraves
Additional Creative Team:
Producer, Artistic Director - Dave Ludt; Costumes - Donna Reidy, Jan Fuller; Stage Manager - Adrian Gage; Assistant Stage Manager - Kim Lipuma, Joe Moynihan; Lighting Design - John Stoffel; Props - Bob Reidy, Karen Josbacher; Set Design & Build - Dave Ludt, Bob Reidy; Photographs - Karen Josbacher
Performance Dates:
December 1, 2, 3, 9 & 10, 2022 at 7:30pm
December 4, 10 & 11, 2022 at 2:00pm
Calliope Theatre, 150 Main Street, in Boylston, MA.
Tickets:
Tickets for this musical are $25 for regular admission, and $20 for students and seniors.
Contact the Box Office at 508-869-6887.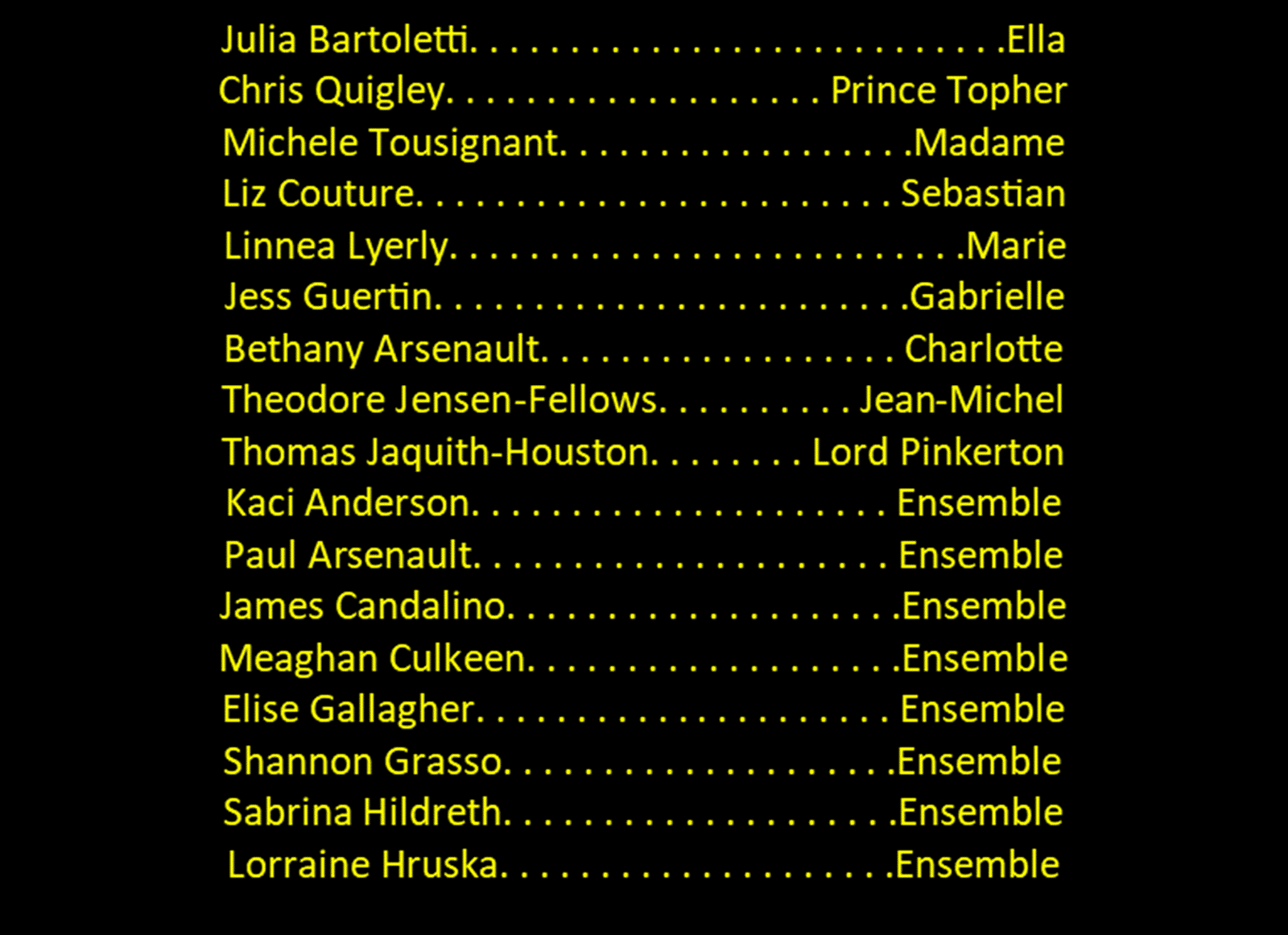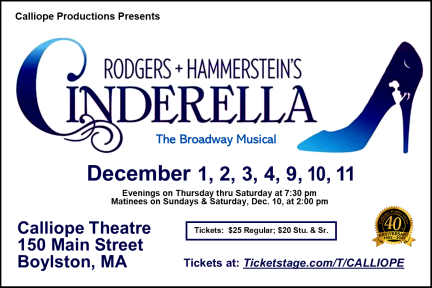 ABOUT THE SHOW
This new version of the timeless tale of ""CINDERELLA," first broadcast on TV in 1957 and revised in 1965 and 1997, was created for Broadway in 2013.
Featuring some of Rodgers and Hammerstein's most beloved songs, such as "In My Little Corner," "Impossible," "Ten Minutes Ago," "Do I Love You Because You're Beautiful?" and "A Lovely Night," this show contains some new characters and surprising twists that make it a thoroughly entertaining holiday season treat for the entire family.
For more information or to reserve or purchase tickets, please contact the Calliope box office at 508-869-6887.
We look forward to seeing you at the theatre!

ABOUT CALLIOPE PRODUCTIONS
Calliope Productions

is a year-round non-profit theatre company founded in 1982 that serves the needs and interests of audiences and performers in the Central Massachusetts region. Calliope Productions presents six main-stage productions each year, and operates performance training workshops for students (ages 9 - 18) and adults.

Calliope Productions

is a member of the American Association of Community Theatre, the Eastern Massachusetts Association of Community Theatres, and the Worcester Cultural Coalition.
Calliope Productions
150 Main Street
Boylston, MA 01505
508-869-6887