The Reagle Music Theatre of Greater Boston
Presents
"CHRISTMASTIME 2022!

"
Performance Dates:
December 3 & 10, 2022 at 12:00pm and 4:00pm
December 4 & 11, 2022 at 2:00pm
Tickets are on Sale Now!
"CHRISTMASTIME" RETURNS TO THE STAGE IN 2022!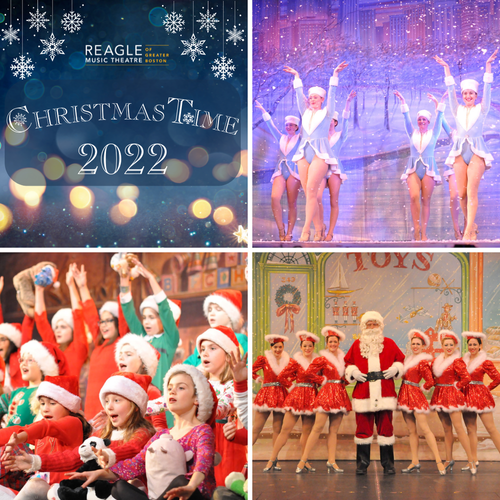 Haul out the holly and join us for the return of our full holiday extravaganza!
You won't want to miss this beloved Christmas event.
ABOUT THE SHOW
Haul out the holly!
Reagle's beloved Christmas extravaganza returns to the stage in 2022 in a production that will entertain children and adults of all ages.
Featuring a cast of more than 100 performers and a live orchestra, the 2022 edition of "CHRISTMASTIME" includes precision dancers, a living nativity, a visit to the North Pole, a glimpse of Victorian Christmas in Boston, and more than twenty yuletide tunes.
RMT is thrilled to bring back this beloved Holiday show in all its glory for the upcoming season.
We cannot wait to see you at the show!
Get your tickets quickly for the show of the season!
CLICK A DATE TO BUY TICKETS!
Saturday December 3rd, 2022 @ 12:00 PM
Saturday December 3rd, 2022 @ 4:00 PM
Sunday, December 4th, 2022 @ 2:00 PM
Saturday December 10th, 2022 @ 12:00 PM
Saturday December 10th, 2022 @ 4:00 PM
Sunday December 11th, 2022 @ 2:00 PM
GROUP RATES AVAILABLE!
Groups of 10+ people get 30% off tickets.
For every 20 tickets purchased, you get one free!
If you are interested in bringing a group to "CHRISTMASTIME 2022" please contact Heidi Sutherland Box Office Manager at Groups@reaglemusictheatre.org

ABOUT REAGLE MUSIC THEATRE
Reagle Music Theatre of Greater Boston's mission is to present the highest quality of musical theatre productions by combining talented regional performers with professional performers and technicians, thus providing an unusual learning experience for its regular members and more enjoyable experiences for its audiences. Reagle Music Theatre is committed to using the skills of its company to strengthen and enhance teaching and learning in the Waltham Public Schools by educating youth to the joys of theatre, and by using theatre techniques to enhance learning in other curriculum areas. Our offerings include musicals, concerts, revues, educational programming, New York theatergoing trips, and more.
Reagle Music Theatre of Greater Boston, Inc.
617 Lexington Street
Waltham, MA 02452
# 781-891-5600