Gilbert Players
Presents the Broadway Musical
"CHICAGO"
Music by John Kander
Lyrics by Fred Ebb
Book by Fred Ebb and Bob Fosse
Performances:
March 31, 2023 through April 8, 2023
(Contact Box Office for Exact Times)
The Center at Eagle Hill, 242 Old Petersham Road, Hardwick, MA 01037
Tickets:
https://ci.green.prod.ovationtix.com/35541/production/1132471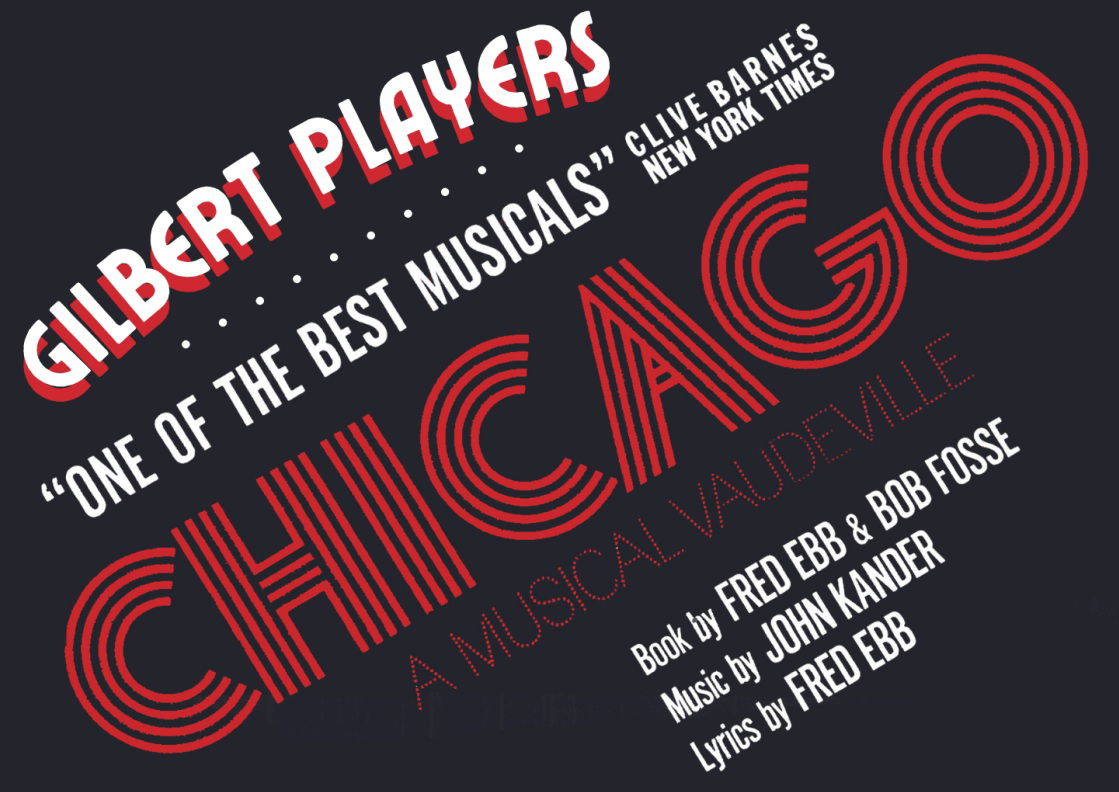 ABOUT THE SHOW
Set in "CHICAGO" in the jazz age, the musical is based on a 1926 play of the same title by reporter Maurine Dallas Watkins, about actual criminals and the crimes on which she reported.
in the roaring twenties "CHICAGO," chorus girl Roxie Hart murders a faithless lover and convinces her hapless husband, Amos, to take the rap...until he finds out he's been duped and turns on Roxie.
Convicted and sent to death row, Roxie and another "Merry Murderess," Velma Kelly, vie for the spotlight and the headlines, ultimately joining forces in search of the "American Dream": fame, fortune, and acquittal.
This sharp-edged satire features a dazzling score that sparked immortal staging by Bob Fosse.
The story is a satire on corruption in the administration of criminal justice and the concept of the "celebrity criminal".

ABOUT THE GILBERT PLAYERS
The Gilbert Players was formed in 2003 when Linda and John Tomasi, two very passionate theater lovers, leased an old school building in Gilbertville, Massachusetts. They recruited talent from area towns which developed into a strong and entertaining core of actors and singers. Since 2008, the partnership and support from Eagle Hill has allowed them to present top-notch productions, including The Little Mermaid, Shrek, Annie, The Producers, Into the Woods, Peter Pan, The Wizard of Oz, Beauty and the Beast...and more! The Gilbert Players' 100% commitment to each theatrical detail is noted in rave reviews from the Worcester Telegram, The Republican, Ware River News, the Barre Gazette, and Athol Daily News. Some cast members have been with the group for 15 years and all new cast members are welcomed with open arms. Every person, cast or crew, is in it for the same reason...to put on the best show possible. .
The Gilbert Players
at The Center at Eagle Hill
242 Old Petersham Road
Hardwick, MA 01037