Gateway Players Theatre
Will Present
"Bring Your Own Improv"
Live on the Southbridge Town Common. Saturday, August 28th, 2021 at 6pm.
BYOI is an interactive Improv show that welcomes voluntary audience participation.
BYOI was voted "Best Comedy Show in Rhode Island!
FREE Admission, 50/50 Raffle, and Refreshments.
In the event of rain, the performance will be held at Elm Street Congregational Church.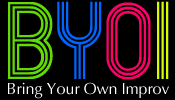 Bring Your Own Improv (BYOI) - Family Friendly & Late Night Comedy