Burlington Players
Presents
"THE BRIDGES OF MADISON COUNTY"
Music and Lyrics by Jason Robert Brown
Book by Marsha Norman
Based on the novel by Robert James Waller
Directed and Choreographed by Jason Hair-Wynn
Music Director Gina Naggar
Set Design Jason Toppan
Stage Managed by Allie Winer Brown
Cast Includes: Lydian DeVere Yard, Kenny Meehan, Eric Lamarche, Timmy Chase, Hannah Clifford, Kathleen Wackowski, Arthur Comer, Diane Meehan, Kathy Howard, Nicole Seddon, Alexandra Neville, Michael Silvia, Andrew Quinney, Amanda Roth.
Performances:
May 6 through May 21, 2022
(Contact Venue for Exact Dates and Times)
The Park Playhouse, One Edgemere Avenue, Burlington, MA. 01803
The Park Playhouse is conveniently located just off Rte 95 and Winn Street in Burlington, MA. There's plenty of parking. To reach the Park Playhouse, take Route 95/128 to Exit 34, Winn Street. Turn toward Woburn and take the third right onto Harriet Avenue (a steep hill). Follow to the end and make a left onto Edgemere Avenue. You'll see the entrance to Overlook Park about 50 feet away. Drive into the park and bear left. The Park Playhouse is the last building on the right.
Phone # 781-229-2649
TICKETS:
https://www.ticketstage.com/T/BPLYR

webmaster@BurlingtonPlayers.com
THE BRIDGES OF MADISON COUNTY is presented through special arrangement with Music Theatre International (MTI). All authorized performance materials are also supplied by MTI. www.mtishows.com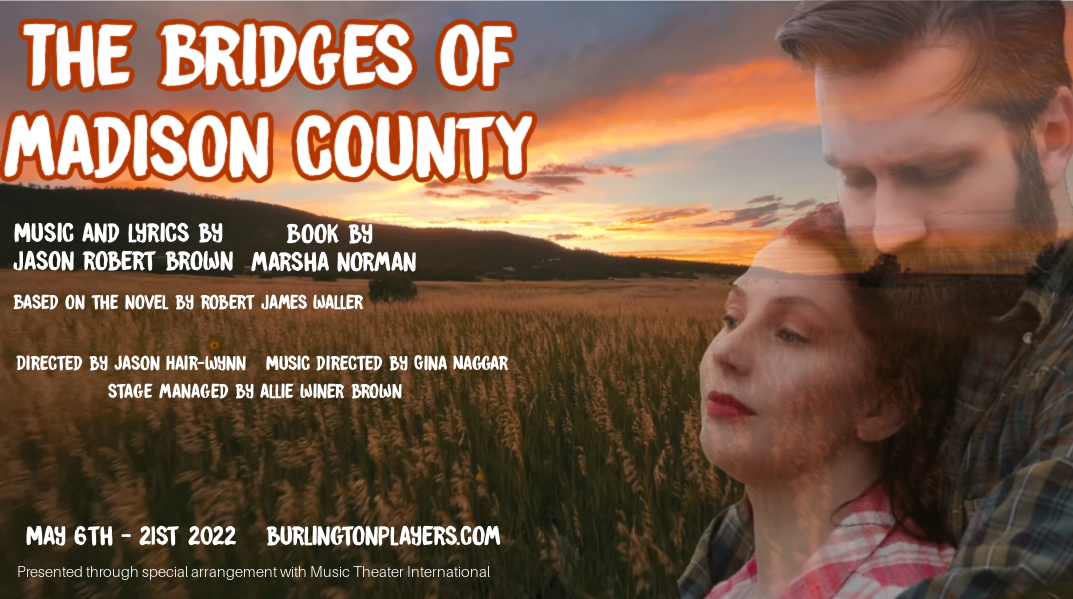 ABOUT THE SHOW
The Bridges of Madison County is a musical, based on Robert James Waller's 1992 novel, with a book by Marsha Norman and music and lyrics by Jason Robert Brown.
Francesca, an Italian war bride living in Winterset, Iowa in 1965, has had eighteen years of quiet, largely unfulfilling farm life.
Her family includes stoic husband Bud, rebellious son Michael, and reluctant daughter Carolyn who are journeying to Indianapolis for three days to the national "4-H" fair to show Carolyn's prize steer, Stevie.
After the family departs, Francesca is planning a relaxing weekend free from responsibilities.
That afternoon, a blue pick-up truck pulls into her driveway carrying Robert Kincaid, a photographer for the National Geographic who has travelled from Washington State to photograph the famous covered bridges of Madison County.
Robert is unable to find the seventh covered bridge, the Roseman Bridge, and Francesca agrees to accompany him to the bridge for a short scouting trip.
Once at the Roseman Bridge, Francesca feels something developing between her and Robert.
The musical premiered on Broadway at the Gerald Schoenfeld Theatre on February 20, 2014, and closed on May 18, 2014.
The Broadway production was directed by Bartlett Sher and starred Kelli O'Hara as Francesca and Steven Pasquale as Robert.
Brown's work on the musical won the 2014 Tony Awards for Best Original Score and Best Orchestrations.
COVID-19 PROTOCOLS
For the safety of our cast, crew, and audience we will be requesting proof of vaccination and that masks are worn by audience members and staff while in the theater.
More info available at:
https://www.burlingtonplayers.com/home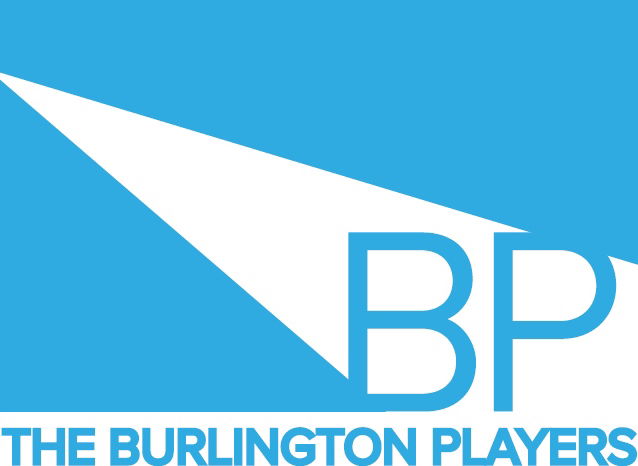 ABOUT BURLINGTON PLAYERS
The Burlington Players (BP) is an all volunteer, adult theater group open to those ages 18 and over, and there's room for you too! Experience in performing or technical theater is certainly welcome, but not necessary. We'll happily mentor anyone who wants to learn any aspect of theater. The Burlington Players usually produces a four show season each year
There's fun and entertainment for everyone!
Mailing Address
The Burlington Players
P.O. Box 433
Burlington MA 01803