The Hanover Theatre for the Performing Arts
Presents the Broadway Smash
"BEETLEJUICE THE MUSICAL"
It's showtime!
Music & Lyrics by Eddie Perfect
Book by Scott Brown & Anthony King
Based On The Geffen Company Picture, with a Story by Michael McDowell & Larry Wilson
Directed by Alex Timbers
Musical Supervision, Orchestrations, & Incidental Music by Kris Kukul
Choreography by Connor Gallagher
Additional Creative Team:
David Korins - Scenic Design; William Ivey Long - Costume Design; Kenneth Posner - Lighting Design; Peter Hylenski - Sound Design; Peter Nigrini - Projection Design; Michael Curry - Puppet Design; Jeremy Chernick - Special Effects Design; Michael Weber – Illusions; Charles G. Lapointe - Hair & Wig Design; Joe Dulude II - Make-Up Design; Lorenzo Pisoni - Physical Movement Coordinator; The Telsey Office & Rachel Hoffman, CSA - Casting; Eddie Perfect & Kris Kukul - Additional Arrangements; Matt Stine - Music Producer; Kristy Norter - Music Coordination; David Dabbon - Dance Arrangements; Andy Grobengieser - Music Director/Conductor; Alan D. Knight - Production Stage Manager; Joel T. Herbst - Company Manager; Catie Davis - Associate Director; Michael Fatica - Associate Choreographer; Allied Global Marketing - Tour Marketing & Press; Spotco - Digital & Social Media; The Road Company - Tour Booking; Networks Presentations / Walker White - Production Management; Jenny Gersten - Line Producer; Gentry & Associates / Gregory Vander Ploeg - General Management Warner Bros. Theatre Ventures – Producer; Networks Presenations / Mimi Intagliata & Seth Wenig – Producer; Original Broadway General Manager – Bespoke Theatricals. (NOTE: Information obtained from tour website subject to change)
Performances:
January 2, 2024 until January 7, 2024
(Contact Box Office for Exact Times)
Presented at the Hanover Theatre for the Performing Arts, 2 Southbridge St., Worcester.
For More Information:
877-571-SHOW (7469) info@thehanovertheatre.org
COVID 19 PROTOCOLS
Contact Venue for Most Updated COVID-19 Safety Protocols and Information.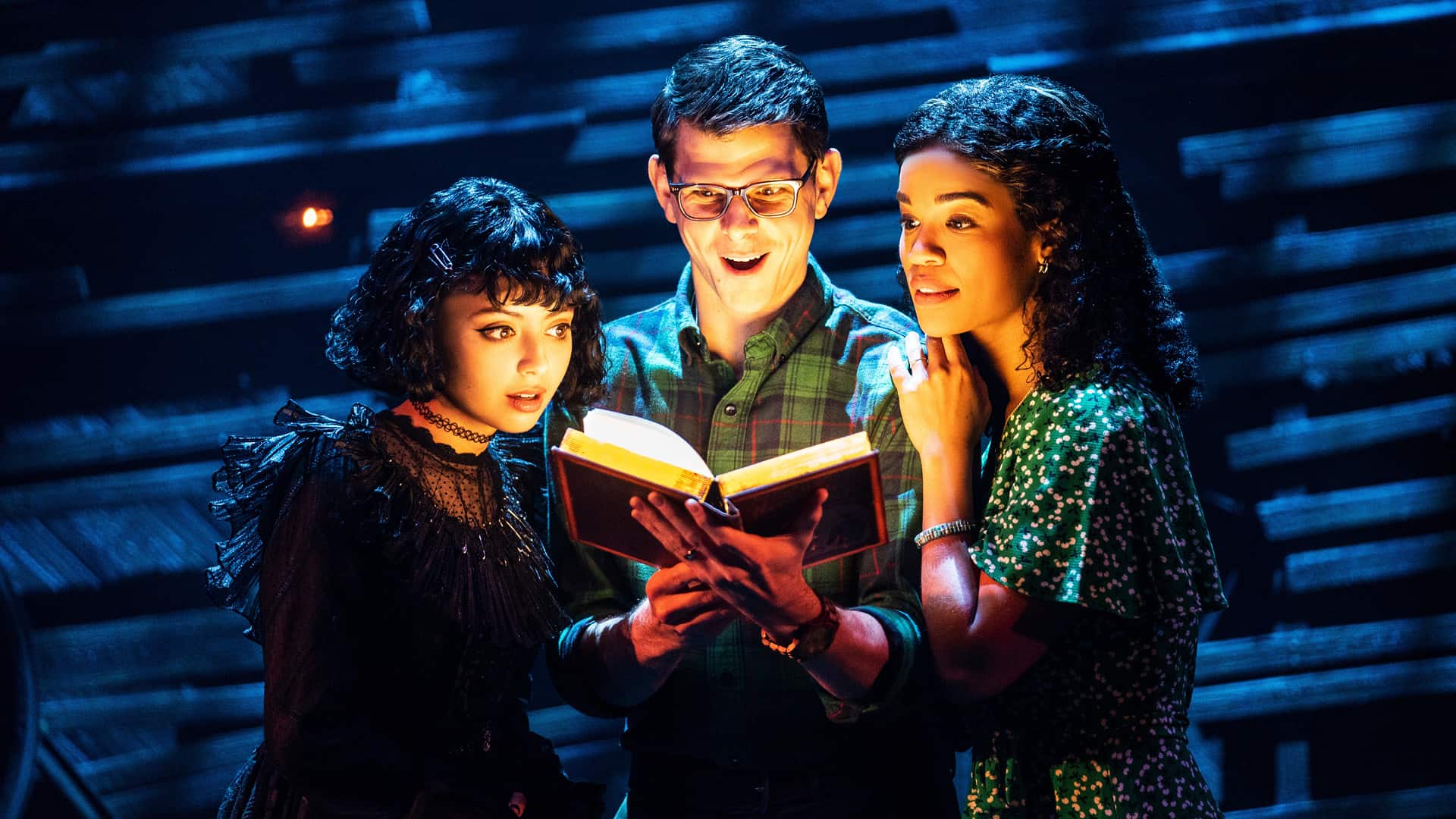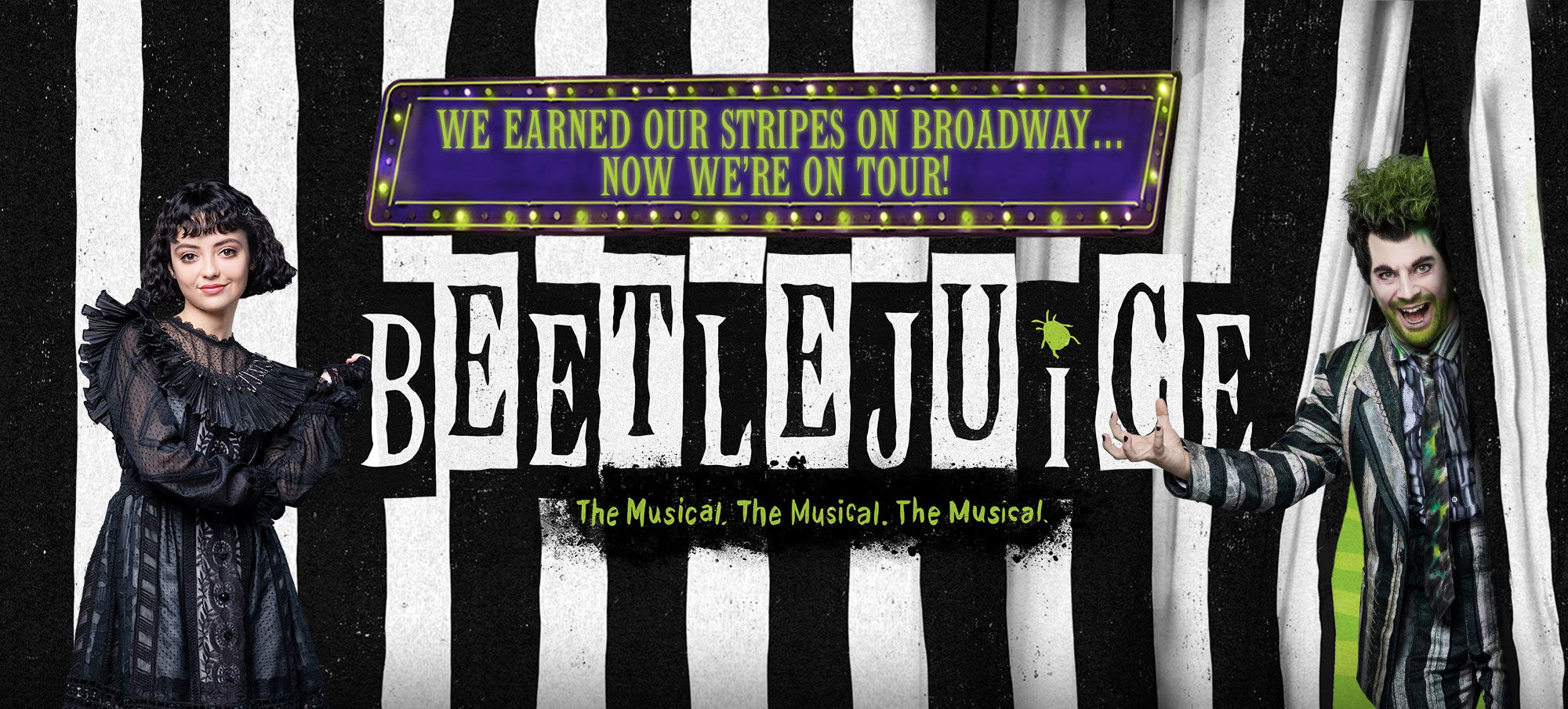 ABOUT THE SHOW
It's showtime!
Broadway's "SCREAMINGLY GOOD FUN!" (Variety) musical comedy is now haunting houses all across the country!
He earned his stripes on Broadway… now the "ghost-with-the-most" is coming to Worcester!
Based on Tim Burton's dearly beloved film, "BEETLEJUICE THE MUSICAL" tells the story of Lydia Deetz, a strange and unusual teenager whose whole life changes when she meets a recently deceased couple and a demon with a thing for stripes.
With an irreverent book, an astonishing set, and a score that's out of this Netherworld, "BEETLEJUICE" is "A FEAST FOR THE EYES AND SOUL!" (Entertainment Weekly).
And under its uproarious surface (six feet under, to be exact), it's a remarkably touching show about family, love, and making the most of every Day-O!
CONTENT ADVISORY
Contains strong language, mature references, and a lot of the crazy, inappropriate stuff you would expect from a deranged demon.
2 hours and 30 minutes with a 15 minute intermission
Please contact the box office at 877-571-SHOW (7469) for more information.

ABOUT HANOVER THEATRE FOR THE PERFORMING ARTS
Worcester Center for Performing Arts is a registered not-for-profit 501(c)(3) organization, which owns and operates The Hanover Theatre and Conservatory for the Performing Arts. All donations are tax deductible to the fullest extent allowed by law.
HANOVER THEATRE FOR THE PERFORMING ARTS
2 Southbridge Street
Worcester, MA. 01608
877-571-SHOW (7469)