The Hovey Players
Presents Branden Jacob-Jenkins'
"APPROPRIATE"
Winner of the 2014–2015 Obie Award for Best New American Play!
Written by Branden Jacob-Jenkins
Directed by Michelle Aguillon
Hovey Players, 9 Spring Street, Waltham, MA. 02454
Performances:
January 19, 2024 through February 3, 2024
(Contact Box Office for Exact Times)
TICKETS:
Contact Hovey Players via email at reservations@hoveyplayers.com
COVID 19 PROTOCOLS
Contact Venue for Most Updated COVID-19 Safety Protocols and Information.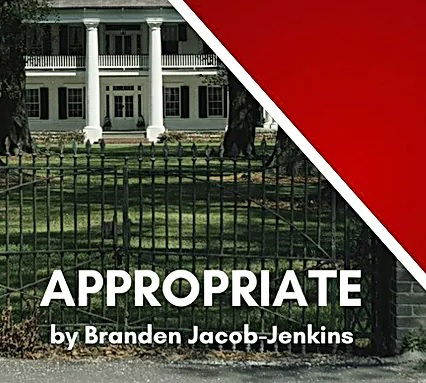 ABOUT THE SHOW
Winner of the 2014–2015 Obie Award for Best New American Play!
Every estranged member of the Lafayette clan has descended upon the crumbling Arkansas homestead to settle the accounts of the newly-dead patriarch.
As his three adult children sort through a lifetime of hoarded mementos and junk, they collide over clutter, debt, and a contentious family history.
But after a disturbing discovery surfaces among their father's possessions, the reunion takes a turn for the explosive, unleashing a series of crackling surprises and confrontations.

ABOUT HOVEY PLAYERS
HOVEY PLAYERS was established in 1936.
Located in the basement of the D'Angio Building in Waltham, Massachusetts, the 52 seat Abbott Memorial Theater is among the most intimate performance spaces in New England.
HOVEY PLAYERS produces four shows per season featuring a full range of plays including comedies, dramas, and musicals.
HOVEY PLAYERS is a member of the Eastern Massachusetts Association of Community Theaters (EMACT).
HOVEY PLAYERS celebrates the performing arts and artists throughout New England and more directly in the Waltham and Boston area. .
HOVEY PLAYERS
9 Spring Street
Waltham, MA. 02454