The Gilbert Players
Present
"ANNIE The Musical"
Music By Charles Strouse
Lyrics By Martin Charnin
Book By Thomas Meehan
Based on "Little Orphan Annie" by Harold Gray
Artistic Director - Linda Klem Tomasi. Music Director - John Tomasi. Choreographer - Jackie Johnson. Stage Manager - Karen Gaudy. Accompanist - Stephanie Parker, Kurt Staven
Cast Includes: Jaya McBroom - Annie; Pedro Figuera - Warbucks; Cassie Blanchette - Grace; Julie Bouchard - Miss Hannigan; James Lamoureux - Rooster; Eliora Despres - Lilly; Morgan Gilmore - Burt Healy; Karl Erickson - Roosevelt; Brian Larochelle - Drake; Robyn Scott - Mrs. Greer; Libby Stearns - NYC Wannabe.
Wacky's: Ben Gilmore & Jason Benoit
The Boylan Sisters: Rosie Joubert, Libby Stearns & Emily Anderson

Principal Orphans: Julia Feeley, Lilyana Robichaud, Hannah LaRochelle, Maeve Smith, Sofia Voloshinov & Abigayle Bateman.

Presented at the Center at Eagle Hill,
Abby Theatre, 242 Old Petersham Road, Hardwick, MA 01037
Contact the Gilbert Players
Phone # 413-477-8355
Tickets: https://ci.ovationtix.com/35541/production/1071653
The Gilbert Players proudly present Annie!
With equal measures of pluck and positivity, little orphan Annie charms everyone's hearts despite a next-to-nothing start in 1930s New York City.
Annie is determined to find the parents who left her years ago on the doorstep of an orphanage.
With the help of the other girls in the orphanage, Annie escapes into the wondrous world of NYC.
In adventure after fun-filled adventure, Annie comes to find a new home and family.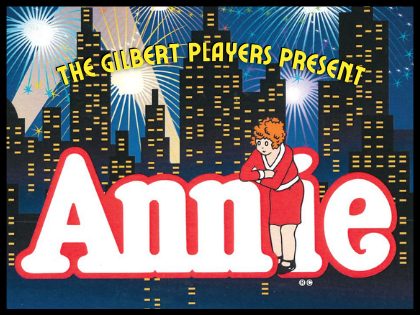 COVID-19 PROTOCOL
The Center at Eagle Hill and Eagle Hill School are continuing to closely follow the impacts of the COVID-19 pandemic, and to stay informed of local and state guidance.
With the surging infection rates and heightened transmissibility of the Delta variant, we have put in place the following policy for all performances at The Center:
We will require proof of vaccination from all patrons in attendance at our performances. Children who are not eligible for the vaccine due to age will be exempt from this requirement. In addition, we ask that all audience members be masked, out of an abundance of caution.
Our Box Office Bar will be closed for the time being as well.
These policies will remain in effect at least through the end of 2021. We will continue to reevaluate the policies as the impacts of the pandemic are constantly evolving, and will communicate any changes as soon as they are made.

ABOUT THE GILBERT PLAYERS
The Gilbert Players are the essence of success and satisfaction for Linda and John Tomasi, co-directors of the theatre production company. Since 2008, The Gilbert Players have been the Resident Theatre Company at The Center at Eagle Hill. For the past 13 years, they have presented top-notch productions and wowed audiences of all ages.