The Boch Center Wang Theatre
Presents the Musical
"ANNIE"
The musical "ANNIE" will play the Boch Center Wang Theatre for a limited engagement!
Book by Thomas Meehan
Music by Charles Strouse
Lyrics by Martin Charnin
Directed by Jenn Thompson
Performances:
February 6, 7, 8, 9 & 10, 2024 at 7:30pm
February 10, 2024 at 2:00pm
February 11, 2024 at 4:30pm
TICKET PRICES Start at $25
PARKING BOOK PARKING
COVID 19 PROTOCOLS
Contact Venue for Most Updated COVID-19 Safety Protocols and Information.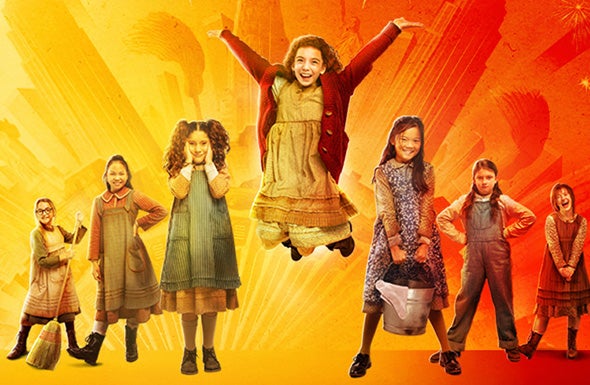 ABOUT THE SHOW
The musical "ANNIE," directed by Jenn Thompson, features the iconic book and score, written by Tony Award®-winners Thomas Meehan, Charles Strouse and Martin Charnin.
This celebration of family, optimism and the American spirit remains the ultimate cure for all the hard knocks life throws your way. Unmistakably known as a timeless masterpiece,
"ANNIE" has been capturing the hearts of audiences since 1976!
It is the heartwarming story of ANNIE, an orphan whose happiness and positivity continues to remind generations that no matter how hard life can get sometimes, the "Sun Will Come out Tomorrow!"
Be part of an evening where a magnificent story of love, family and positive outlook in life will have you laughing and singing.
Holding onto hope when times are tough can take an awful lot of determination, and sometimes, an awful lot of determination comes in a surprisingly small package.
Little Orphan Annie has reminded generations of theatergoers that sunshine is always right around the corner.
Show duration is 2 hours 45 minutes including one intermission.
(The musical "ANNIE" will play the Boch Center Wang Theatre for a limited engagement!)

ABOUT THE WANG AND SHUBERT THEATRES
Just as the city and audience have evolved with the times, the Boch Center, as guardian of the WANG and SHUBERT THEATRES (and from 2012-15, the Center also managed the historic Emerson Colonial Theatre), has changed to meet the needs of its community.
Uniquely using a Balanced Scorecard (a Fortune 500 management framework), strategy map, and strategic dashboard, the Boch Center ensures that our Theatres and programs stay relevant to the community we serve. Today, the Boch Center is considered a best practice institution and nonprofit arts leader. With the belief that arts make and keep us a civilized nation, the Boch Center is dedicated to providing high-quality, diverse and culturally relevant arts and entertainment, and arts education programming for New England residents and visitors.
ABOUT THE BOCH CENTER
The Boch Center is one of the nation's leading nonprofit performing arts institutions and a guardian of the historic WANG and SHUBERT THEATRES. As New England's largest cultural venue, the Boch Center is home to theater, classical and popular music, dance, comedy, opera, Broadway musicals, family entertainment, and more. Located in Boston's historic Theater District, the Boch Center also offers a diverse mix of educational, cultural and community outreach initiatives, including the City Spotlights Leadership Program and the Folk Americana Roots Hall of Fame; collaborates with artists and local nonprofit arts organizations; preserves historic venues; and acts as a champion for Greater Boston's arts and cultural community. Learn more at bochcenter.org.