Worcester County Light Opera Company (WCLOC)
Presents
"Admissions"
Written by Joshua Harmon
Directed by Linda Oroszko
Performances:
October 15, 16, 21, 22 & 23 at 7:30pm
and
October 17 & 24 at 02:00pm
WCLOC, Grandview Avenue Playhouse, Worcester, MA. Phone # 508-753-4383 Email: admin@wcloc.org
Cast:
Sherri Rosen-Mason…………………..Brenda Jenkins
Bill Mason………………………………Rob Lynds
Charlie Luther Mason………………....Michael Skrzek
Ginnie Peters………………….……….Barbara Kessler
Roberta………………………………....Amy Newberg

Production Team:
Director……………………………….Linda Oroszko
Producers………………Eric Butler and Rachel Savage
Set Designer and Construction…....Ed Savage
Scenic Artist…………………..……..Sally Bowditch
Lighting and Sound Design………...Vic Kruczynski
Costume Design…………….……….Jo Ann Savage
Costume Assistant…………………..Sarah Figueira
House Manager……………………...Ken Bibeau
Photography………………...………..Chris O'Connor
Sherri Rosen-Mason is head of the admissions department at a New England prep school, fighting to diversify the student body.
Alongside her husband, the school's headmaster, they've largely succeeded in bringing a stodgy institution into the twenty-first century.
But when their only son sets his sights on an Ivy League university, personal ambition collides with progressive values, with convulsive results.
A no-holds-barred look at privilege, power, and the perils of hypocrisy.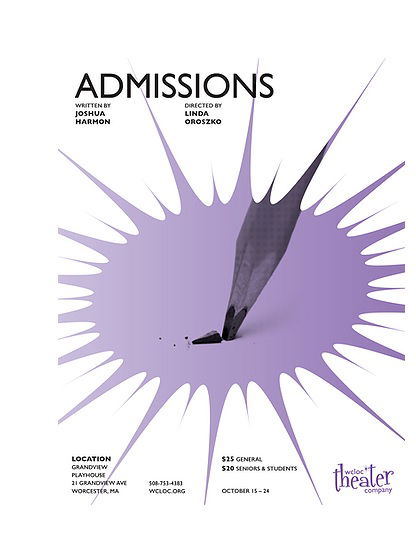 MEET THE CAST OF WCLOC'S "ADMISSIONS"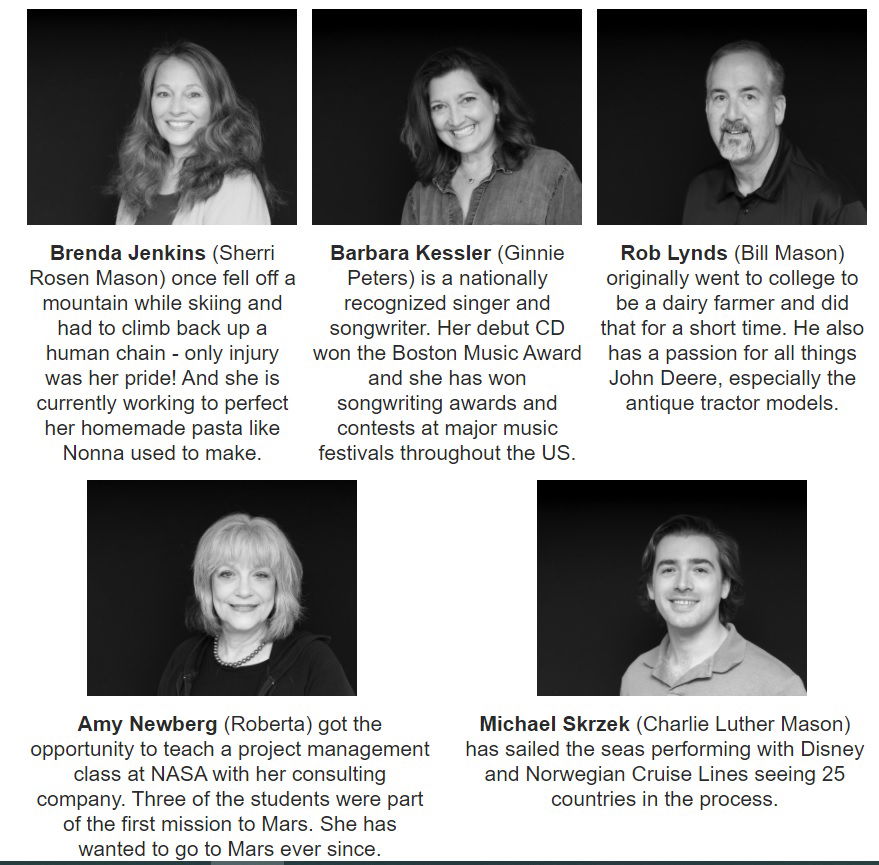 COVID-19 PROTOCOL
Proof of vaccination and masks are required for all audience members in our Grandview Ave. Playhouse.
As we all know, this is a unique and difficult time in our community. Our first priority is the health and safety of our audiences, creatives, and volunteers. As we prepare for our 2021-2022 Season, the WCLOC Board of Governors will be requiring proof of vaccination and masks for all audience members at our Grandview Avenue Playhouse.
Subscribe Today!
See all four WCLOC shows for only $75. And save $25 per subscription! Subscriptions are on sale now.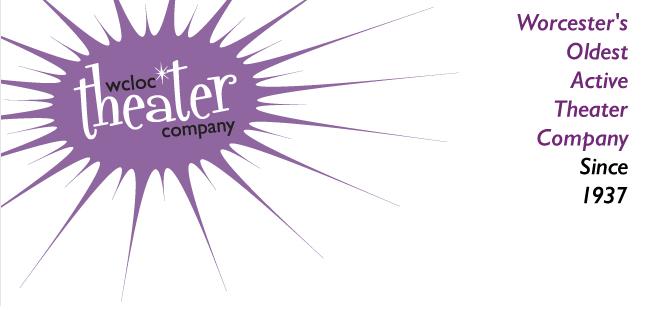 ABOUT WORCESTER COUNTY LIGHT OPERA COMPANY (WCLOC)
Founded in 1937, WCLOC Theater is Worcester's oldest active theater company. As a local, non-profit community theater, we depend on the generosity of our members, patrons, subscribers, and donors to help forward the mission of our organization to entertain, inform, and nurture local artists and audiences through the production of high quality, affordable musicals, plays, and children's educational workshops. A donation to WCLOC allows us to continue to keep tickets affordable for local audiences, helps us maintain and make necessary improvements to our Clubhouse, and supports a full season of memorable theater and educational opportunities.