The Barre Players
Present
"A VERY BARRE CHRISTMAS"
A Musical Review
Director: Anthony Masciangioli
Music Director: Jim Joinville
Choreographer: Meg Masciangioli
Barre Players Theater, 64 Common Street, Barre MA 01005
Performances:
December 3rd and 4th at 7:30pm
and
December 5th at 2:00pm.
Barre Players is back this season with a new production!
(It's the 100th anniversary of our founding)

A Very Barre Christmas will be presented December 3rd and 4th at 7:30pm and December 5th at 2:00pm.
Admission is free.
Reservations are required.
Limited tickets available at the door 30 minutes before the show.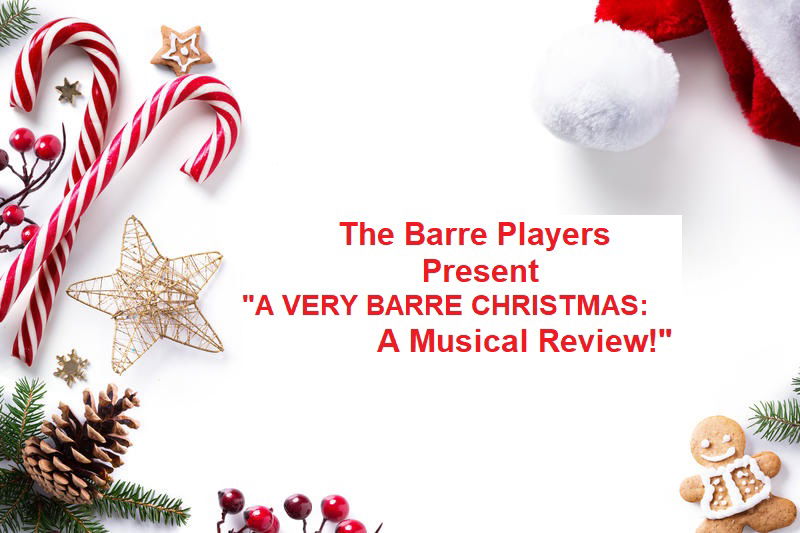 A Very Barre Christmas will showcase various holiday songs and scenes based on
favorite holiday memories from the cast and the community, asking the question...

"What makes Christmas special to you?"

ABOUT BARRE PLAYERS
Barre Players is a rural, non-profit, community theater committed to staging quality, affordable theatrical productions. Our theater is located on the historic common at 64 Common Street in Barre, Massachusetts.
Our typical theater season includes four productions (Fall, Christmas Holiday, Early Spring, Late Spring) and occasional special events. During the summer months we sponsor youth productions. For college-bound high school graduates, we have a scholarship program, which recognizes personal contributions to our organization.
We are a diverse group of individuals with a variety of interests. Our common bond is the desire to be involved in some way - directly or indirectly - in theatrical productions. New members are always welcome and appreciated. Our members and patrons come from many towns, primarily in the central Massachusetts area. Our theater is air conditioned, wheelchair accessible, and features elevated seating