Greater Worcester Opera
at Calliope Productions
Presents the Tony Award-winning Musical
"A GENTLEMAN'S GUIDE TO LOVE AND MURDER"
Book and Lyrics by Robert L. Freedman
Music and Lyrics by Steven Lutvak
Based on a Novel by Roy Horniman
Stage and Music Directed by Aldo Fabrizi
Cast Includes: Taylor Lawton, Benjamin Morse, Heidi White, Elaine Crane, Martha Warren, Connell Benn, Kathy Lague, Lisa Tierney, Betsy Fiedler, Brad Amidon, Erik Gladwin, Santo Mammone, Thaddeus Bell
Performances:
June 8, 9 & 10, 2023 at 7:30pm
June 11, 2023 at 2:00pm
Calliope Theatre, 150 Main Street, in Boylston, MA.
TICKETS:
$12.00-$25.00
www.greaterworcesteropera.org/tickets
COVID 19 PROTOCOLS
Contact Venue for Most Updated COVID-19 Safety Protocols and Information.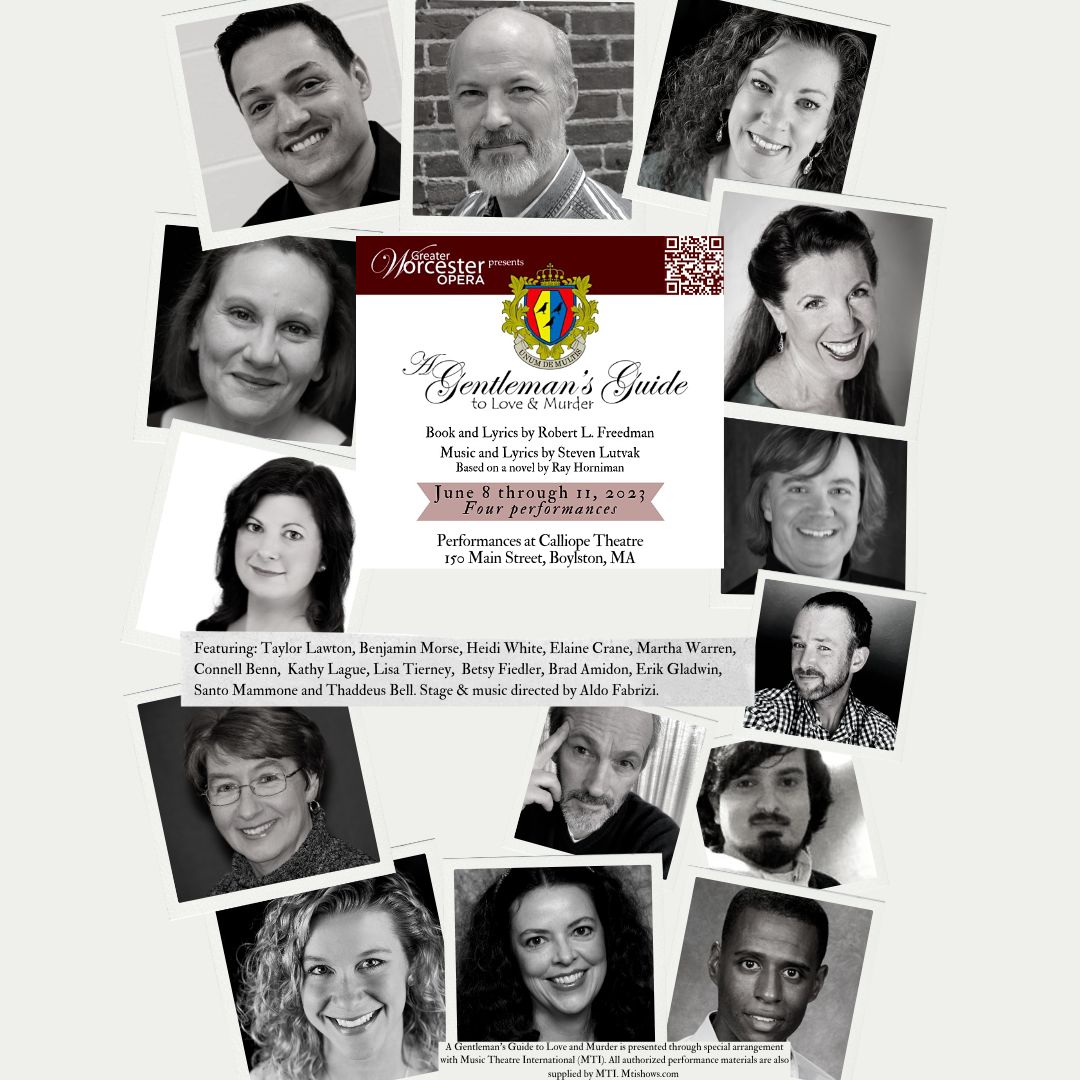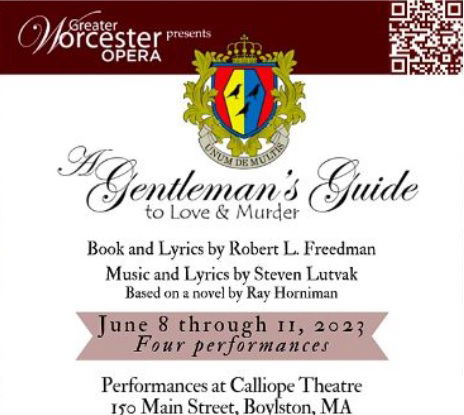 ABOUT THE SHOW
On the night of his mother's funeral, middle-class Englishman Monty Navarro learns an incredible secret: he is the "son of the daughter of the grandson of nephew of the second Earl of Highhurst."
In other words, Monty Navarro is an aristocrat -- if he can only find a way to prevent the eight earls preceding him from inheriting the earldom first.
Buoyed along by love for two different women, the stunning and self-centered Sibella and the pious and witty Phoebe, Monty takes on his mission.
As for the D'Ysquith family?
One actor plays each ill-fated member, from the flamboyant country squire to the terrible actress to the aging war hero.
In the witty and ceaselessly entertaining "A GENTLEMAN'S GUIDE TO LOVE AND MURDER" the audience is treated to Edwardian style, classic farce, and stunning operatic singing.
"A GENTLEMAN'S GUIDE..." combines the best of the past with a contemporary sensibility and humor that earned it the 2014 Tony Award for Best Musical. With non-stop laughs, a unique and soaring score, and unforgettable characters, A Gentleman's Guide to Love and Murder has become an instant classic.

ABOUT GREATER WORCESTER OPERA
GREATER WORCESTER OPERA (GWO) is a regional opera company based in Central Massachusetts. A non-profit organization, GWO produces mainstage opera, concerts, touring opera for students, and a variety of other musical events utilizing the talents of the area's finest professionally trained singers and musicians.