Calliope Productions
Presents
"A Funny Thing Happened on the Way to the Forum"
The Broadway Musical by Stephen Sondheim
Director Dave Ludt
Music Director John Leslie
Choreographer Jacob Sewell
Cast Includes: Pseudolus - Kevin Moylan; Senex - Chris Schmitt; Hysterium - Michael Celularo; Domina - Tracy Martino; Hero - Ian Flannery; Philia - Amanda Lanza; Miles Gloriosus - Stephen Murray; Marcus Lycus - Jeremy Darling; Erronius - Al Dano; Proteans - John Bausch, Rob Fossey and Ryan Hebert; Courtesans - Jessica Couture, Rosie Joubert, Olivia Lyerly, Kate Moylan and Stephanie Murin.
Performances:
May 19, 20, 21, 27, 28 2022 at 7:30pm
May 22, 28 & 29 2022 at 2:00pm
Calliope Productions, 150 Main Street, Boylston, MA 01505
Tickets for this musical are $25 for regular admission, and $20 for students and seniors.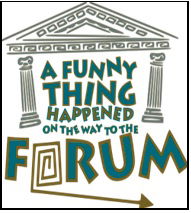 ABOUT THE SHOW
Based on the plays of Plautus, this musical with a book by Burt Shevelove and Larry Gelbart, the plot concerns a young hero, named Hero, who has fallen in love with a courtesan from next door.
He promises freedom to his slave, Pseudolus, in exchange for the girl. A Funny Thing is out of the ordinary in that the songs' function is not to advance the plot or to illuminate character, but rather to give the audience a vaudevillian break from the breakneck pace of the farcical plot. Includes the songs Comedy Tonight and Everybody Ought to Have a Maid.
COVID-19 PROTOCOL
IMPORTANT: In keeping with Calliope's current Covid-19 protocol, all performers and staff are fully vaccinated, and all audience members will be required to wear masks and present proof of vaccination or negative PCR test results.
For more information or to reserve or purchase tickets, please contact the Calliope box office at 508-869-6887.We look forward to seeing you at the theatre!

ABOUT CALLIOPE PRODUCTIONS
Calliope Productions is a year-round non-profit theatre company founded in 1982 that serves the needs and interests of audiences and performers in the Central Massachusetts region. Calliope Productions presents six main-stage productions each year, and operates performance training workshops for students (ages 9 - 18) and adults. Calliope Productions is a member of the American Association of Community Theatre, the Eastern Massachusetts Association of Community Theatres, and the Worcester Cultural Coalition.
Calliope Productions
150 Main Street
Boylston, MA 01505
508-869-6887