Theatre Of Northeastern Connecticut, Inc.
at the Bradley Playhouse
Presents
"A CHRISTMAS CAROL

"
Written by Charles Dickens, Adapted by Aidan Horrigan
Performances:
December 2, 2022 through December 18, 2022
(Contact Box Office for Exact Times)
Bradley Playhouse, 30 Front Street (Route 44) in Putnam, CT.
TICKETS
ADULTS: $22
STUDENTS OR SENIORS (60+): $18
VETERANS OR FIRST RESPONDERS: $18
Please note: FLEX PASS holders need to sign-in online or CALL the Box Office to PURCHASE TICKETS
All seats reserved. Reservations may be made with a major credit card online at www.thebradleyplayhouse.org or by calling 860-928-7887.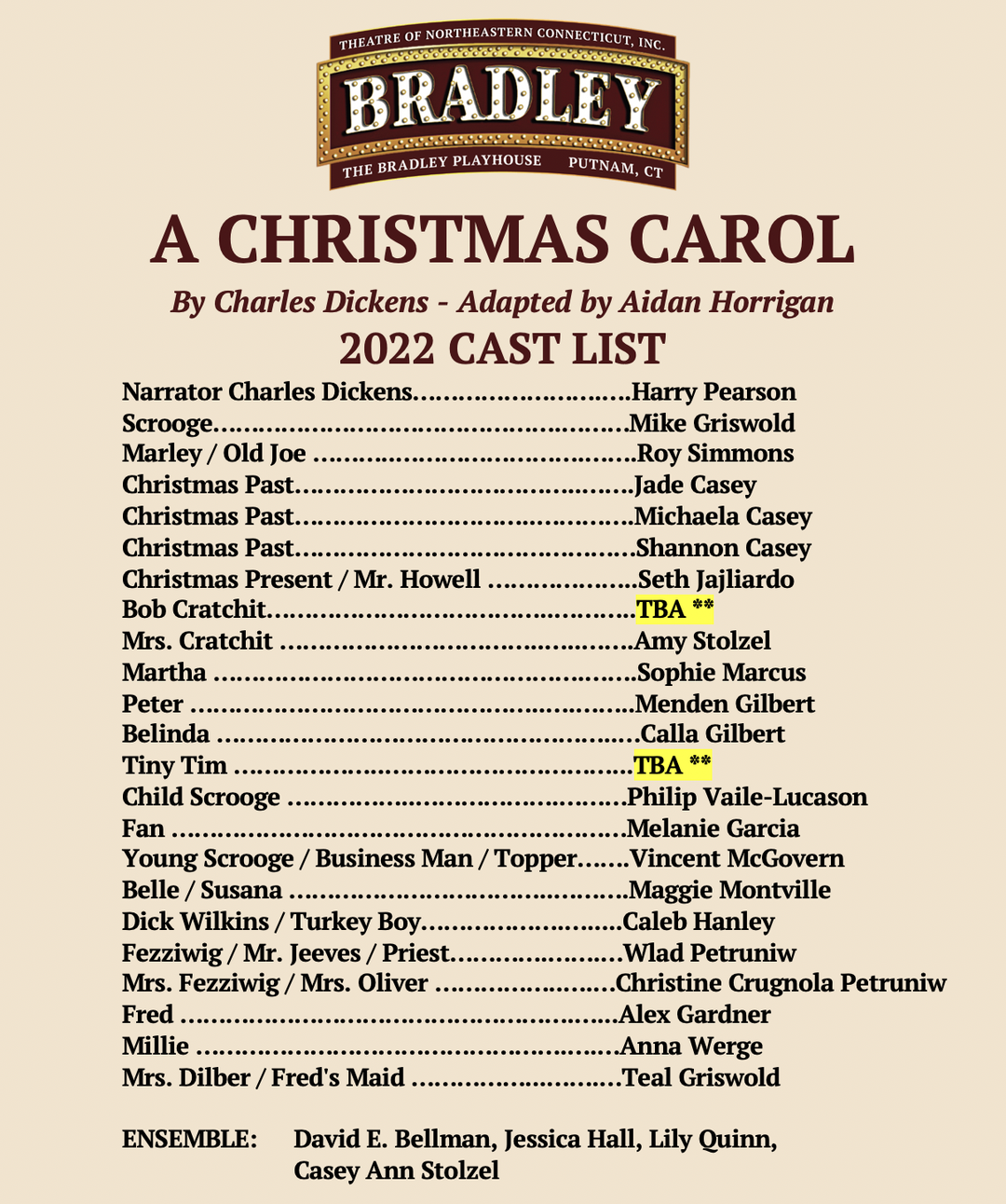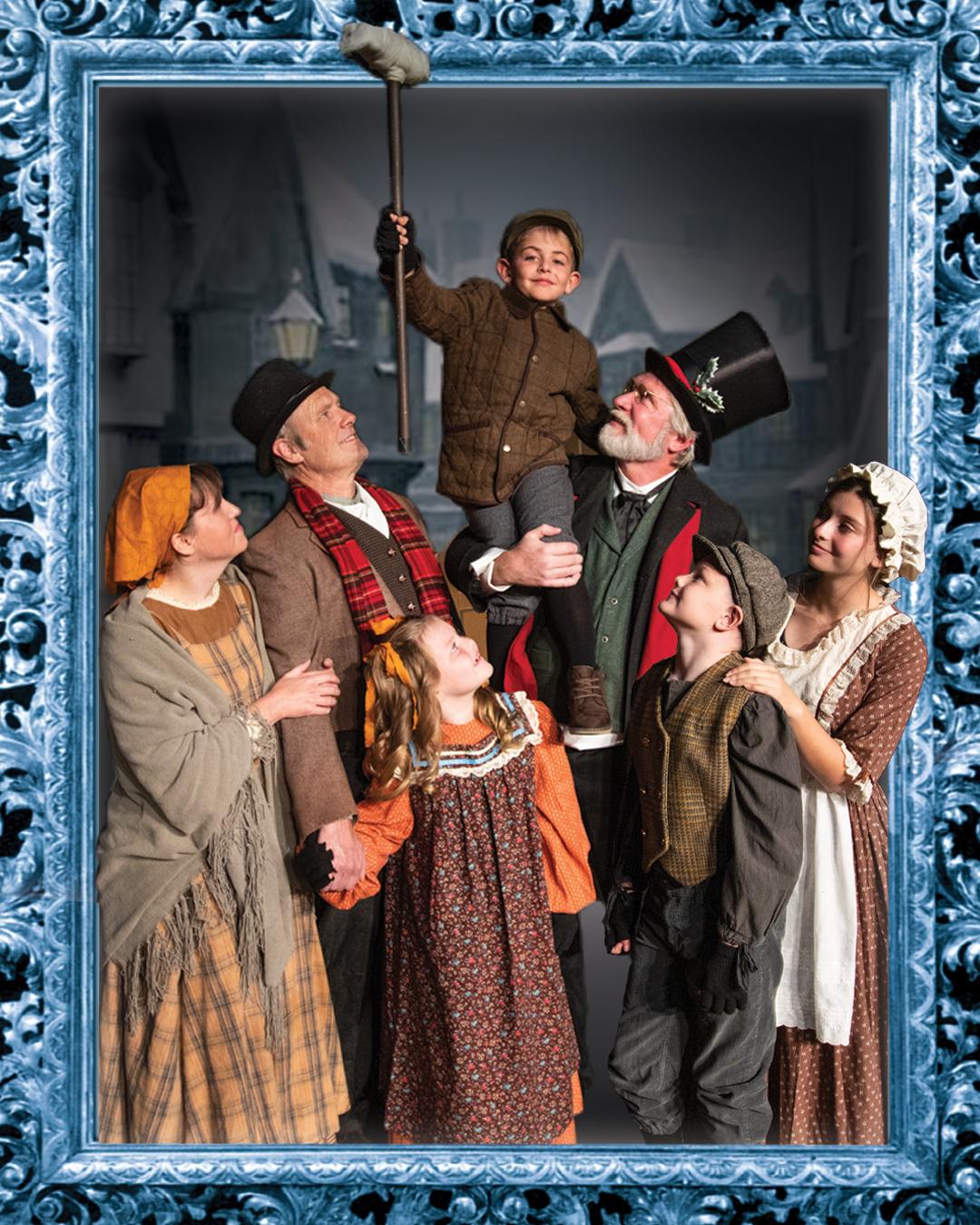 (Photo: CAST of the Bradley Playhouse production of "A CHRISTMAS CAROL" - Pictured are: (Back Row) Amy Stolzel (Mrs. Cratchit), Jim Archambault (Bob Cratchit), Jeffrey McAteer (Tiny Tim), Michael Griswold (Scrooge), Sophie Marcus (Martha); (Front Row) Calla Gilbert (Belinda), Menden Gilbert (Peter). Photo Credit Aidan Horrigan)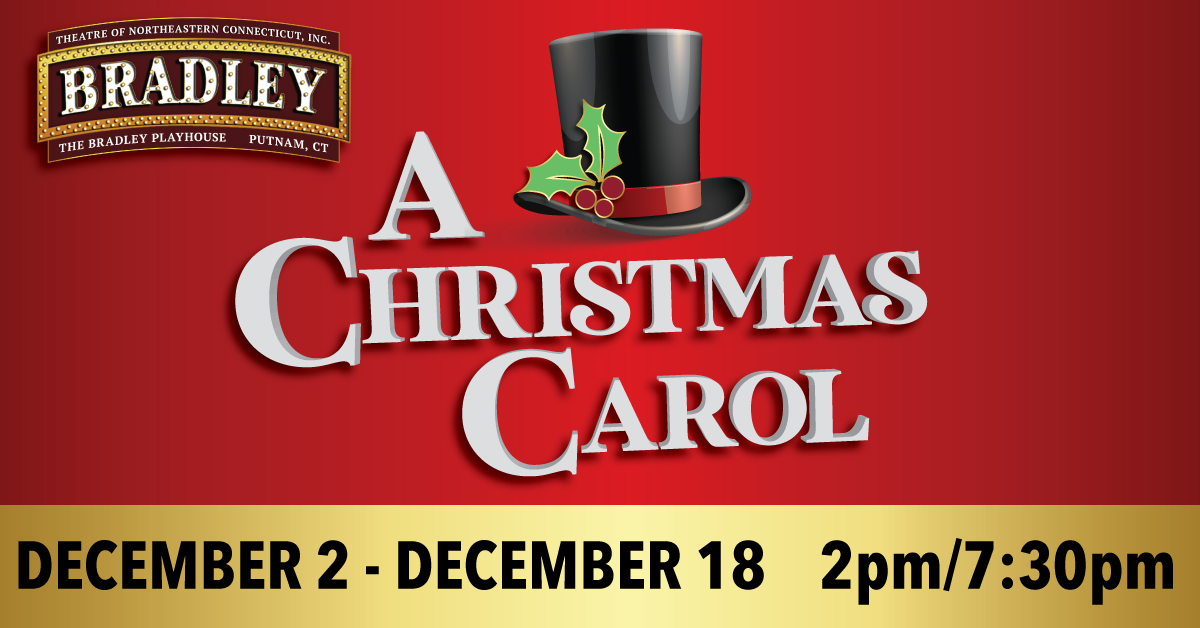 ABOUT THE SHOW
Dare we say it?
Yes, it is beginning to look a lot like Christmas!
An excellent way to get in the spirit of the holiday is at the Bradley Playhouse, where you can once again visit with Scrooge, the timeless spirits, and Tiny Tim and all the Cratchits.
The Theatre of Northeastern Connecticut is proud and excited to present Charles Dickens' beloved story, "A CHRISTMAS CAROL" which opens December 2nd and runs for three weekends.
"A CHRISTMAS CAROL" by Charles Dickens, adapted by Aidan Horrigan is a traditional take on the beloved ghost story following the tight-fisted Ebenezer Scrooge through a series of strange and magical journeys with three ghosts, where he ultimately discovers the true spirit of the holiday season.
This Holiday favorite was adapted exclusively for the Bradley Playhouse stage and this production will feature effects and play with sound, allowing your family to feel immersed as they follow Scrooge into the past, present, and future of what Christmas really means.
Bring your family and friends to enjoy this special magical holiday you will only find at The Bradley Playhouse!
COVID-19 PROTOCOL
Wearing a mask is optional if you are vaccinated. For the safety of patrons, cast, crew, and volunteers, we do request that a mask be worn by those who are not vaccinated.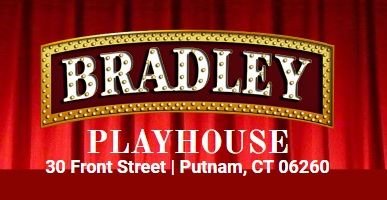 ABOUT THE BRADLEY PLAYHOUSE
The Bradley Playhouse is a 117 year-old vaudeville theatre in the heart of the Putnam antiques and restaurant district in the "Quiet Corner" of Northeastern Connecticut. Since 1991, the Bradley Playhouse has been managed by the volunteers of The Theatre of Northeastern Connecticut, Inc. (TNECT).
ABOUT THEATRE OF NORTHEASTERN CONNECTICUT
TNECT produces eight main season shows per year and a number of special fundraising events for The Bradley Playhouse Restoration Fund. TNECT's mission is to produce and sponsor quality theatre and entertainment for the residents of Northeastern Connecticut and the surrounding areas, to encourage the development of creativity through the support of local artists, and to support education and hands-on experience in the creation, direction, and production of theatre and the performing arts.
The Bradley Playhouse
30 Front Street
PO Box 71
Putnam, CT 06260-1942