(Photos Courtesy of Jeremy Daniel Photography and the Boch Wang Center)
Boch Wang Center's splendid holiday spectacle "White Christmas"
By Kevin T. Baldwin
METRMag Reviewer
Contact: 774-242-6724

BOSTON, MA: "White Christmas" music by Irving Berlin. Presented by Work Light Productions at the Boch Center Wang Theatre, 270 Tremont Street, Boston, MA. 02116. Performances: Dec. 26 at 7:30pm. All photos and production details courtesy of the Boch Center.
Book by David Ives and Paul Blake. Based upon the Paramount Pictures film written for the screen by Norman Krasna, Norman Panama and Melvin Frank. Music and Lyrics by Irving Berlin. Directed and Choreographed by Randy Skinner. Music Director Michael Horsley. Orchestrations Larry Blank. Associate Choreographer Kristyn Pope.
CAST INCLUDES: David Elder, Kerry Conte, Jeremy Benton, Kelly Sheehan, Conrad John Schuck, Lorna Luft, Cliff Bemis, Emma Grace Berardelli, Kyla Carter, Brad Frenette, Danny Gardner, Lamont Brown, Darien Crago, Sarah Fagan, Drew Humphrey, Bryan Thomas Hunt, Kimberly Immanuel, Tina Johnson, Kristie Kerwin, Brianna Latrash, Stephanie Brooks Martin, Chris McNiff, Daniel Plimpton, Kristyn Pope, Sean Quinn, Chris Shin, Karilyn Ashley Surratt.
The Boch Wang Center presents "White Christmas" - a charming, preposterous and schmaltzy musical scored by songs by the immortal Irving Berlin and it not only has familiar tunes that you will have in your head long after you leave the theatre, it also has dance numbers and sets that dazzle so much that you will not soon forget.
This story is a simple one: Two buddies, Bob (David Elder) and Phil (Jeremy Benton) who served together under a "beloved general" (sounds far-fetched already) meet up with the general again 10 years later. General Waverly (played by legendary character actor Conrad John Schuck) now runs an inn which is in financial dire straits.
The duo arranges to put on a full fledged musical revue in the huge barn at the picturesque Vermont inn.
During their journey to the inn, the boys meet Betty and Judy Haynes (Kerry Conte and Judy Sheehan, respectively), sisters who have an act of their own. They decide to include them in the revue but there is an ulterior motive, as well. Phil and Judy, who "click" from the moment they meet, want to get Bob and Betty together, because they didn't "click" right away but they think they ultimately will.
The Vermont Inn is managed by Martha Watson (played brilliantly by Lorna Luft) who is keeping the bills from the General so he does not realize just how dire their financial situation is.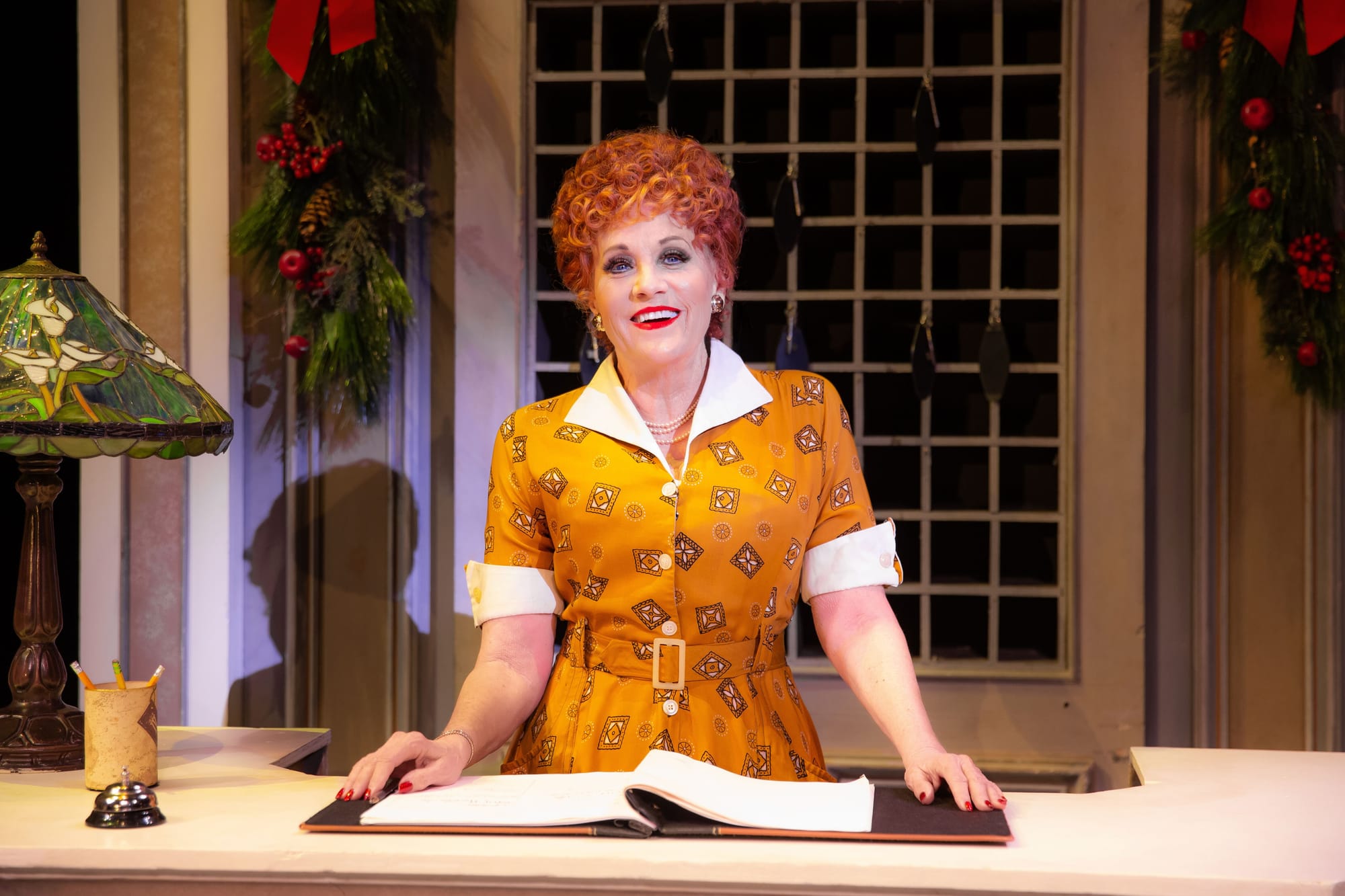 Lorna Luft as Martha Watson in "White Christmas"
Courtesy of Jeremy Daniel Photography and the Boch Wang Center

The principals and ensemble power drive every single dance number in the show and it is, not to over use the word but it is accurate, "spectacular."
The book of the show by David Ives and Paul Blake is not a perfect one. There is a total absence of any antagonist – most of the conflicts arise out of misunderstandings and well intentioned manipulations.
Also, Conte is a strong singer but her vocal styling seems out of place singing the Berlin songs. And the absence of more songs for the incredible voice of Schuck is disappointing.
As mentioned, the thought of a general so "beloved" that his solders actually sing how much they "love him" seems a bit of a stretch but, through Schuck's tender, thoughtful and charismatic portrayal, it is not that big of a leap to believe that this is a general who cared about every single one of the soldiers under his command.
But these are relatively minor imperfections in an otherwise huge ugly Christmas sweater of holiday enjoyment from the moment the curtain goes up.
Set and scene changes move like precision clock work and, each time, when the next scenery is revealed, it is a visually stunning experience, as if moving from one building size holiday card to the next. And the finale is like being inside a virtual snow globe.
"Happy Holidays/Let Yourself Go," "Blue Skies," "The Best Things Happen While You're Dancing," and "I Love a Piano" are some amazing tap dance numbers that are performed to perfection by Elder, Benton, Sheehan and the ensemble.
Other entertaining numbers include "Count Your Blessings," "Sisters," "How Deep is the Ocean," and the immortal title tune, "White Christmas."
Luft is a hoot as Martha and impresses with several delightful musical moments that include "Falling Out of Love Can Be Fun," (with Sheehan and Conte) and "Let Me Sing and I'm Happy."
With just one performance left, it is definitely worth a trip to Boston to see this visually stunning, fun adaptation of "White Christmas," assuredly a 'merry and bright' holiday treat.
The show runs approximately 2 hours 30 minutes with one intermission.
Kevin T. Baldwin is a member of the American Theatre Critics Association (ATCA)