(Cover Photo: The CAST of "TOOTSIE THE MUSICAL" at the Hanover Theatre in Worcester, MA. until October 2, 2022. Photo by Evan Zimmerman for MurphyMade)
By Kevin T. Baldwin
METRMAG Reviewer
# 774-242-6724
"I was a better man with you as a woman than I ever was with a woman as a man."
- Michael Dorsey

The Hanover Theatre for the Performing Arts
Presents
"TOOTSIE THE MUSICAL"
Book by Robert Horn
Music and Lyrics by David Yazbek
Based on the story by Don McGuire and Larry Gelbart and the COLUMBIA PICTURES motion
picture produced by PUNCH PRODUCTIONS and starring Dustin Hoffman
Broadway Choreography by Denis Jones
Directed by Dave Solomon
Original Broadway Direction by Scott Ellis
Cast Includes: Drew Becker - Michael Dorsey / Dorothy Michaels; Ashley Alexandra - Julie Nichols; Payton Reilly - Sandy Lester; Jared David Michael Grant - Jeff Slater; Matthew Rella - Max Van Horn; Kathy Halenda - Rita Marshall; Dianne B. Manaster - Fran Fields; Adam du Plessis - Ron Carlisle; Leyla Ali – Ensemble; Lexi Baldachino - Swing, Dance Captain; Mathew Bautista – Ensemble; Kyra Christopher – Ensemble; Mia Davidson – Ensemble; Javian Depalma – Ensemble; Nicole Fragala – Ensemble; Laura Guley – Ensemble; Brian Cedric Jones – Ensemble; Matt Kurzyniec – Ensemble; Robert Miller – Swing; Kaimana Neil – Ensemble; Arianna Schrage – Ensemble; Josh Woodie - Ensemble
Additional Creative Team: Christine Peters - Tour Scenic Design; William Ivey Long - Costume Design; Donald Holder - Lighting Design; Brian Ronan - Sound Design; Paul Huntley - Hair & Wig Design; Angelina Avallone - Make-Up Design; Christopher Vergara - Costume Coordinator; Binder Casting - Chad Murnane, CSA Casting; Talitha Fehr - Music Coordinator; Dean Sharenow - Music Supervisor; David Chase - Dance Arrangements; Simon Hale – Orchestrations; Allied Global Marketing - Tour Marketing & Press; The Booking Group - Tour Booking Agency; Andrew David Sotomayor - Music Director; Suzayn Mackenzie-Roy - Production Stage Manager; Andrew Terlizzi – Company Manager; Brianna Thompson - Assistant Stage Manager, Assistant Company Manager; Brian Schrader - General Manager; Kori Prior - Executive Producer; Heather Chockley - Production Management; Andrea Grody - Supervising Music Director, Vocal & Incidental Arrangements.
(NOTE: Information for cast and crew obtained from tour website and is subject to change)
Performances:
September 29, 2022 at 7:30pm
September 30, 2022 at 8:00pm
October 1, 2022 at 2:00pm and 8:00pm
October 2, 2022 at 1:00pm and 6:30pm
Presented at the Hanover Theatre for the Performing Arts, 2 Southbridge St., Worcester.
Contains adult language and situations.
Audio Description services available at the Sunday matinee performance, 1 pm
ASL available at the Sunday evening performance, 6:30 pm (If you are using ASL services, please let the ticket office know when you are ready to purchase tickets, so we can place you in seats in front of the ASL interpreter.)
Tickets are $39, $49, $62 and $79 depending on seat location.
Please contact the box office at 877-571-SHOW (7469) for more information.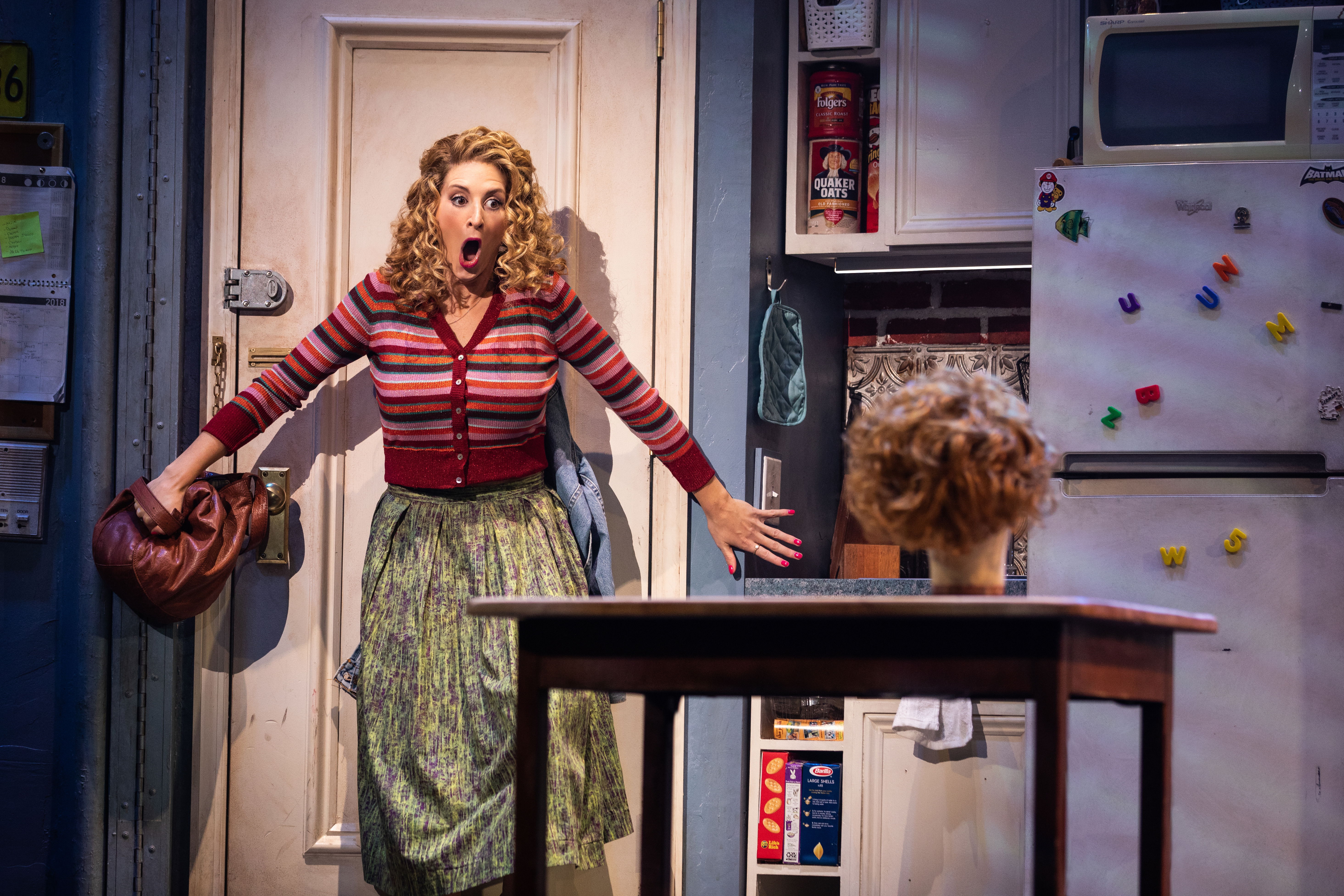 (Photo: Payton Reilly as Sandy in "TOOTSIE - THE MUSICAL" at the Hanover Theatre in Worcester, MA. Photo by Evan Zimmerman for MurphyMade)
"TOOTSIE THE MUSICAL" has opened at the Hanover Theatre and appears to have arrived with just one mission in mind: to fill the room with great music and intense laughter.
Mission: Accomplished.
Kicking off the 2022-2023 Broadway Series at the Hanover Theatre, the show may not achieve status as the best musical in this latest series when compared to upcoming hit shows "Mean Girls," "Hadestown," "Jesus Christ Superstar," "Aladdin" or "Annie."
However, in comparison, though, it is definitely the funniest...by miles, with laughs coming literally every few beats.
In addition, the songs provided by the show's composer, David Yazbek, are perfectly in tune to the humor.
The show, impeccably staged and directed by Dave Solomon featuring original Broadway choreography by Denis Jones, will be running until October 2 and is based upon the iconic 1982 film role for which Dustin Hoffman was nominated for an Academy® Award.
The Broadway production opened on April 23, 2019 and closed January 5, 2020, having played 293 regular and 25 preview performances. It was not a critics' darling at the time and faced backlash for a reported insensitive approach to the subject of gender misappropriation and fluidity.
However, with extensive re-writes that have taken place within this new tour, many prior objections appear to have been addressed - although there will most likely be those who might never accept the material no matter how well intentioned these enhancements are approached.
That is unfortunate for them because what remains is a relentlessly funny show with outstanding performances, great songs, some damn fine staging and terrific choreography.
"TOOTSIE THE MUSICAL" concerns Michael Dorsey (Drew Becker), a talented but 'difficult' actor who struggles to find work.
Dorsey's frustrated agent, Fran (Dianne Manaster), dumps Dorsey as a client, not wanting anything more to do with him or his damaged reputation.
Depressed, Dorsey confides with his playwright-waiter roommate, Jeff (adeptly played at this performance by understudy Matt Kurzyniec) and their neurotic out-of-work actress Sandy (Payton Reilly).
Reilly is a hyperventilating wonder in the intensely Yazbek-caffeinated song, "What's Gonna Happen" which makes one wonder if an oxygen tank awaits the actress backstage by the end of the number.
Kurzyniec is weighted (or gifted) with most of the humorous moments on stage as Jeff, and carries it off splendidly. His scenes with Becker yield not just seconds but long minutes of prolonged laughter.
Sandy has come to Dorsey for advice for an upcoming audition and, in a moment of equal dose inspiration and desperation, Dorsey gets an insane idea.
Dorsey's attends the audition in disguise as "Dorothy" which lands him the role of a lifetime as a pivotal female supporting character in a new Broadway show loosely (very loosely, almost criminally loosely) based on "Romeo and Juliet" (for those that recall the movie, Dorothy originally landed a pivotal female supporting character on a soap opera).
Given the above, in a hilarious exchange with Jeff, all anticipated complaints from multiple factions are brought immediately to the forefront by Jeff and quickly re-sets the show to what it is intended to be: a preposterous comedy of a foolish, selfish man's gender mis-appropriation.
While in the guise of Dorothy, though, Dorsey does ultimately learn far more than he bargained for about being a working woman and brings both social interaction and workplace issues to the forefront, as well.
Manaster as Fran is a riot whenever on stage, but we do lose a number of iconic movie quotes including the famous line, "I begged you to get some therapy" when Fran discovers Dorsey's secret. But the reveal is still one of the funniest...and longest...laughs in the show's second act.
Director Solomon's expert comedic choice to let certain selected "elongated moments of silence" on stage play out was brilliant and, at this performance, were perfectly timed and well-executed.
In "TOOTSIE THE MUSICAL" playing to the "dichotomy" between Dorsey and Dorothy requires great versatility but Becker transitions effortlessly between the two.
While Dorsey's intentions are obtuse and self-serving, thanks to Becker's dominating performance, his intentions as Dorothy all come across as altruistic, well-meaning, and sincere, especially in his interactions with co-star and "love-at-first-sight" Julie (Ashley Alexander).
Alexander is a powerhouse vocalist and a commanding presence in her Act Two musical number, "Gone, Gone, Gone."
Also appearing in the musical with Julie and Dorothy is handsome leading man, Max (Matthew Rella) a hilariously dim-witted reality star currently starring as "Romeo's brother." Max has developed an intense crush on Dorothy while Dorsey has equally strong feelings for Julie.
Rella has a firm grasp on the character layering Max not only with two(maybe one)-dimensional superficial traits but also imbuing Max with an amusingly child-like sense of wonder.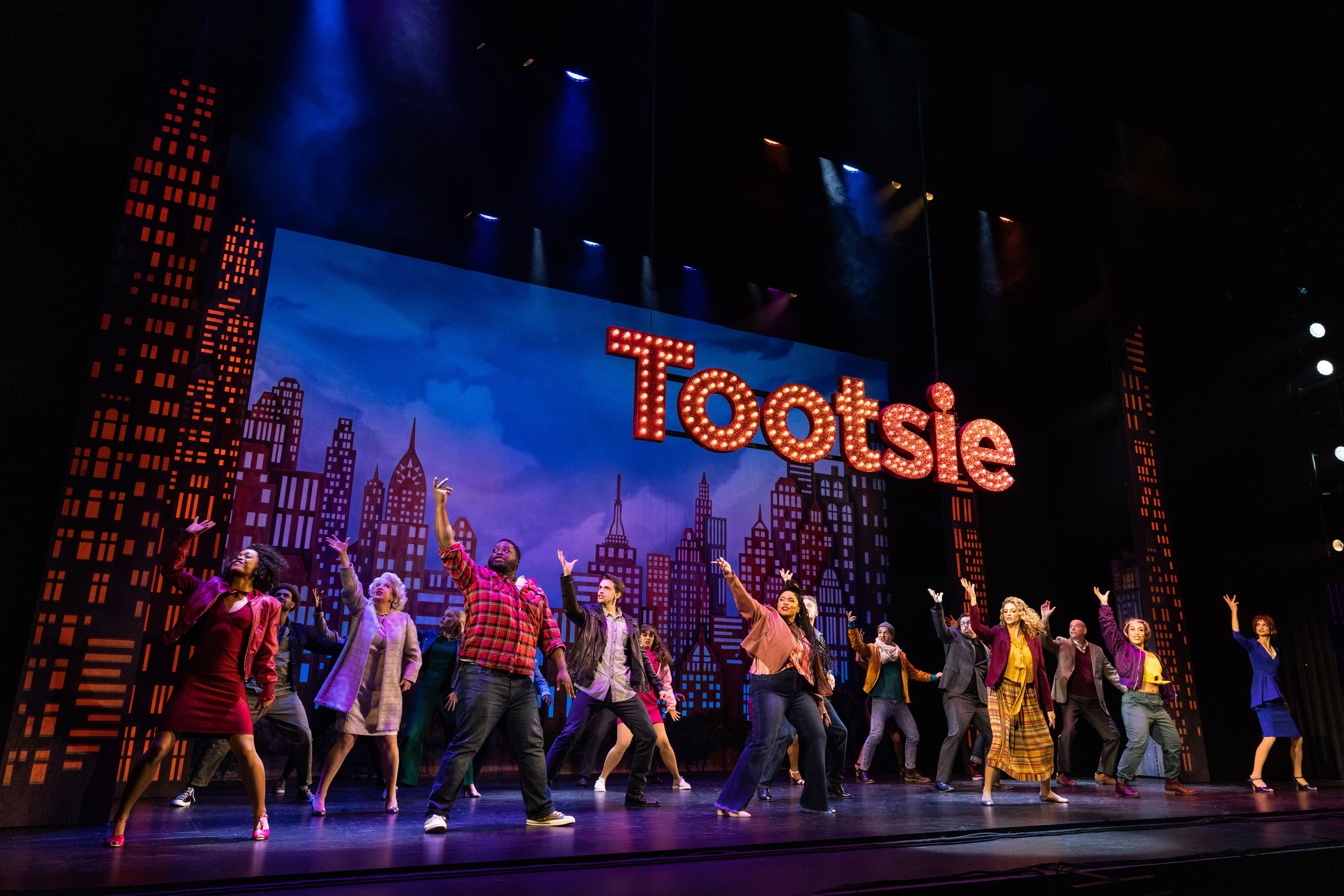 (Photo: CAST of "TOOTSIE THE MUSICAL" at the Hanover Theatre in Worcester, MA. Photo by Evan Zimmerman for MurphyMade)
In addition to Solomon and Jones the tour's creative team includes book writer Robert Horn and songwriter David Yazbek (who provided some newly revised music for the show).
Horn won the Tony® Award for writing the book for this musical and has been making improvements to the script which absolutely shows.
The strength of Horn's script is in the recurring concept of Dorsey's "universe" summed up in the following lyrics:
"Like open your eyes and get a clue that maybe the universe doesn't revolve around only you.
It's possible, It's possible."
In the structure of Horn's script, Dorsey may be the center or "nucleus" of the story - but it is all the actions of the superb "supporting" characters surrounding him that make the show work.
Every single "supporting" performance is elevated to the point where the character of Dorsey seems to actually be supporting them instead of the other way around...which may be how the universe is supposed to work.
The ensemble is also quite prominent and proficient in every scene and assist during the scene changes allowing the show to flow seamlessly. Every production detail from lights, sets and costumes is flawless. One brief moment of a crashing feedback sound was experienced during the Thursday night performance but ultimately did not detract from the overall production.
As for composer Yazbek: It is interesting to note Yazbek is well known in theatrical circles for lighthearted, comedic scores like the musical staging of both "Dirty Rotten Scoundrels" and "The Full Monty."
Yet, Yazbek won the 2018 Tony® Award for the brilliant musical, "The Band's Visit" which was unique given being more somber in overall tone and was a vast departure from those previous shows.
With "TOOTSIE THE MUSICAL," Yazbek appears to harken back to that earlier lighthearted sound and tone, especially with the rousing Act Two number, "The Most Important Night" which is a sure-fire crowd pleaser.
The song is so good, in fact, that one wishes it was used as a recurring theme throughout the show because the melodies that were selected to reprise ("Whaddya Do" and "Who Are You" as examples) are fine songs but just not as conducive to a recurring theme.
"Talk To Me, Dorothy" is another standout Yazbek tune in which Dorsey must face the repercussions of his actions and decide how he will fix things with the people closest to him whom he has hurt. The song itself is one of several ballads that seem to reach as far back as "Full Monty" in terms of "distinctly Yazbek" melodies.
While this may not, in fact, be the most important night of YOUR life, it will certainly be a most enjoyable evening and one filled with a lot of laughter...and that ain't bad.
Approximately two hours, 30 minutes but it is recommended to anticipate extra time for parking and intermission.
Kevin T. Baldwin is a member of the American Theatre Critics Association (ATCA)
@MetrmagReviews
@Theatre_Critics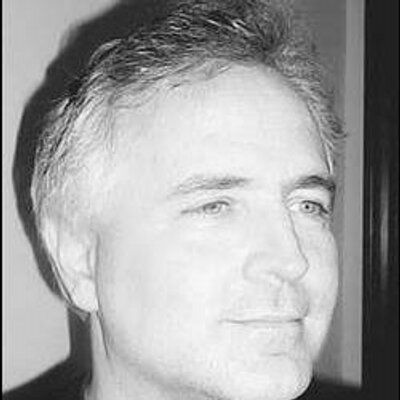 Tickets are $39, $49, $62 and $79 depending on seat location.
Please contact the box office at 877-571-SHOW (7469) for more information.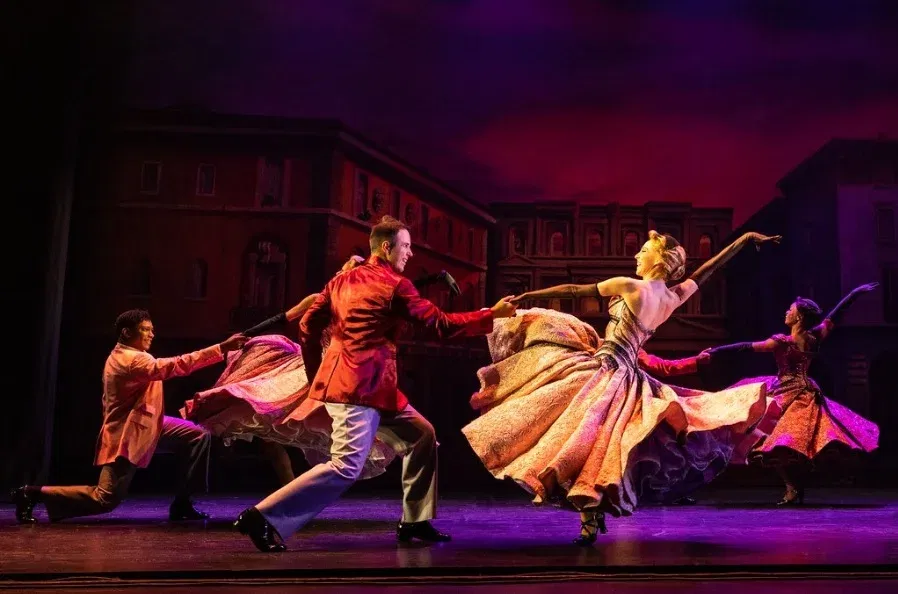 (Photo: CAST of "TOOTSIE THE MUSICAL" playing at the Hanover Theatre in Worcester, MA. Photo by Evan Zimmerman for MurphyMade)
ABOUT THE SHOW
Call it "musical comedy heaven" (Rolling Stone).
Call it "the most uproarious new musical in years!" (The Hollywood Reporter).
Call it "TOOTSIE!"
This laugh-out-loud love letter to the theater tells the story of Michael Dorsey, a talented but difficult actor who struggles to find work until one show-stopping act of desperation lands him the role of a lifetime.
Featuring a hilarious Tony®-winning book by Robert Horn and an outrageously clever score by 2018 Tony-winner David Yazbek (The Band's Visit, Dirty Rotten Scoundrels), this New York Times Critic's Pick is "a joyful delight" (The Washington Post) that's "so packed with punchlines, it should be called a jokebox musical!" (Bloomberg). "In these turbulent times, when the world seems out of balance, we need a place to let the good times roll," raves Rolling Stone. "TOOTSIE is it!"
Based on the 1982 smash comedy hit, "TOOTSIE THE MUSICAL" has been nominated for ten Tony® awards and while capturing the hearts of audiences all over the country.
Premiering in Chicago, four years ago, this hysterically funny show is sure to make you laugh out loud while falling in love with the incredibly talented cast of characters.
The Hanover Theatre and Conservatory could not be more excited to announce the amazing adaptation of the feel-good movie "TOOTSIE," featuring a male actor, turned female impostor whose plan gets derailed by a multitude of unexpected turns!
Come laugh your heart out and see firsthand why this 1982 smash hit has made a come back as a Broadway success!
Contains adult language and situations.
Audio Description services available at the Sunday matinee performance, 1 pm
ASL available at the Sunday evening performance, 6:30 pm (If you are using ASL services, please let the ticket office know when you are ready to purchase tickets, so we can place you in seats in front of the ASL interpreter.)
COVID-19 PROTOCOL
Most recent Hanover Theatre safety protocol details may be found here:
https://thehanovertheatre.org/plan-your-visit/safety-protocols/

Worcester Center for Performing Arts is a registered not-for-profit 501(c)(3) organization, which owns and operates The Hanover Theatre and Conservatory for the Performing Arts. All donations are tax deductible to the fullest extent allow