(Cover Photo: Brian D. Coats, Brittany-Laurelle, Hadar Busia-Singleton, and Alexandria King in The Huntington's production of The Bluest Eye by Lydia R. Diamond; now through March 26 at the Calderwood Pavilion at the BCA, and available digitally through April 9 on huntingtontheatre.org. Photo: T Charles Erickson)
Kevin T. Baldwin
METRMag Reviewer
# 774-242-6724
"A vision of community brought into focus"

The Huntington Theatre
Presents
"THE BLUEST EYE"
Celebrating the legacy of the landmark TONI MORRISON novel!
Novel Written by Toni Morrison

Adapted by Lydia R. Diamond
Directed by Awoye Timpo
Cast Includes: Ramona Lisa Alexander, Brittany-Laurelle, Hadar Busia-Singleton, Brian D. Coats, McKenzie Frye, Lindsley Howard, Alexandria King, Greg Alverez Reid.
ADDITIONAL CREATIVE TEAM:
Scenic Design Jason Ardizzone-West; Sound Design Aubrey Dube; Lighting Design Adam Honoré; Co-costume Designers Dede Ayite and Rodrigo Muño; Original Music By Justin Ellington; Hair, Wig, and Makeup Designer J. Jared Janas; Music Director David Freeman Coleman; Choreographer Kurt Douglas; Dramaturg Sandy Alexandre; Dramaturg Sandy Alexandre; Production Stage Manager Emily F. McMullen; Stage Manager Lucas Bryce Dixon*
* Members of Actors' Equity Association, the Union of Professional Actors and Stage Managers in the United States.
Performances:
January 28 through March 26, 2022
(Contact Box Office for Exact Times)
CALDERWOOD / BCA: 527 Tremont Street, Boston MA 02116
THE HUNTINGTON THEATRE, 264 Huntington Avenue, Boston MA 02115
OFFICES: 560 Harrison Avenue, Boston MA 02118 | 617-266-7900
Seated and flexible packages are available, and you'll get access to the very BEST SEATS before tickets go on sale to the public. Learn more.
TICKETING SERVICES: 617-266-0800
Lydia R. Diamond's visionary adaptation of Toni Morrison's "The Bluest Eye" is an unrelenting look at persistence in the face of an ongoing ugliness. It is accusatory, revelatory, celebratory but, above all, it is a simply exceptional piece.
Set in author Toni Morrison's birthplace of Lorain, Ohio in the 1940s, we meet Pecola Breedlove (Hadar Busia-Singleton), a beautiful young girl with life dreams that nobody can shake, including the dream of having blue eyes.
Living in a toxic environment, ultimately those optimistic dreams will lead to great disappointment and tragedy, not just for her, but for others in the community where she lives. However, her outer resilience is infectious.
Busia-Singleton is simply marvelous in the role, balancing Pecola's optimism and naivete with an equal dose of determination of spirit.
Published in 1970, "The Bluest Eye" was Morrison's first novel. Diamond's adaptation is blunt, creative and inspired all at the same time.
The escapades, situations and dilemmas each of the eight member cast of characters face run the gamut of mundane to self-affirming, of external obstacles to internal pressures, and of supporting those trying to elevate themselves to forcing them back down, maintaining a stagnation for fear of one's own safety.
There is some original music supplied by Justin Ellington and choreography by Kurt Douglas but this is not a musical production. The added African American traditional spiritual ring shout "Adam In The Garden (Picking Up Leaves)" seemed quite conducive to the piece, as well.
From beginning to end, the chemistry within the ensemble is unmistakable and unshakable, resulting in one of the finest, focused ensemble productions probably seen in recent years.
The stage is set in the round with additional seating supplied on the stage area. The set, with scenic design by Jason Ardizzone-West, is a broken pavement circle with a movable, mystical looking "cloud" hovering over it, which might actually resemble an eye's pupil if observed from above.
Since the show is inspired by storytelling circles of Black rituals, the set becomes a brilliant construct which well suits the atmosphere created for the show, drawing us in closer to the stories being told and the overall vision being shared.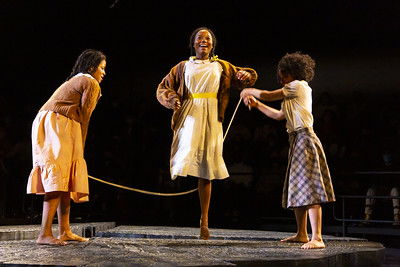 (Brittany-Laurelle, Hadar Busia-Singleton, and Alexandria King in The Huntington's production of The Bluest Eye by Lydia R. Diamond; now through March 26 at the Calderwood Pavilion at the BCA, and available digitally through April 9 on
huntingtontheatre.org. Photo: T Charles Erickson)
There are moments which should seem routine or even beautiful for the characters we meet – moments such as little girls playing with dolls, a child buying penny candy at a store, or two young people getting ready to make love for the first time. These, too, become moments poisoned by ignorance and hate.
It is a play in which the characters firmly resolve to say: "To you I might be ugly. To you I might be beautiful. To me it doesn't matter what you think. Beautiful or ugly, what I won't be is overlooked. I won't be ignored. I won't be dismissed. I won't be considered irrelevant."
The above comes from a place deep within each character's soul and is even apparent when, in one of the most repugnant scenes of someone manipulating someone else to poison a dog, the character of Soaphead Church (Brian D. Coats) turns it into a moment when, in a letter of unrepentant confession, it is Church that reminds God of God's own sins.
Coats is electrifying throughout the show, bringing an unapologetically vibrant Church to the stage.
Other standout performances include Brittany-Laurelle as "Claudia", Alexandra King as "Darlene/Frieda," Ramona Lisa Alexander as "Mama" and McKenzie Frye as "Mrs. Breedlove."
Live theatre is back and better than ever thanks, in part, to impeccably crafted productions like Huntington Theatre's staging of "The Bluest Eye."
The show's approximate run time is 100 minutes with no intermission.
Kevin T. Baldwin is a member of the American Theatre Critics Association (ATCA)
@MetrmagReviews
@Theatre_Critics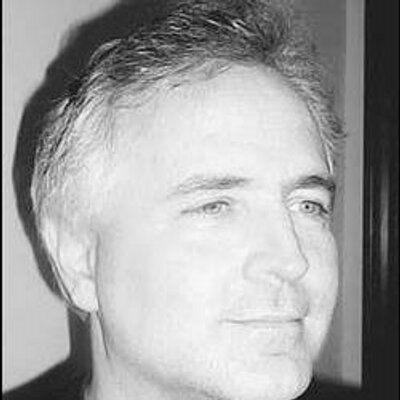 ABOUT THE SHOW
Celebrate the legacy of Pulitzer and Nobel Prize winning author Toni Morrison's acclaimed debut novel The Bluest Eye.
Brought to life as a tremendously moving theatrical event by Boston favorite Lydia R. Diamond (Stick Fly, Smart People) and acclaimed director Awoye Timpo, The Bluest Eye tells the story of Pecola, a young Black girl who believes everything in her world would be made wonderful if only she had blue eyes.
Enthralling, gorgeously written, and incredibly emotional, The Bluest Eye asks powerful questions concerning racism, beauty, and identity with stunning grace and subtlety.
COVID-19 PROTOCOLS
Based on CDC and state guidelines, our specific policies and protocols will continue to evolve. Protocols for Witch performances will not be determined until early October and will be communicated clearly to all ticket holders in advance of their performance. Learn more.

ABOUT THE HUNTINGTON THEATRE COMPANY:
The Huntington Theatre Company is Boston's leading professional theatre and one of the region's premier cultural assets since its founding in 1982. Recipient of the 2013 Regional Theatre Tony Award, the Huntington brings together superb local and national talent and produces a mix of groundbreaking new works and classics made current to create award-winning productions. The Huntington runs nationally renowned programs in education and new play development and serves the local theatre community through its operation of the Calderwood Pavilion at the BCA. The Huntington has long been an anchor cultural institution of Huntington Avenue, the Avenue of the Arts, and will remain so on a permanent basis with plans to convert the Huntington Avenue Theatre into a first-rate, modern venue with expanded services to audiences, artists, and the community. The Huntington cultivates, celebrates, and champions theatre as an art form.
For more information, visit huntingtontheatre.org.