(Cover Photo: Ethan White plays "T " aka "THE TRANSLATOR" - a couples therapist (of a sort) that utilizes a unique method to encourage honesty, transparency, and openness with his clients in Mary Darling's "THE TRANSLATOR" in Putnam, CT. until August 27, 2023. Photo Credit Mikey Maestaz)


By Kevin T. Baldwin
METRMAG Reviewer
# 774-242-6724
"...Sometimes people just need to trust that their relationship is where it should be, they are in it for a reason, and they both still want it."
("T") - Mary Darling


Museful Intent
Presents Mary Darling

s

'
"THE TRANSLATOR"
Written and Directed by Mary Darling
Stage Managed by Diane Servant
Cast Includes: Ethan White as "T"; Billy Bolster as "Joe"; Kyle Hargrove as "Marty"; Cas Reyes as "Chris"; Amanda Babcock as "Bianca"; Cassie Tortorici as "Michaela"; Brian Zakrajsek as "Sean";
Sara Penniman as "Kat"; Jim Douglas as "Roger"; Sue Adams as "Jean"; Vivian Nichols - Understudy
Additional Creative Team:
Photography & Tech Assistant - Mikey Maestaz; Lighting and Soundboard/understudy - Vivian Nichols
Performances:
August 25, 2023 through August 27, 2023
(Contact Box Office for Exact Times)
BLOCK 134, 134 Main Street, Second Floor, Putnam, CT 06260
TICKETS:
For more information, contact marydarling6@gmail.com
COVID 19 PROTOCOLS
Contact Venue for Most Updated COVID-19 Safety Protocols and Information.
(Note: The following review is of a performance of a run that is already sold out)
"THE TRANSLATOR" premieres at BLOCK 134 in Putnam, CT. and perfectly illustrates all the things we do for love.
The amazing thing about the recent staging of "THE TRANSLATOR" by Mary Darling is it shouldn't have worked but it did and it is an outstanding new play.
First, let's get the bad stuff out of the way:
The venue itself was problematic as spacing for action was minimal at best.
The music played at the bar directly next door made it difficult to hear the actors at times.
The actors were occasionally getting in their own way.
The show might have been better served if staged "in the round" but, instead, it was performed almost "semi-circle in the round" given a few scenes were performed to one side behind a scrim.
Outside of the scrim, which was effectively used, the overall staging and sets was kept to a bare minimum, and presumably not by choice but rather out of necessity.
Now, let's get to the good stuff:
In spite of all of the above listed disadvantages, the material and the performances rose above this and provided an evening of thoroughly engaging entertainment.
Much of this was due, in no small part, by the depth of each of Darling's characters. The overall flow of the line to line progression was spot on giving a natural authenticity and "crispness" to the dialogue.
We begin with "THE TRANSLATOR" himself, aka "T" played exceptionally well by Ethan White. in a layered performance.
T is a complex individual who actually is going through some intense personal trauma of his own, which becomes painfully evident throughout the story.
The basic premise is people seeking an "economic alternative" to expensive counseling or couples therapy find ads for an inexpensive "therapist" called "THE TRANSLATOR" and decide to take this one last shot at working through their problems (given that nothing else has worked yet for them).
Each of T's clients is thoroughly defined and presented well by the performers. We believe in the relationships as conveyed by the actors.
Marty (Kyle Hargrove) and Joe (Billy Bolster) are a married couple dealing with stress caused by constant assumptions, accusations and, above all else, miscommunication.
In session, Joe explains how he chose to abandon life in the workplace to pursue a "career" in the theatre and, while Marty wants to be supportive, he is met with constant resentment by Joe at every turn and he responds in kind.
This couple is probably the best defined and best executed thanks to the on stage relationship and performances of Hargrove and Bolster.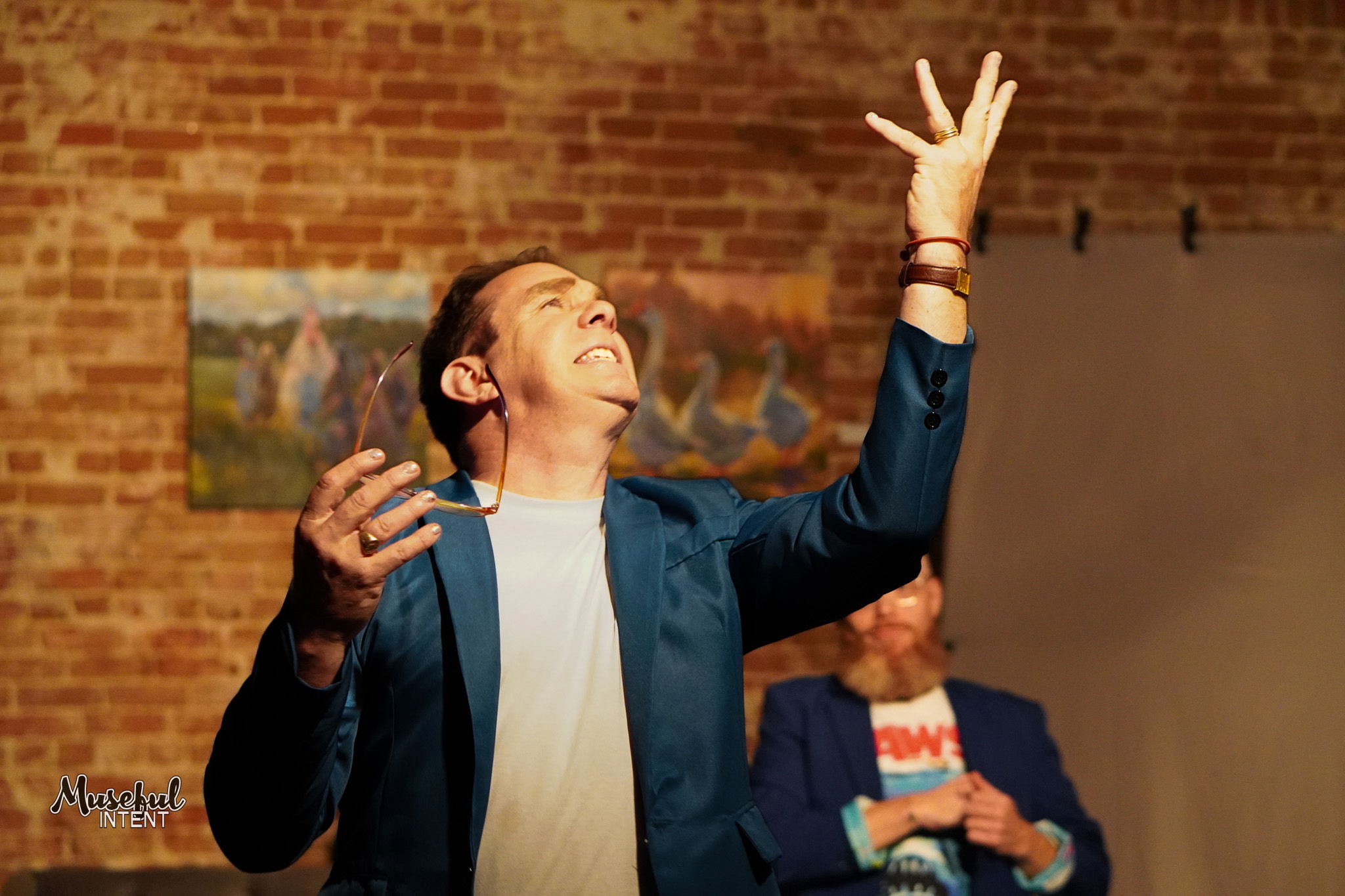 (Photo: Billy Bolster as "Joe" and Ethan White as "T " in a scene from Mary Darling's "THE TRANSLATOR" in Putnam, CT. until August 27, 2023. Photo Credit Mikey Maestaz)
Chris (Amanda Lynne) and Bianca (Cas Reyes) are a pregnant couple who, like Joe and Marty, have a mutual habit of saying exactly the wrong thing at the wrong time, setting their partner off.
The acting here (and throughout among all in the cast) is quite solid as sometimes words do not even need to be spoken.
Sometimes the simplicity of an eyebrow raised just the wrong way or a condescendingly spoken "oh" is enough to ignite a firestorm of hostility.
This is where "THE TRANSLATOR" factors in.
During these sessions, T uses a "buzzer" for those moments when someone in the session requires a "translation" of what their partner is TRYING to say - conveying the exact same sentiment in an honest albeit a more concise way.
In other words, T cuts through the bullshit.
And, make no mistake, T is very good at "translating." He just cannot seem to do it in his own relationship, which becomes clear as the play progresses.
Michaela (Cassie Tai Tortorici) and Sean (Brian Zakrajsek) are an already estranged couple with four children.
It is Sean who is making the attempt at reconciliation - literally begging of Michaela to give services of "THE TRANSLATOR" a try.
Both actors adeptly showcase the ever-widening chasm growing between this couple. Their effort is a last ditch attempt at closing that gap.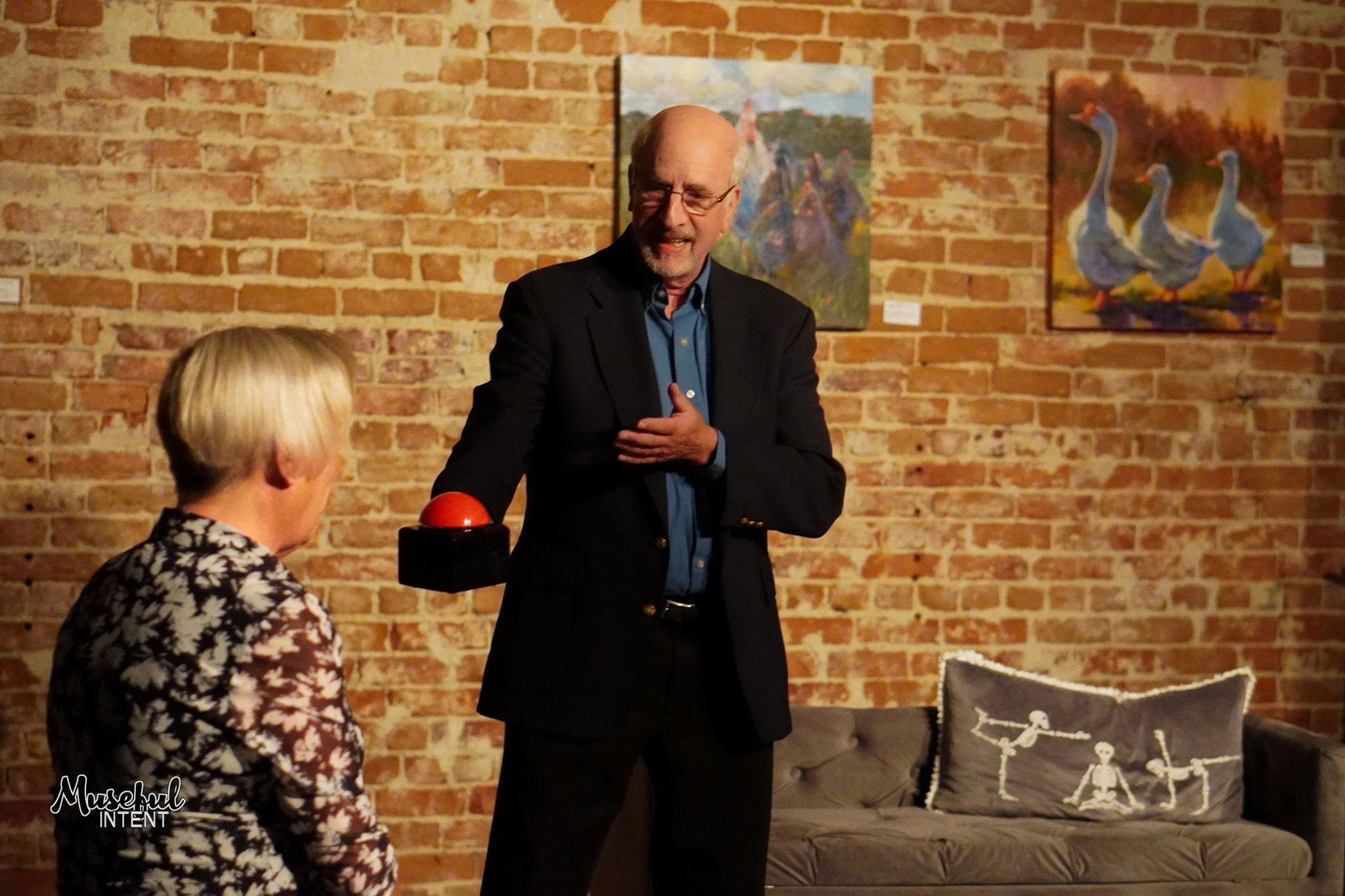 (Photo: Jim Douglas as "Roger" and Sue Adams as "Jean" in a scene from Mary Darling's "THE TRANSLATOR" in Putnam, CT. until August 27, 2023. Photo Credit Mikey Maestaz)
Sometimes a couple seeking counseling isn't necessarily doing so due to incessant bickering or hostility.
Yet the conflict, the miscommunication, the pain and the struggle is still quite real.
For Jean (Suzanne Adams) and Roger (Jim Douglas), their loving marriage of almost half a century is facing tragedies on several fronts and the older couple seeks T's help in trying to cope with these struggles.
Both Douglas and Adams elicit a mutually sensitive portrayal of the loving couple, providing a nice contrast to the three prior antagonistic couples.
T's final patient is Kat (Sara "Penny" Penniman) who is on the edge after the death of her husband.
Penniman is outstanding as Kat, who seems to require more the use of T as a "sounding board" than as a "TRANSLATOR," and she also occasionally serves as the same for T.
What do all of T's clients share in common?
They share the fact they are unwittingly in the presence of a "therapist" who, himself, is an emotional ticking timebomb.
T is a truly troubled person whose demons become more and more apparent as the story progresses.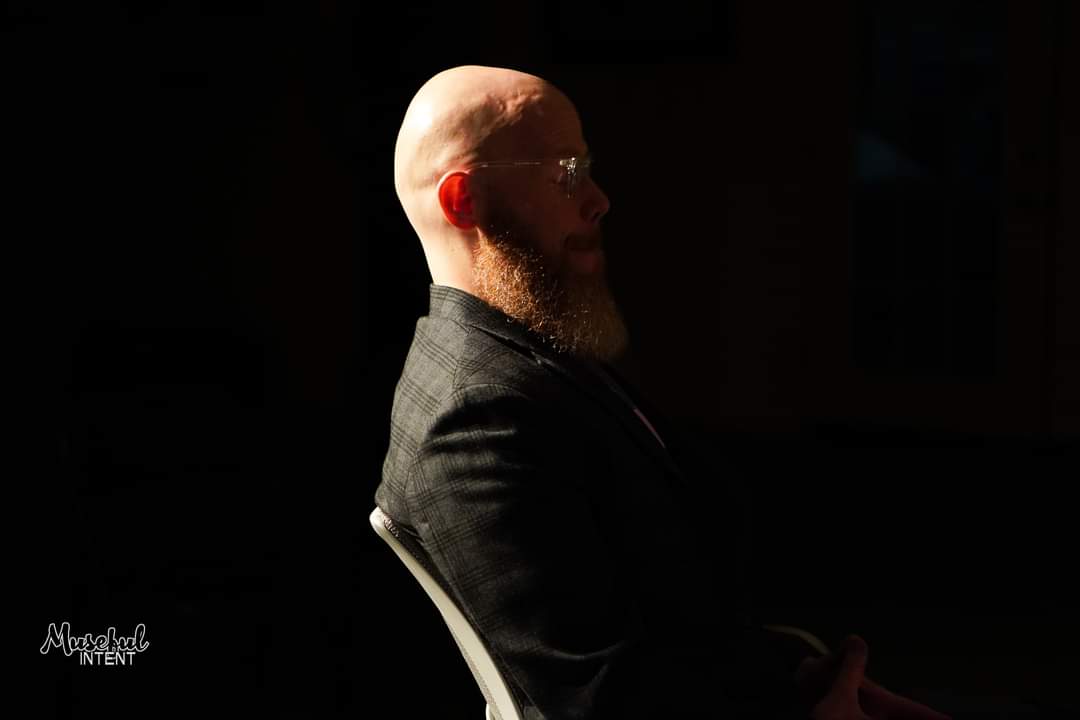 (Photo: Ethan White plays "T " aka "THE TRANSLATOR" - a couples therapist (of a sort) that utilizes a unique method to encourage honesty, transparency, and openness with his clients in Mary Darling's "THE TRANSLATOR" in Putnam, CT. until August 27, 2023. Photo Credit Mikey Maestaz)
Lighting and sound for the production is aptly executed.
What might help the overall fluidity of the piece is not separating out each "session" as if each is an individual "scene." Simply keep the lights up, redress as needed and keep things moving. The audience will understand all of these people are not in their "sessions' together.
"THE TRANSLATOR" absolutely deserves to be presented at a more conducive stage or venue as it is a powerfully written piece with extremely well defined characters to which we all begin to relate.
They come across as familiar - sometimes quite familiar - they become less these "characters" and more like people - like family - and we come to care about what happens to the family by the end.
What is left to discover by the end of "THE TRANSLATOR" is whether or not any of these people have ever heard the group 10cc. (Now hear me out.)
In their song, "The Things We Do For Love," the band aptly points out "communication is the problem to the answer...Agree to disagree but disagree to part."
Understanding is key...but occasionally that gets lost in the translation.
"THE TRANSLATOR" is sold out but plays in Putnam, CT. until August 27th.
Approximately two hours with one intermission.
Kevin T. Baldwin is a member of the American Theatre Critics Association (ATCA)
@MetrmagReviews
@Theatre_Critics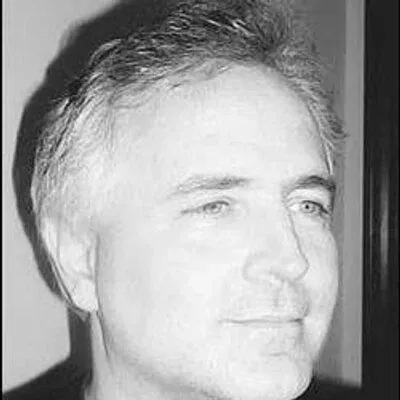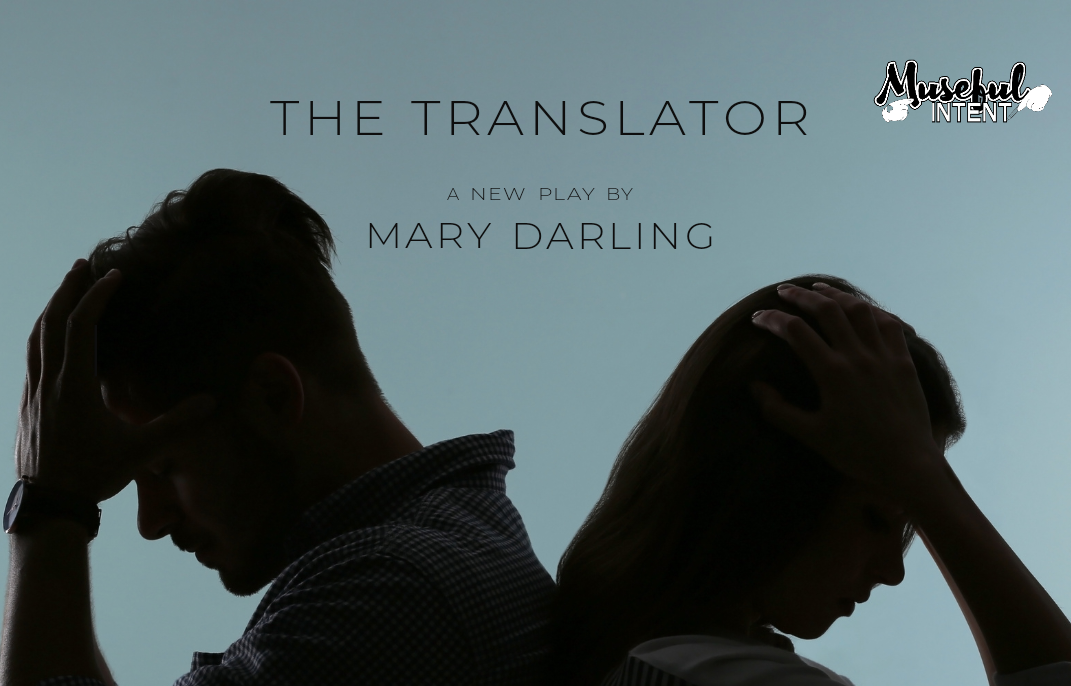 ABOUT THE SHOW
"THE TRANSLATORS" is a heartfelt new play written by Mary Darling, centering on communication (or lack thereof) in relationships.
Themes include navigating shared living spaces, chores, love, languages, addiction, general trauma and more.
ABOUT MUSEFUL INTENT AND MARY DARLING
MUSEFUL INTENT is a new performance troupe courtesy of Mary Darling, a New England based playwright & director. Mary Darling has written multiple short plays in various festivals and was part of Too Much Damn Theater's 2023 annual pass-along play competition in which her team's play "You, Me and My Multiple Consciousnesses" won seven awards, including "Best Play." Mary's work has been produced in Fitchburg, Lowell, Worcester, Cape May, Southbridge and in the virtual space. MUSEFUL INTENT strives to create relatable, accessible, inclusive work that sparks community conversation.
MUSEFUL INTENT/MARY DARLING
marydarling6@gmail.com