(Cover Photo: The CAST of the hit musical "THE PROM" by Matthew Sklar, Bob Martin and Chad Beguelin now playing at SpeakEasy Stage Company in Boston, MA. until June 10, 2023. Photo credit Nile Scott Studios)




By Kevin T. Baldwin
METRMAG Reviewer
# 774-242-6724

"...And nobody out there ever gets to define the life I'm meant to lead with this unruly heart of mine."
- Matthew Sklar and Chad Beguelin

SpeakEasy Stage Company
Presents the Musical
"THE PROM"
WINNER! 2019 Drama Desk Award for Outstanding Musical!
Music and Lyrics by Matthew Sklar and Chad Beguelin
Book by Bob Martin and Chad Beguelin
Based on an original concept by Jack Viertel
Directed By Paul Daigneault
Music Director Matthew Stern
Choreographer Taavon Gamble
Cast Includes:
Mary Callanan*, Johnny Kuntz*, Lisa Yuen*, Meagan Lewis-Michelson, Jared Troilo*, Amy Barker*, Liesie Kelly, Anthony Pires Jr.*, Abriel Coleman, Tori Heinlein*, Nina Osso, Victor Carrillo Tracey*, Nicholas Joseph C Ochoa, Emily Cochrane, Nate Haydel, Nolan Montgomery, Brogan Nelson
Additional Production Team:
Shira Helena Gitlin - Assistant Director; Greg Maraio* – Fight Choreographer; Margaret Clark – Intimacy Director; Victor Carrillo Tracey* - Dance Captain; Nina Osso – Fight and Intimacy Captain; Emme Shaw – Props Supervisor; Eli Schildkraut – Additional Orchestrations; Grace Cutler – Assistant to Set Designer; Sam – Mix Engineer; Irene Wong – Sound Supervisor; Jack Culton – Lead Electrician; Rebecca Glick – Wardrobe Supervisor; Brenna Sincaglia – Assistant Wardrobe Supervisor; Kaitlin Rose – Sub Assistant Wardrobe Supervisor; Nate Walsh – Choreography Intern; Cori Couture & Andrea Doane – Audio Describers; Wooden Kiwi Productions – Scenery Construction; Nile Scott Studios – Show Photographer; David Costa – Additional Photography; Jenna McFarland Lord - Scenic Design; Miranda Kau Giurleo** - Costume Design; Karen Perlow** - Lighting Design; Andrew Duncan Will - Sound Design; Thomas M. Kauffman* - Production Stage Manager; Ross Gray - Assistant Stage Manager.
* MEMBER OF ACTORS' EQUITY ASSOCIATION, THE UNION OF PROFESSIONAL ACTORS AND STAGE MANAGERS IN THE UNITED STATES
** REPRESENTED BY UNITED SCENIC ARTISTS, LOCAL USA 829 OF THE IATSE
° STAGE DIRECTORS AND CHOREOGRAPHERS SOCIETY
Performances:
May 5, 2023 through June 10, 2023
(Contact Box Office for Exact Times)
Calderwood / BCA, 527 Tremont Street, Boston MA 02116
For Tickets Contact the Box Office # 617-933-8600
COVID 19 PROTOCOLS
Contact Venue for Most Updated COVID-19 Safety Protocols and Information.
Welcome to a spectacular "Prom Season," courtesy of the hit musical "THE PROM" now staged in Boston by the SpeakEasy Stage Company.
The show is pure fun from the outset but contains a unifying message which cannot be ignored - and this dynamic cast will not let you forget it.
"THE PROM" is a musical jaunt with music and lyrics by Matthew Sklar and Chad Beguelin, a book by Bob Martin and Beguelin and based on an original concept by Jack Viertel.
The original Broadway run of "THE PROM" received seven Tony Award nominations in 2019 and was winner of the Drama Desk Award in 2019 for "Outstanding Musical."
Anyone who has seen either the original Broadway run or the more recent touring shows of "THE PROM" may find the SpeakEasy staging a bit more "confining" due to a lack of stage space.
However, as the musical gets underway, those concerns evaporate in minutes because the staging by Paul Daigneault and choreography by Taavon Gamble artfully adjusts for the space.
The superior performances of the SpeakEasy cast, supported by its diverse and dynamic ensemble, will also soon eviscerate any concerns over the strength of the show by skeptics.
As a musical, "THE PROM" continues to prove itself as a welcoming, inclusive celebration of young people – of ALL people - no matter what path they are on.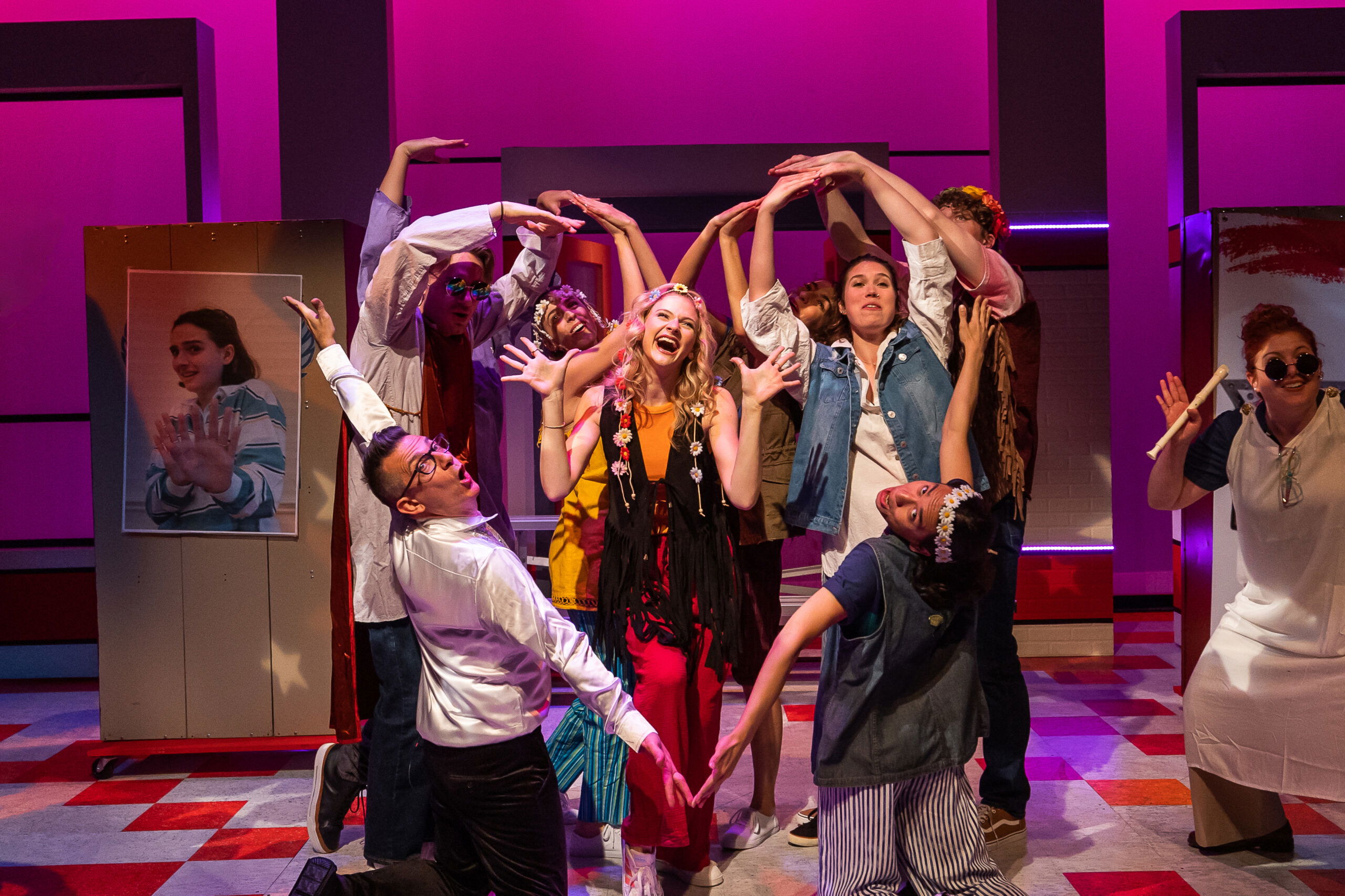 (Photo: Tori Heinlein surrounded by members of the ensemble performing "The Acceptance Song" from the hit musical "THE PROM" by Matthew Sklar, Bob Martin and Chad Beguelin now playing at SpeakEasy Stage Company in Boston, MA. until June 10, 2023. Photo credit Nile Scott Studios)
The story is about a small band of narcissistic Broadway "has been" performers with an outlandish plan to revive their sagging fame.
Actors Dee Dee (Mary Callanan) and Barry (Johnny Kuntz) come off a disastrous Broadway premiere and are mourning their opening/closing night performance with their publicist, Sheldon (Meagan Lewis-Michelson), Trent (Jared Troilo), a Juilliard graduate working as a waiter in between gigs, and Angie (Lisa Yuen), a career chorus girl from the musical "Chicago."
The above quintet make the laughs come fast and furious over the course of the nearly two-and-a-half hour musical.
To show themselves as LESS "narcissistic," both Dee Dee and Barry together decide to take up a noble cause - one that will prove, beyond any reasonable doubt, that the duo is not as shallow as history (and reality) have already proven.
Learning the story of an Indiana lesbian student, Emma (Liesie Kelly), who has been banned from bringing her closeted girlfriend, Alyssa (Abriel Coleman), to their high school prom, the troupe travels to the regressive Bible belt town of Edgewater to "lend their support" to the student.
Of course, the massive favorable publicity won't hurt their respective careers, either.
Kelly is formidable as the tough but tormented Emma - and their scenes and duets with Coleman are positively exquisite. Their execution of the melancholy, "Just Breathe" is simply remarkable.
The couple, whose love and relationship is kept both secretive and denied, are fearful of being ostracized by the more unenlightened residents of Edgewater, especially those within their own high school.
The overwhelming message of "THE PROM" is one of "inclusivity" and "inclu-civility" - that is, using civility and diversity together to help form an innovative, all-embracing culture focused on love, compassion, tolerance and acceptance.
Acceptance, in this case, would be of Emma and her "unexpected allies" from New York by the citizens of Edgewater.
That may be how the musical starts but it soon shifts to a parallel story of acceptance by the quintet as they unexpectedly realize how the Edgewater citizens they encounter impact their lives.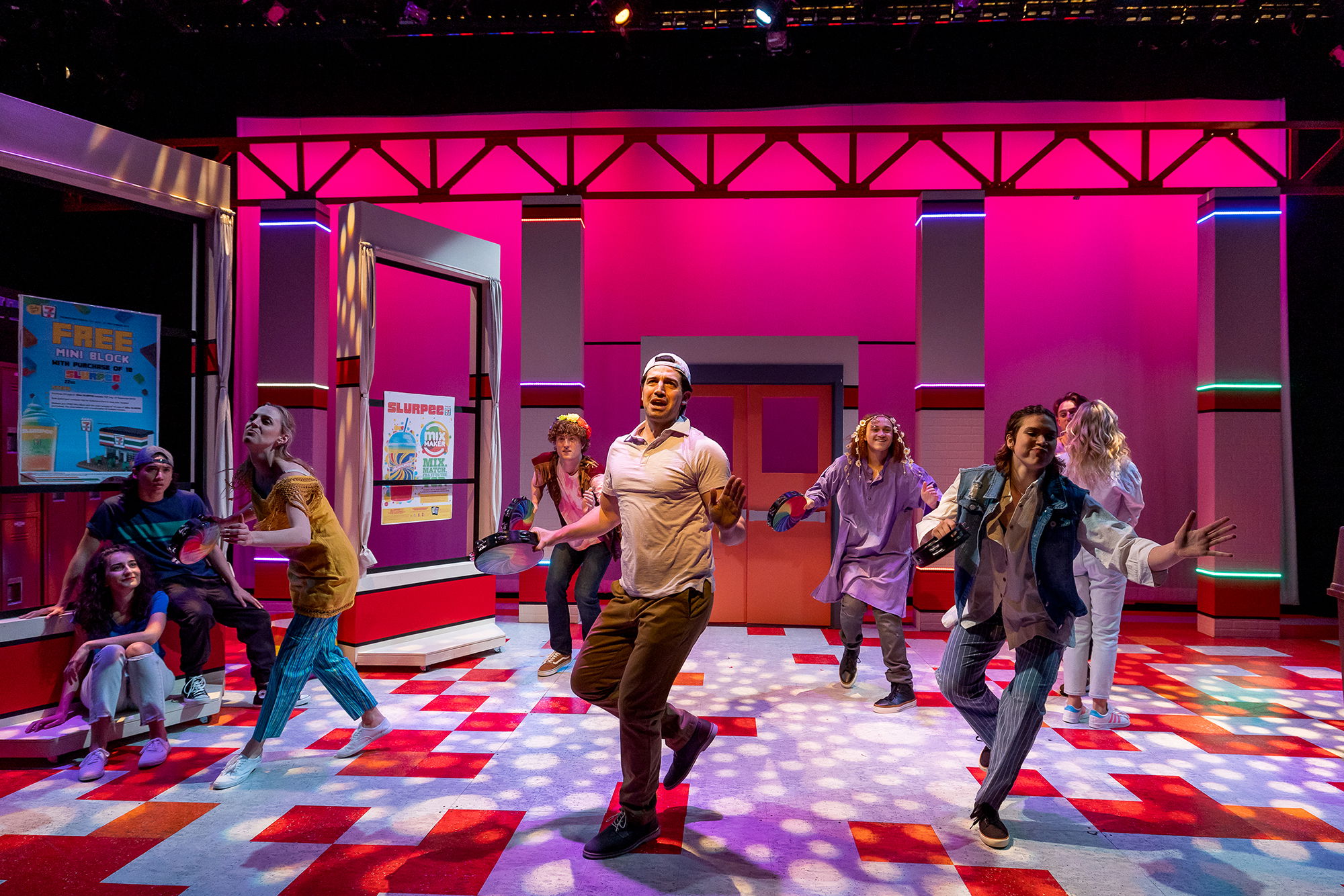 (Photo: Jared Troilo surrounded by members of the ensemble performing "Love Thy Neighbor" from the hit musical "THE PROM" by Matthew Sklar, Bob Martin and Chad Beguelin now playing at SpeakEasy Stage Company in Boston, MA. until June 10, 2023. Photo credit Nile Scott Studios)
Taavon Gamble's standout choreographed moments include the first act's "The Acceptance Song" and second act's "Love Thy Neighbor" and the show's finale, "It's Time to Dance."
Four of the five members of the New York quintet are given individual moments to shine, especially in Act Two, and shine they do.
As Angie, Yuen sings to try and cheer up Emma (who, for some reason, is dressed in rather bizarre looking pajamas - either "Pikachu" or "Care Bears" - fine for a toddler, maybe but, for a high schooler...what??).
Yuen sizzles with a sultry and sexy "Fosse-esque" brashness in the number, "Zazz."
Jared Troilo takes full advantage of his moment, killing it with the ensemble during the spirited, "Love Thy Neighbor." There are moments where a "Godspell Chorus" is added, which seems appropriate as the entire number has a strong "We Beseech Thee" vibe to it.
"Barry is Going to Prom," as sung by Johnny Kuntz, is fun but also provides an intimate, personal revelation for the character of Barry.
During "The Lady's Improving," sung by Dee Dee, the actress maker her moves on Emma's only adult ally in Edgewater, Mr. Hawkins (Anthony Pires, Jr.), the high school principal. (There is mention of Emma's "grandmother" who is not seen once during the entire story. Again - what??)
Callanan is pure gold as Dee Dee and the character easily has some of the shows most memorable lines.
Conversely, the character of Sheldon proves less memorable as it is vastly underwritten and gives the talented Meagan Lewis-Michelson fairly little to do except act as a "buffer" for the other leads.
With what the character (as written) does provide, Lewis-Michelson embodies the character quite well.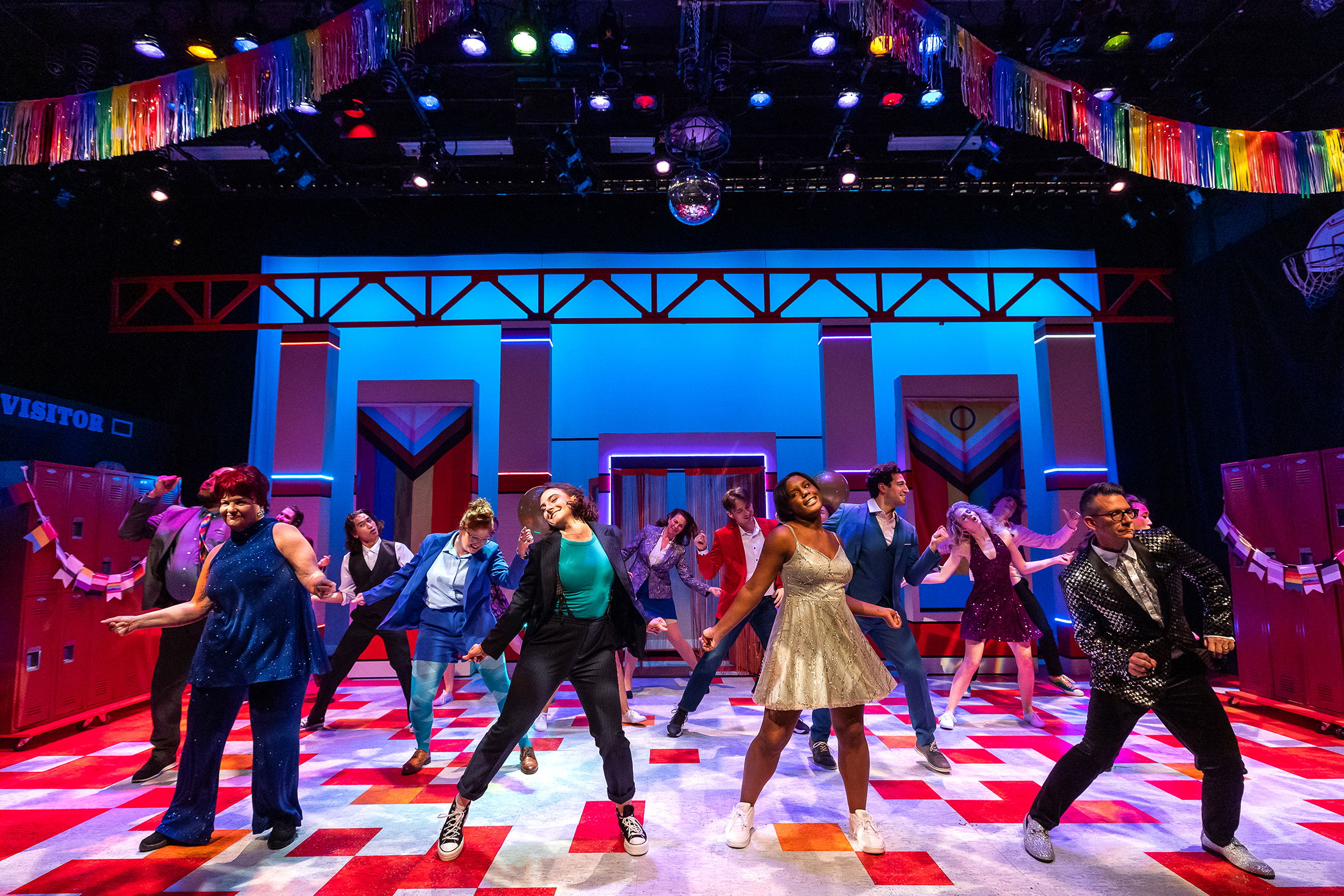 (Photo: The CAST of the hit musical "THE PROM" by Matthew Sklar, Bob Martin and Chad Beguelin now playing at SpeakEasy Stage Company in Boston, MA. until June 10, 2023. Photo credit Nile Scott Studios)
In all the connecting plots and subplots in "THE PROM" by Sklar, Beguelin and Bob Martin, there are scenes that are incredibly funny yet also there are moments of great poignancy. Many of the more poignant interactions are those between Kuntz as Barry and Kelly as Emma.
The orchestra, situated obscured and off house left, executes the score well under the proficient musical direction of conductor Paul S. Katz.
Costumes are thoroughly vibrant and colorful although, considering just how long the quintet supposedly stays in Indiana, a few more costume changes would seem to have proven more consistent.
Sets and scene changes are managed fluidly thanks to the ensemble who assisted in all of the scene changes.
There were some minor set issues at the May 7th performance, during the finale, as some "uncooperative" curtains did not appear to "want" to be hung over some windows. Ultimately, efforts to hang the curtains were abandoned but this did not diminish the excitement of the otherwise stellar ending.
As we await the arrival of SpeakEasy Stage's next show, "POTUS" (coming in September), "THE PROM" now playing until June 10th, is a musical celebration of love ("is love is love is love") and it is a party that is just waiting for YOU to arrive.
Approximately two hours, 25 minutes with one intermission
Kevin T. Baldwin is a member of the American Theatre Critics Association (ATCA)
@MetrmagReviews
@Theatre_Critics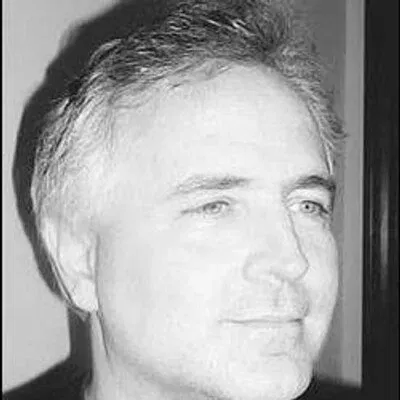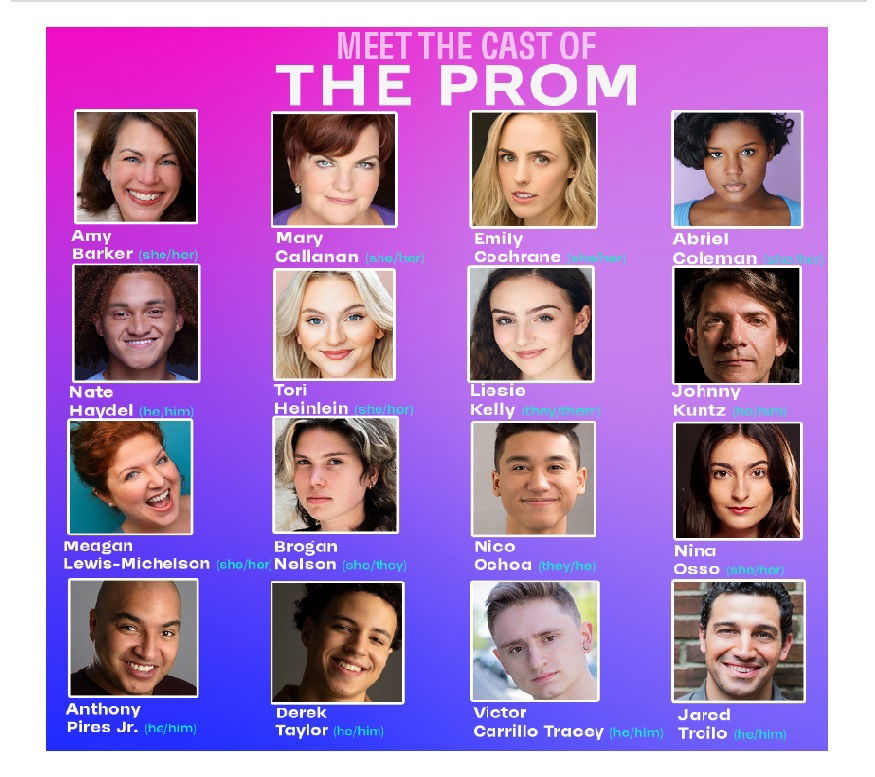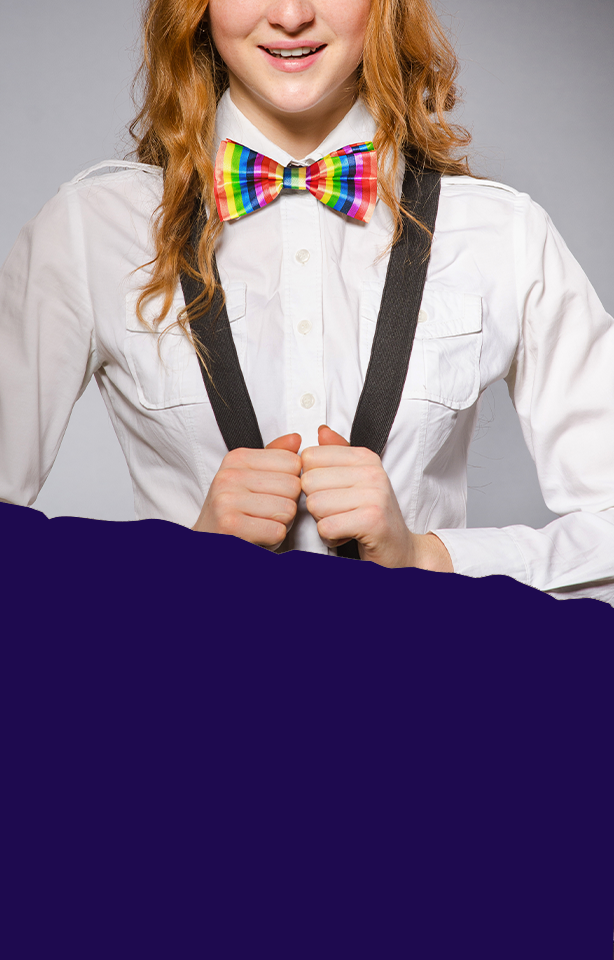 ABOUT THE SHOW
Emma didn't want to be a newspaper headline or the face of a movement.
She just wanted to take her girlfriend Alyssa to their high school prom.
But just when it seems like she might persuade the hesitant PTA, four bumbling Broadway has-beens in search of relevance barge into Edgewater, Indiana to put a spotlight on the issue — and themselves.
As the worlds of Broadway and Main Street hilariously collide, the courage of one girl reminds us all of the power of love to bring us together.
With non-stop laughs and show-stopping dance numbers, "THE PROM" is a feel-good musical with a message that is even more relevant today.

ABOUT SPEAKEASY STAGE COMPANY
SpeakEasy Stage Company is a non-profit theatre company located in the South End of Boston and is led by award-winning Producing Artistic Director Paul Daigneault. SpeakEasy was named the Pavilion Resident Theater for the Boston Center for the Arts in 2007 and produces 28 weeks of new plays and musicals each season at the Nancy and Ed Roberts Studio Theater in the Calderwood Pavilion at the Boston Center for the Arts.
Subscription Information: Subscriptions for SpeakEasy Stage Company's 2022-23 Season are now on sale. To purchase or for more information, call 617-933-8600 or go online to https://www.bostontheatrescene.com/season/speakeasy-subs.aspx.
Patrons with subscription questions may also call Jim Torres at 617-482-3279 or write Jim at JimTorres@SpeakEasyStage.com.
Administrative Office
539 Tremont Street
Boston, MA 02116
617-482-3279 phone
617-482-3280 fax
info@speakeasystage.com