(Cover Photo: Members of the CAST of

"THE PLAY THAT GOES WRONG

"

playing at Theatre at the Mount in Gardner, MA. through October 16, 2022. Photo Credit Paige Fowler)
Kevin T. Baldwin
METRMag Reviewer
# 774-242-6724

"It was mayhem, but it was happy mayhem."
- Steve Orlando

Theatre at the Mount
Presents the Hysterical Comedy
"THE PLAY THAT GOES WRONG"


By Henry Lewis, Jonathan Sayer & Henry Shields
Directed by Craig Cormier
Cast Includes: Kate Sheridan, Christiaan Stone, Ken Golner, Sam Gagnon, Lynne Dumais, Will Gelinas, Jerry McMahon, David Allen Prescott
Performances:
October 7, 8, 14 & 15, 2022 at 7:30pm
October 16, 2022 at 2:00pm
Tickets are available online at mwcc.universitytickets.com or by phone at 978-630-9388.
For additional information contact Professor Gail Steele at 978 630-9162 or g_steele@mwcc.mass.edu
Theatre at the Mount presents a meticulously staged comedy that if one were to call it "slapstick" it would not do it justice because "THE PLAY THAT GOES WRONG" is exhausting in detail, exhausting in execution and flat out exhaustingly funny.
The Cornley Drama Society has staged the dark and brooding drama, "The Murder at Haversham Manor" which is performed to perfection...that is if chaos, carnage and cataclysm, arguably, can all be considered forms of "perfection."
The appropriate name for the "society" should be The Murphy's Law Drama Society as anything that can go wrong during the groups productions does go wrong and, especially with "The Murder at Haversham Manor," they fail in spectacular fashion.
For those not involved in theatre, "THE PLAY THAT GOES WRONG" is, of course, still very funny.
However, if you HAVE been involved in theatre, there are far too many "familiar" moments that will strike close to home…striking hard...striking very, very hard...like the memory of a set striking you on top of your head "hard"...then the cast will spit turpentine on that memory and proceed to set it on fire.
Written by Henry Lewis, Jonathan Sayer & Henry Shields, "THE PLAY THAT GOES WRONG" opened on Broadway in 2017, having already previously won for Best New Comedy at the 2015 Laurence Olivier Awards.
Director Craig Cormier has assembled a top notch cast and technical team to pull off a substantially difficult production that contends with all those things that can go substantially... no, HORRIBLY...wrong in a production.
Even before the play begins, look for crew members in the house who are trying to fix the massive set. Be prepared as you might be selected to "help."
Once the show gets underway, cast and crew deal with missing props, forgotten lines, redundant scenes, lost cues, and knock down, drag out fights between one another in trying to maintain a coherent, cohesive drama.
They fail spectacularly.
The single set design of Haversham Manor is a technical wonder and aids in the mechanics of the production to bring the house down…literally (Haversham Manor, that is).
The set becomes its own character and the number of faux "flaws" that occur are executed realistically and flawlessly.
In addition to the assembled cast (Kate Sheridan, Christiaan Stone, Ken Golner, Sam Gagnon, Lynne Dumais, Will Gelinas, Jerry McMahon and David Allen Prescott) the show's creative and technical teams must also be given tremendous credit for pulling off the more difficult aspects of the production.
In other words, the show just would not be as good at being bad without their contribution.
These credits include (but are not necessarily limited to) Technical Director Jeff Boisseau, Lighting Designer Sam Gagnon, the Stage Crew (Elizabeth Baer, Kathy Taylor, Kristen Licht, Mike Ross, Rachel Twiss, Shane Brown, Zach Horn and Aloura Smith with Stage Manager Jillian Whitney) and Construction Crew (Eliora Despres, Emma Hernandez, Jordan Brown, Shelara Roberts and Rachel Sky).
Costumes for the production were not just for display purposes as things went "wrong" for the unfortunate cast of characters in the show, as well. So, high praise to Costumers Doreen Croteau, Meredith Heimo and Gail Steele (who is also Producing Director for the TATM show).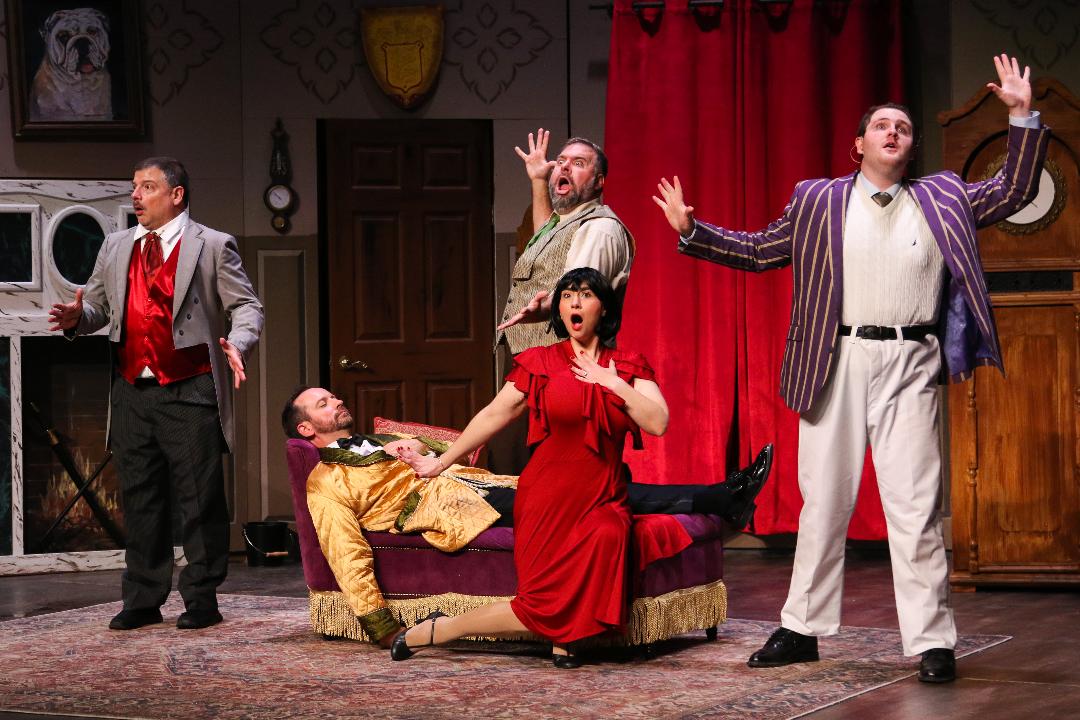 (Photo: Members of the CAST of "THE PLAY THAT GOES WRONG" playing at Theatre at the Mount in Gardner, MA. through October 16, 2022. Photo Credit Paige Fowler)
The play-within-a-play is entitled, "The Murder at Haversham Manor" which is a "serious" 1920s murder mystery play and, during the performance, the cast and crew contends with non-functional set pieces, ill-prepared cast members, an incompetent crew and floors collapsing.
There is a piece of advice shared in live theatrical productions: "No matter what happens…no matter what goes wrong…just keep going. JUST.KEEP.GOING!" It is emphasized repeatedly.
This particular bit of advice should probably not have been given to the cast of this Cornely Drama Society show because they follow it religiously, with firm conviction and, from the very beginning through to their very painful end, they ALL get crucified in the process.
The end result? Their collective misery is the our joy as there was not more than a single minute in between laughs.
One can only hope, though, that there is a good supply of oxygen and a first-rate first aid team standing by off stage for this incredibly hard-working cast who take the Herculean physical comedy of this show to its extreme.
The cast of the adrenaline-fueled "play-within-a-play" includes:
Chris Bean (David Allen Prescott) plays Inspector Carter, doubling as the show's competent director.
His level of competency will become highly questionable as the night moves forward.
Jonathan (Jerry McMahon) plays victim Charles Haversham. He continues to get victimized as the show progresses.
Robert Grove (Will Gelinas) plays suspect Thomas Colleymore. He has many arduous acrobatic scenes, some with Prescott and some with the hysterical Dennis Tyde (Ken Golner) who plays "butler-with-a-secret" Perkins.
Sandra Wilkinson (Lynne Dumais) is relentless as sexy femme fatale Florence Colleymore who is onstage far too briefly before getting sidelined in an accident. Returning…in far too little briefs, Wilkinson sees Stage Crew member Annie (Kate Sheridan) onstage wearing Wilkinson's costume and performing Florence's lines...well, sort of...
Max Bennett (Sam Gagnon) plays both Cecil Haversham and Arthur the Gardener with a devilish grin and mischief in his heart. Bennett also becomes embroiled in much of the physical action on stage.
Rounding out the cast is Trevor Watson (Christiaan Stone) who serves as lighting and sound technician (and who has a disturbing "Duran Duran" fetish).
Once the show begins, the relentless comedy of errors ensues and, like a runaway freight train, never yields until the ultimate derailment and crash.
If you exit the theatre feeling exhausted, it will most certainly be in part from laughing nearly non-stop.
Approximately two hours with one intermission.
Kevin T. Baldwin is a member of the American Theatre Critics Association (ATCA)
@MetrmagReviews
@Theatre_Critics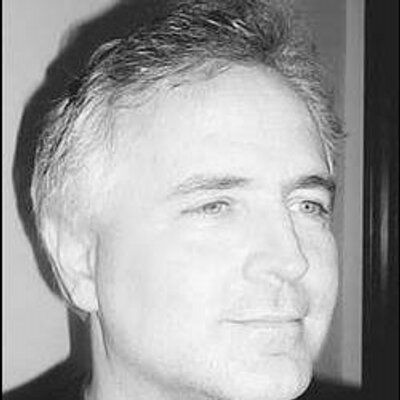 ABOUT THE SHOW
Just about anything you think could go wrong, will go wrong, when

The Play That Goes Wrong

opens at Theatre at the Mount in Gardner for 5 performances beginning on October 7.
Mix a dash of Monty Python hijinks and the mystery of Sherlock Holmes with an amateur troupe of comically clumsy actors, well in over their heads, and you have the truly hysterical New York and London farcical hit,

The Play That Goes Wrong

.
This show-within-a-show boasts acclaim for comedy and set from the Olivier Awards and the Tony Awards for deserved reason–it continues to play to sold out houses with side-splitting laughter worldwide.
Meet the Cornley Drama Society: a troupe of eager actors ready to showcase their most serious play yet as an ensemble, The Murder at Haversham Manor.
But what will they do as the set falls apart, performers get knocked unconscious, and stage crew members get spotted from backstage?
This play-within-a-play whodunnit is side-splittingly hilarious on multiple levels.
Directed by Craig Cormier, this collaborative cast features:
Kate Sheridan as Annie
Christiaan Stone as Trevor
Ken Golner as Dennis/Perkins
Sam Gagnon as Max/Cecil Haversham/Arthur
Lynne Dumais as Sandra/Florence Colleymore
Will Gelinas as Robert/Thomas Colleymore
Jerry McMahon as Jonathan
and
David Allen Prescott as Chris/Inspector Carter.

Mount Wachusett Community College
444 Green Street
Gardner, MA 01440