(Cover Photo: Adam Heroux and Richie DeJesus sabre the moment in "THE PLAY THAT GOES WRONG" presented by The Quannapowitt Players in Reading, MA. through October 22, 2023. Photo credit: Jon Sachs and David Griffin)




By Kevin T. Baldwin
METRMAG Reviewer
# 774-242-6724

"I'm sure no one will forget the problems we've faced with casting before, such as 2010's Christmas presentation of 'Snow White and the Tall, Broad Gentlemen,' or indeed our previous year's pantomime, another Disney classic, 'Ugly . . . and the Beast'"
- ("Chris") / Henry Lewis, Jonathan Sayer & Henry Shields

Presents the Hysterical Comedy
By Henry Lewis, Jonathan Sayer & Henry Shields
Directed by David Fisher
Cast Includes: Ashley Risteen as "Chris/Inspector Carter"; Richie DeJesus as "Robert/Thomas Colleymoore"; Angela Courtney Rossi as "Sandra/Florence Colleymoore"; Adam Heroux as "Max/Cecil Haversham/Arthur the Gardener"; Cari Keebaugh as "Denise/Perkins"; Craig Ciampa as "Jonathan/Charles Haversham"; Katie Pompeo as "Annie/The Stage Manager"; Shayne Doherty as "Trevor/The Booth Operator."
Additional Creative Team:
Producer - Heather Gay; Stage Manager - Monica Bruno; Assistant Stage Manager - Tessie Schultz; Show Technical Director - Bruce Pennypacker; Set Designer - David Fisher; Set Dressing - David Fisher, Heather Gay & Bruce Pennypacker; Properties - Kara Schmitt & Michelle Fisher; Run Crew - Andrew Harrington, Ken Tucci, Joey O'Hare & Deacon Fisher; Lighting Designer - Kathy Campbell & Mike McTeague; Sound Designer - Nicole Sparks; Sound Operator - Judy Forgione; Costume Designer - Tracy Sullivan; Costume Assistant - Samantha Fisher; Stage Combat Coordinator - Chris Cardoni; Fight Captain - Richie DeJesus; Hair & Makeup - The Cast; Set Construction: Mark Baumhardt, Jason Benagh, Craig Ciampa, Derek Clark, Richie DeJesus, Shayne Doherty, David Fisher, Deacon Fisher, Michelle Fisher, Heather Gay, Adam Heroux, Cari Keebaugh, Mark Logsdon, Shawn Maguire, John Murtagh, Bruce Pennypacker, Genady Pilyavsky, Katie Pompeo, Andrew Reynolds, Ashley Risteen, Angela Rossi, Ed Siegal, Ken Tucci & Glenn Wakeley; Production Photography - Jon Sachs; Publicity - Sarah Logsdon, Eric Roberts & Donna Corbett; Program - David Fisher & Donna Corbett; Box Office Managers - Derek Clark, Marc Capizzi & Donna Corbett; House Manager - Donna Corbett (Assisted by Bruce Pennypacker); Snow Team Coordinator - Brian Sensale; QP Volunteer Coordinator - Marc Capizzi; QP Technical Director - Bruce Pennypacker.
QUANNAPOWITT PLAYERS, 55 Hopkins Street, Reading, MA 01867-3917
Performances:
October 6, 2023 through October 22, 2023
(Contact Box Office for Exact Times)
TICKETS:
Contact QUANNAPOWITT PLAYERS at # 781-942-2212 or email at boxoffice@qptheater.com
COVID 19 PROTOCOLS
Contact Venue for Most Updated COVID-19 Safety Protocols and Information.
Now playing at the Quannapowitt Players (QP) in Reading, "THE PLAY THAT GOES WRONG" is so funny it is physically exhausting....for the audience from laughing so much.
Laughs come continuous and furious – as do most of the sets, props and costumes.
The fictional "Cornley Drama Society" has brought to the Quannapowitt Players playhouse a "dark and brooding drama" where a calamitous, nail-biting, bone-breaking and funny as hell "Murphy's Law" reigns supreme.
With the best of intentions, sometimes overly zealous directors instruct casts and crews of live theatrical productions that: "No matter what happens…no matter what goes wrong…just keep going. JUST.KEEP.GOING!" This instruction is emphasized repeatedly.
This instruction should never...EVER...have been given to the ensemble of the Cornley Drama Society show because this cast follows that advice religiously, with relentless determination resulting in relentless disaster after relentless disaster...and it just.keeps.going.
Yet, in a true example of schadenfreude, the "Cornley Drama Society" cast's misery is the our merriment.
The QP ensemble is incredibly cohesive at tackling the arduous physical comedy involved (sometimes by literally tackling) with expert precision.
Written by Henry Lewis, Jonathan Sayer & Henry Shields, "THE PLAY THAT GOES WRONG" opened on Broadway in 2017, having already previously won for Best New Comedy at the 2015 Laurence Olivier Awards.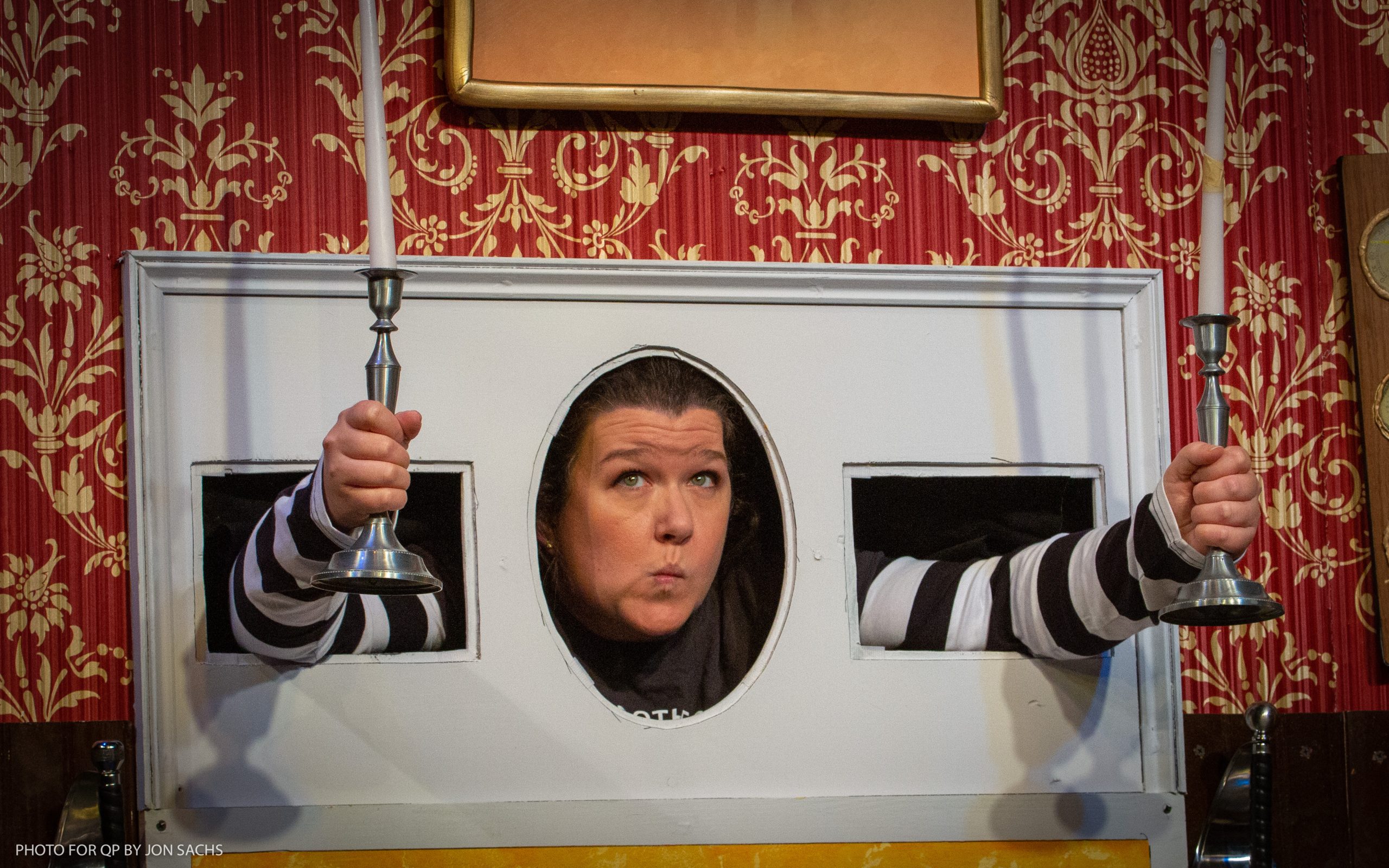 (Photo: Katie Pompeo in an illuminating scene from "THE PLAY THAT GOES WRONG" presented by The Quannapowitt Players in Reading, MA. through October 22, 2023. Photo credit: Jon Sachs and David Griffin)
The play-within-a-play, entitled "The Murder at Haversham Manor," is a "serious" 1920s murder mystery and, during the performance, the cast and crew contend with non-functional set pieces, ill-prepared cast members, an incompetent crew and floors collapsing.
Truly anything that can go wrong does go wrong.
The show comes with all those familiar moments of missing props, forgotten lines, redundant scenes, lost cues, and those all-too-familiar knock down, drag out fights between cast members in trying to maintain a coherent, cohesive drama.
Then, through the execution by the QP cast, the comedy shoots for the Moon, most likely killing several mice and the "man IN the Moon" in the process.
The QP show's actual direction is under David Fisher who has done an admirable job in keeping all the technical elements clearly executed in the coordinated chaos.
Still, there are multiple moments when the action is so fierce it seems as if we can sense real fear in the eyes of the Cornley performers as prop weapons fail, sets fall, actors both fail and fall and a suspended platform collapses.
The wonderfully complex set design of "Haversham Manor" maximizes the entire QP space and truly becomes one of the most important "characters" on stage.
Similar to the show's literary 'cousin,' "Noises Off!," (by Michael Frayn) every technical element of "THE PLAY THAT GOES WRONG" must be...and is...blueprinted, well constructed and, during performances, every technical element must be...and is...impressively executed by the QP cast and crew.
It is no small task to make staggering stumbles look stunningly striking. Costumes, hair and make-up are all perfectly in keeping with the show's humor which comes exclusively from the tragically inept attempt by the "Cornley" players to provide an evening of suspense.
The entire, precision perfect ensemble and creative team from Quannapowitt Players flourishes in this difficult venture, making "THE PLAY THAT GOES WRONG" a guaranteed "laugh-a-minute" production.
That is not hyperbole - almost every few beats there WILL be laughter, guaranteed.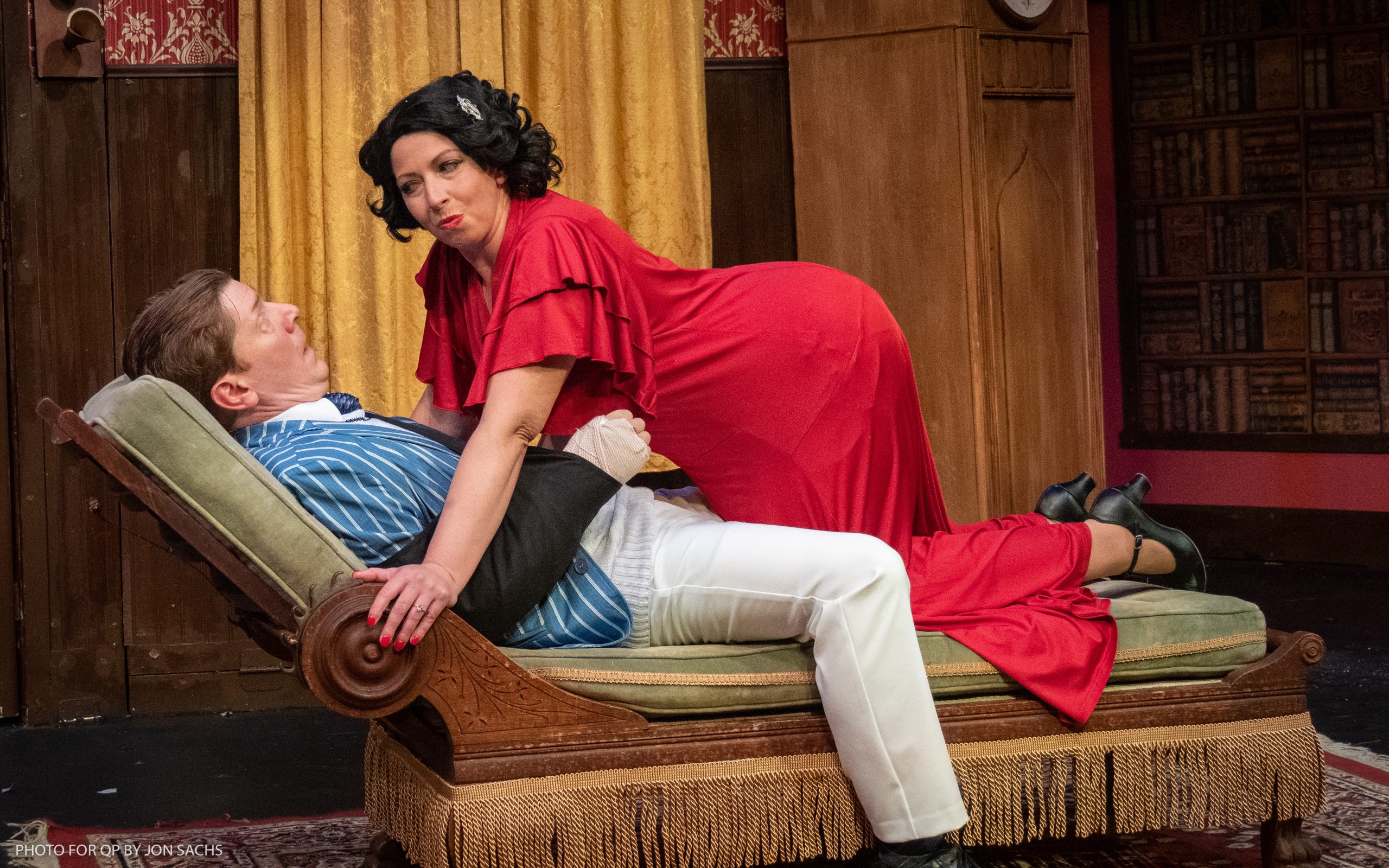 (Photo: Angela Courtney Rossi and Adam Heroux share in a 'Hungry Like the Wolf' moment from "THE PLAY THAT GOES WRONG" presented by The Quannapowitt Players in Reading, MA. through October 22, 2023. Photo credit: Jon Sachs and David Griffin)
From its calamitous outset to its cataclysmic conclusion, everybody gets hilariously crucified from "THE PLAY THAT GOES WRONG"
Looking like a cross between Ron Mael of the band "Sparks" and the character of "Nicholas Blair' from "Dark Shadows", the director of the show is Chris Bean (Ashley Risteen) who also portrays "Inspector Carter" in charge of the murder investigation at Haversham Manor.
Both as "Carter" and director, Bean's level of competency will become highly speculative as the night moves forward.
Risteen is formidable as Bean once the show begins and, even before appearing on stage as "Carter," the onslaught of mishaps commences.
In addition to Bean, the cast of the fictional ensemble includes:
Jonathan (Craig Ciampa) who plays victim "Charles Haversham."
Even in "death," Charles is persistent in trying to re-emerge on stage and continues to get "victimized" as the show progresses.
Ciampa is quite expressive as the "dearly departed," providing more laughs with a single look, at times, than an entire page of dialogue.
Dominating nearly every scene is Robert Grove (Richie DeJesus) who dons the role of suspect "Thomas Colleymore."
Like most on stage, DeJesus has many vigorously physical scenes, with some high points that include interacting with Ciampa, Risteen and others.
Denise Tyde (Cari Keebaugh) plays faithful butler, "Perkins."
Keebaugh gives a memorable performance in the "play-within-a-play," providing a hysterical take as the poorly prepared actor reading the lines of beleaguered character "Perkins."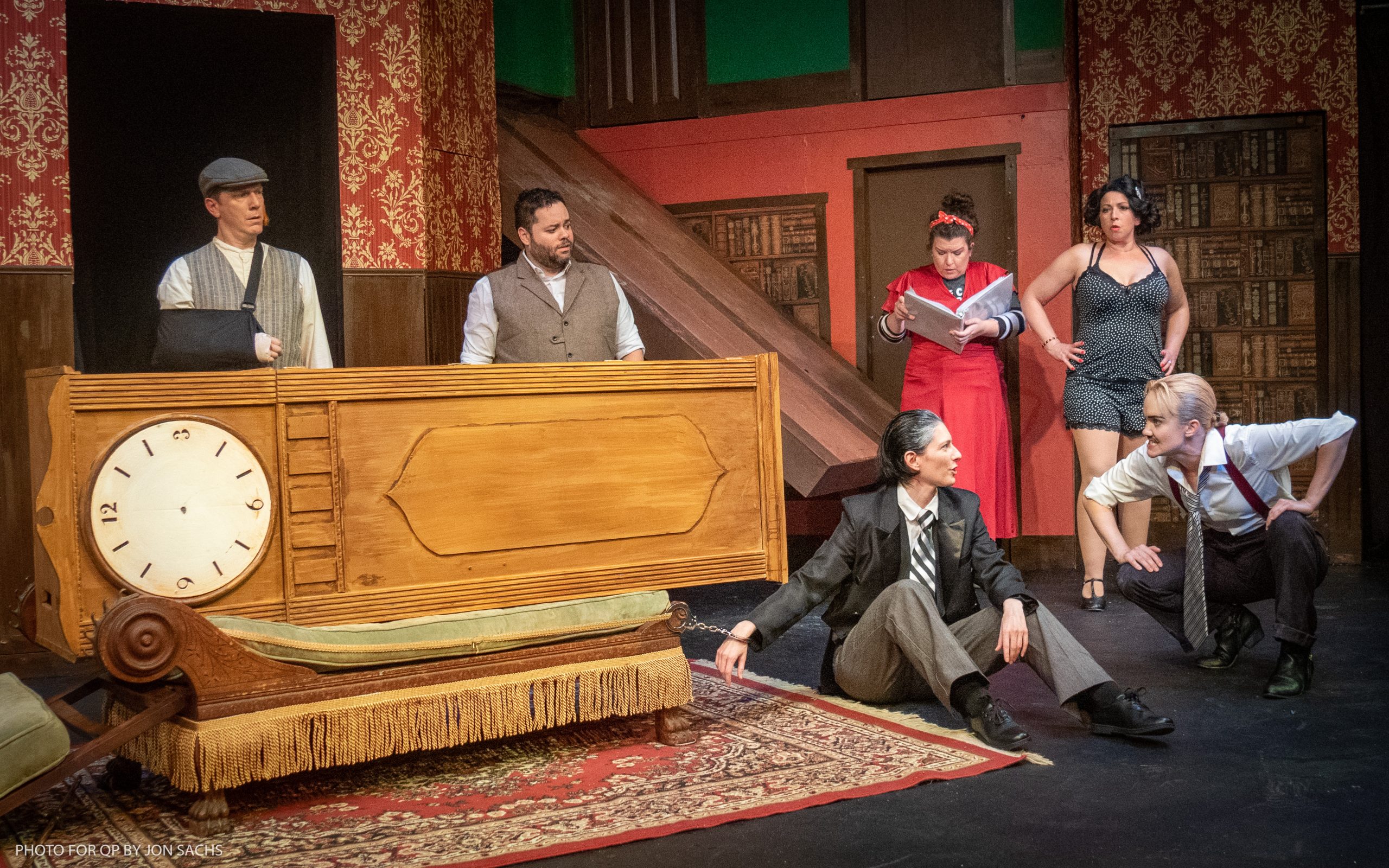 (Photo: The alarming CAST of "THE PLAY THAT GOES WRONG" presented by The Quannapowitt Players in Reading, MA. through October 22, 2023. Photo credit: Jon Sachs and David Griffin)
Sandra Wilkinson (Angela Courtney Rossi) stuns as seductress femme fatale suspect "Florence Colleymore," who is both alarming and enchanting...that is, until Wilkinson is sidelined in an on stage accident involving a hit and run door...yes, door.
Sandra later attempts to resume her character…in far less clothing. However, Wilkinson sees Stage Crew member Annie (Katie Pompeo) on stage wearing Wilkinson's costume and performing the lines of "Florence."
Pompeo is a scream as Annie, who hesitates at first (literally shoved onto the stage as "Florence"), but then soon gets into it and ultimately refuses to relinquish it upon Wilkinson's return.
For those familiar with "G.L.O.W." - the "wrestling" moments between Rossi and Pompeo are riotous. As they campaign for their respective claims to "all things Florence," the two actresses excel at the required heightened physical comedy.
Portraying the dual roles of "Cecil Haversham" and "Arthur the Gardener" is the flamboyant Max Bennett (Adam Heroux) who, with an impish smile and mischief in his soul, occasionally breaks both character and the fourth wall (all while simultaneously nursing an actual broken limb).
Heroux is charismatic as the playful yet utterly charming Bennett, winning us over as he becomes embroiled in much of the physical action on stage. High praise to both Heroux and director Fisher for well incorporating the actor's injury as part of the story.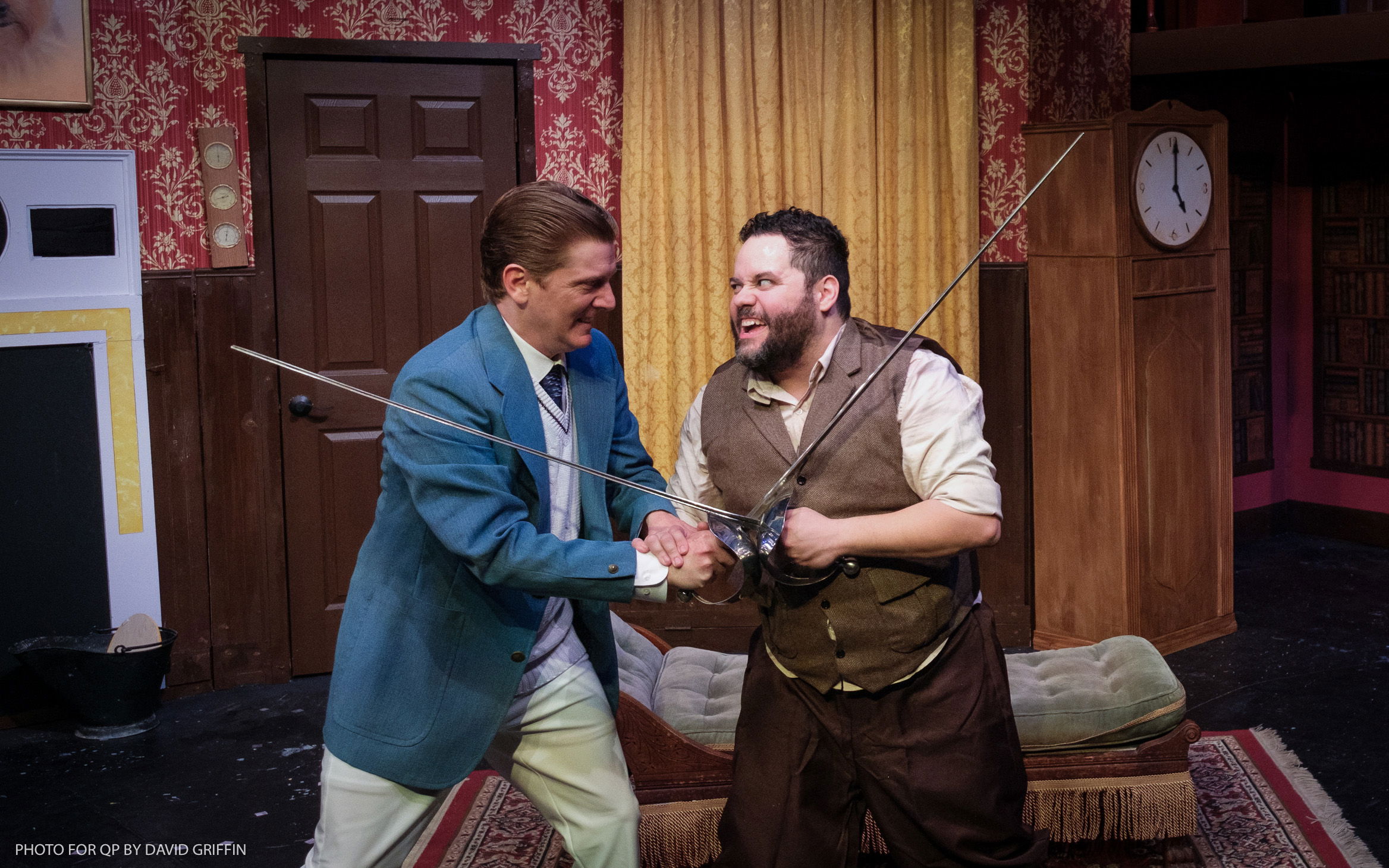 (Photo: Adam Heroux and Richie DeJesus sabre the moment in "THE PLAY THAT GOES WRONG" presented by The Quannapowitt Players in Reading, MA. through October 22, 2023. Photo credit: Jon Sachs and David Griffin)
In addition to the aforementioned physical comedy, there is also a wonderfully staged "inept sword fight" scene between the characters of "Colleymore" and "Cecil."
Additional credit to Stage Combat Coordinator Chris Cardoni and Fight Captain Richie DeJesus who also incorporated Heroux's injury as part of the above fractured swordplay.
Serving as lighting and sound technician for the show is Trevor Watson (Shayne Doherty), who has a disconcerting "Duran Duran" fetish (the pop group, not the "Barbarella" character).
If one goes by the literal definition meaning "performed without conscious thought," then via "Reflex" (see what I did there, Duran Duran fans?) Trevor is to blame for much of what "goes wrong" on stage technically (if not "thespian-ly").
However, as keenly played by Doherty, Trevor painfully (sometimes literally) stresses over every technical aspect of the production and will, most assuredly, never bloody likely assume any of the blame for what goes wrong...which is, well, everything.
Much like the cast, Trevor, to quote his favorite band, "straddles the line of discord and rhyme."
"THE PLAY THAT GOES WRONG" continues at Quannapowitt Players in Reading until October 22nd and, to miss out on any of the sheer chaos contained with these theatre walls, would be simply catastrophic.
Approximately two hours with one intermission.
Kevin T. Baldwin is a member of the American Theatre Critics Association (ATCA)
@MetrmagReviews
@Theatre_Critics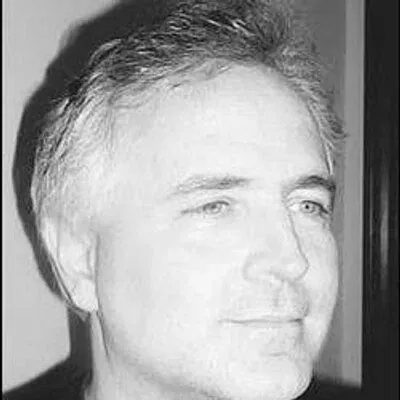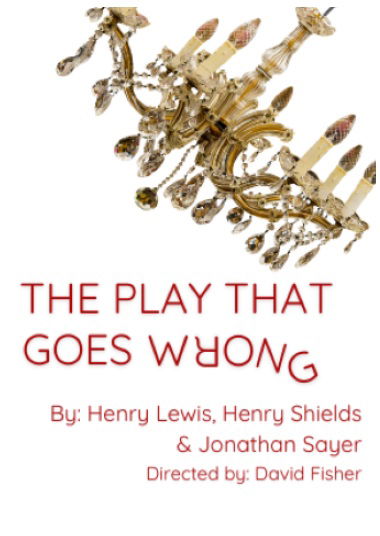 ABOUT THE SHOW
It is opening night of the Cornley University Drama Society's newest production, "The Murder at Haversham Manor," and things are about to go from bad to utterly disastrous.
An exasperated detective, a corpse who can't play dead, an unconscious leading lady and other embattled and eccentric characters must overcome technical issues, forgotten lines, and unreliable scenery in order to make it to the final curtain call.
This unwittingly hilarious 1920s whodunit has everything you never wanted in a show—an unconscious leading lady, a corpse that can't play dead, and actors who trip over everything (including their lines)!
"THE PLAY THAT GOES WRONG" is part Monty Python, part Marx Brothers, part Sherlock Holmes, and all mayhem.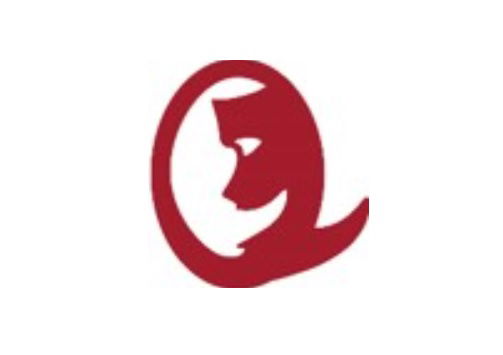 ABOUT THE QUANNAPOWITT PLAYERS
THE QUANNAPOWITT PLAYERS has provided quality community theater for over 85 years in a converted historic 1853 Little Red School House in the town of Reading, Massachusetts.
Our delightful black-box performance space, with intimate seating for 150 patrons, has full handicap accessibility and parking.
55 Hopkins Street
Reading, MA. 01867-3917
Phone # 781-942-2212