(Cover Photo: The CAST of "THE PLAY THAT GOES WRONG" from Lyric Stage Company in Boston, MA. through December 18, 2022. Photo Credit Mark S. Howard)
By Kevin T. Baldwin
METRMAG Reviewer
# 774-242-6724

"...death and destruction shall prevail. "

Lyric Stage Company
Presents
"THE PLAY THAT GOES WRONG"


By Henry Lewis, Jonathan Sayer & Henry Shields
Directed by Fred Sullivan Jr.
Cast Includes: Robert - Kelby T. Akin*; Annie - Alexa Cadete; Sandra - Nora Eschenheimer*; Jonathan- Dan Garcia; Trevor -Mitch Kiliulis; Chris/Stunt Coordinator/Fight Captain - Michael Liebhauser*; Max - Marc Pierre*; Dennis - Dan Whelton*; Understudy Sandra, Annie - Margaret Clark; Understudy Chris, Robert, Dennis - Patrick French; Understudy Jonathan, Max, Trevor - Matt Ryan
Additional Creative Team:
Scenic Design - Peter Colao; Costume Design - Gail Astrid Buckley**; Lighting Design- John Malinowski; Sound Design - Dewey Dellay; Production Stage Manager - Josh Rodrigues*; Assistant Stage Manager - Lucas Bryce Dixon*; Props Artisan - Karissa Roberts; Assistant Director - Kolton Bradley; Wardrobe - Hannah Schuurman; Audio Supervisor - Sean Doyle; Head Electrician -Gabriel Goldman
* MEMBER OF ACTORS' EQUITY ASSOCIATION, THE UNION OF PROFESSIONAL ACTORS AND STAGE MANAGERS IN THE UNITED STATES
** REPRESENTED BY UNITED SCENIC ARTISTS, LOCAL USA 829 OF THE IATSE
° STAGE DIRECTORS AND CHOREOGRAPHERS SOCIETY
Performances:
November 11, 2022 through December 18, 2022
(Contact Box Office for Exact Times)
140 Clarendon Street, Boston, MA 02116
BOX OFFICE # 617-585-5678
"THE PLAY THAT GOES WRONG" is a laugh riot. Accent mostly on the "riot" part.
Now playing at the Lyric Stage in Boston, the show leaves one "bone tired."
"Bone" as in one's funny bone.
"Tired" from laughing non-stop at the over two plus hours of unending hilarity.
Literally...just...bone tired.
The "Cornley Drama Society" has brought to the Lyric Stage the dark and brooding drama and a bone-breaking "Murphy's Law" reigns supreme.
The play-within-a-play, entitled "The Murder at Haversham Manor." is a "serious" 1920s murder mystery and, during the performance, the cast and crew contend with non-functional set pieces, ill-prepared cast members, an incompetent crew and floors collapsing.
Truly anything that can go wrong does go wrong.
Written by Henry Lewis, Jonathan Sayer & Henry Shields, "THE PLAY THAT GOES WRONG" opened on Broadway in 2017, having already previously won for Best New Comedy at the 2015 Laurence Olivier Awards.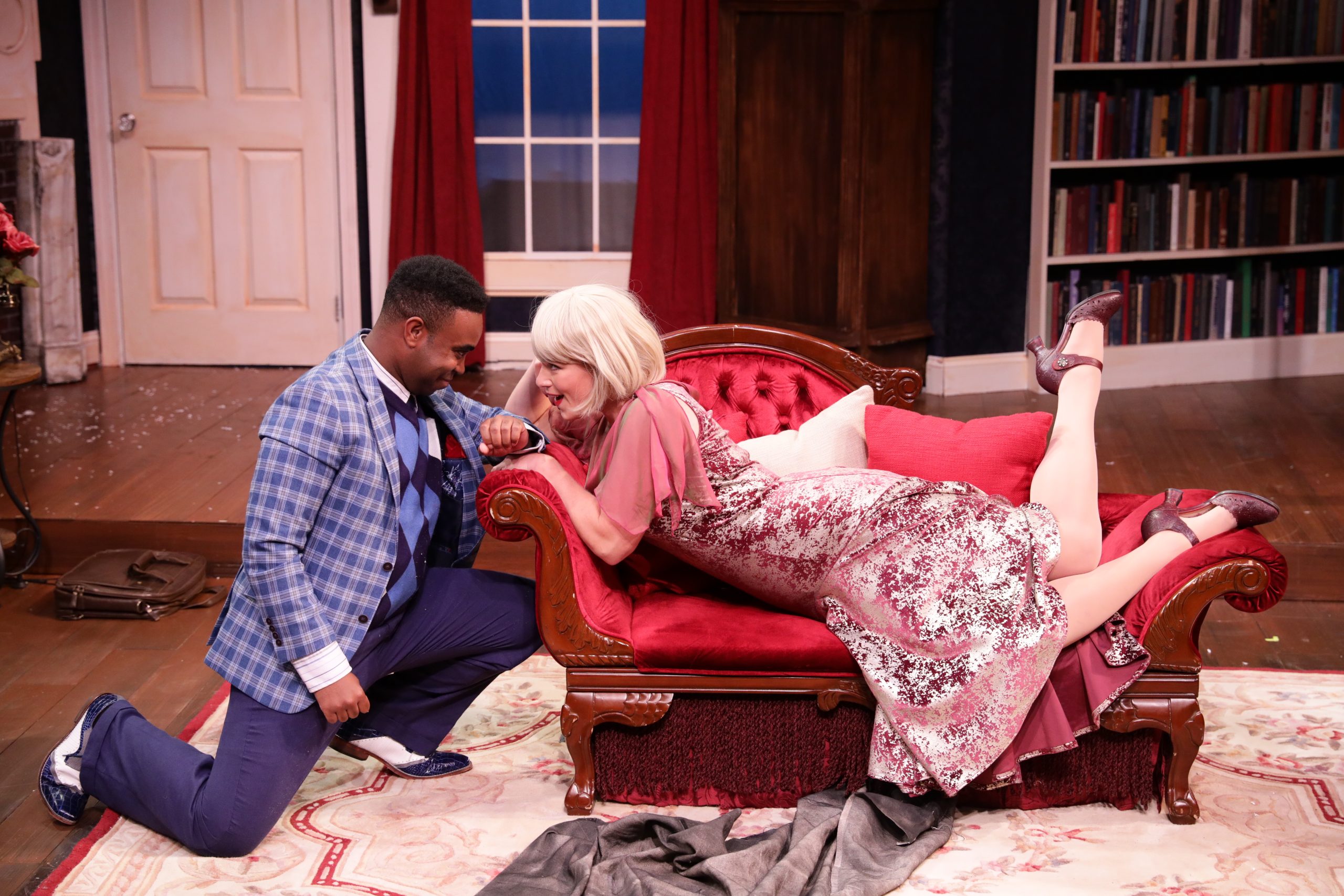 (Photo: Marc Pierre and Nora Eschenheimer in a scene from "THE PLAY THAT GOES WRONG" from Lyric Stage Company in Boston, MA. through December 18, 2022. Photo Credit Mark S. Howard)
For those involved in theatre, there are many "familiar" moments that will strike close to home…striking hard...striking very, very hard...like the memory of a set striking you on top of your head "hard"...then the cast will spit turpentine on that memory and proceed to set it on fire.
As "The Murder at Haversham Manor" is told...in an adrenaline infused frenzy...the cast and "crew" of Cornley all fail to execute the material in a perfect pageantry of perpetual pandemonium.
The show comes with all those familiar moments of missing props, forgotten lines, redundant scenes, lost cues, and those all-too-familiar knock down, drag out fights between cast members in trying to maintain a coherent, cohesive drama.
Then, through the magnificent collective effort of the Lyric cast, the comedy gets the volume turned all the way up to "11."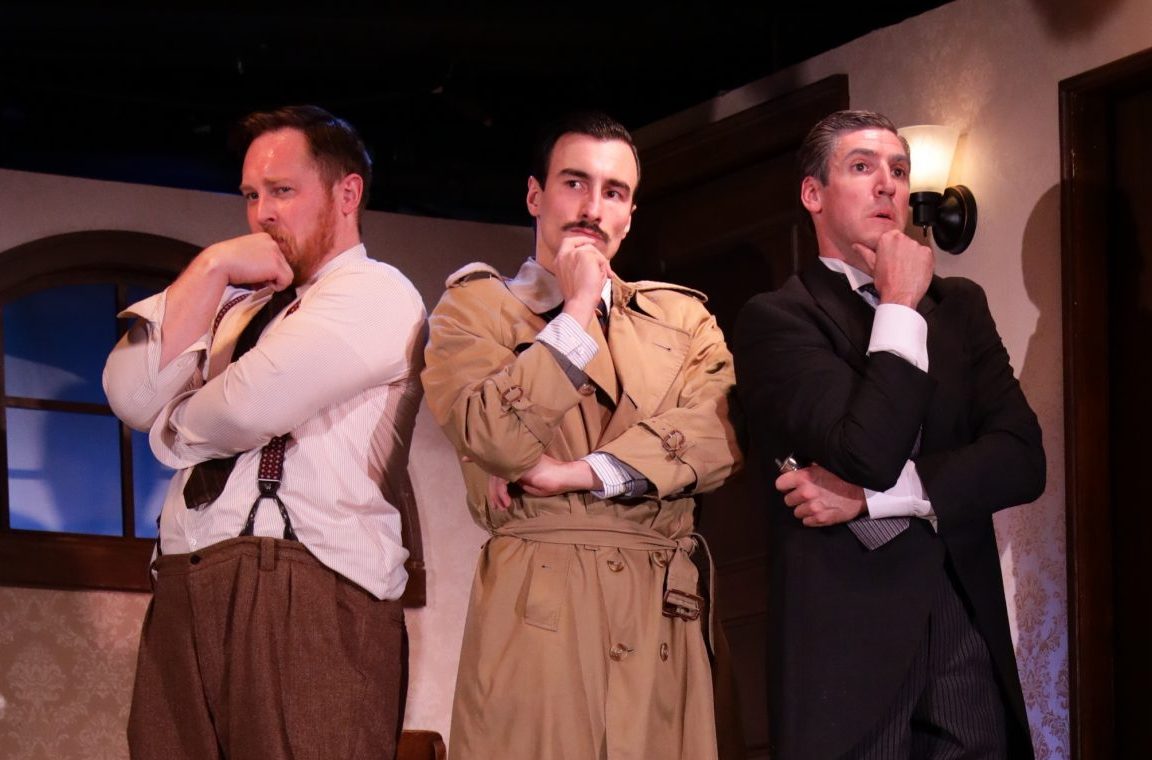 (Photo: Kelby T. Akin, Michael Liebhauser and Dan Whelton share a rare, thoughtful moment during "THE PLAY THAT GOES WRONG" from Lyric Stage Company in Boston, MA. through December 18, 2022. Photo Credit Mark S. Howard)
The show's actual direction under Fred Sullivan Jr. never has the cast taking a much-needed moment to breathe and, occasionally, adrenaline does get the best of the cast yet not enough to stray too far from the original source material.
Peter Colao's intricate set design of "Haversham Manor" maximizes the entire Lyric Stage space.
Not to give away too many secrets here but there are many requirements of the set to "fail" on demand. This allows the set itself to virtually become an additional and critical cast member.
Without Colao's set and Sullivan's expert stage direction, the planned "failures" incorporated into the script would never fire off as brilliantly as they do.
There is a piece of advice shared in live theatrical productions: "No matter what happens…no matter what goes wrong…just keep going. JUST.KEEP.GOING!"
It is emphasized repeatedly.
This particular bit of advice should never have been given to the ensemble of this Cornely Drama Society show because the cast follows it religiously, with undaunted determination resulting in unwavering disaster.
From its calamitous outset to its cataclysmic conclusion, everybody gets crucified from "THE PLAY THAT GOES WRONG."
The end result? "Cornley Drama Society"' members' misery is the our merriment as the laughter is deafening.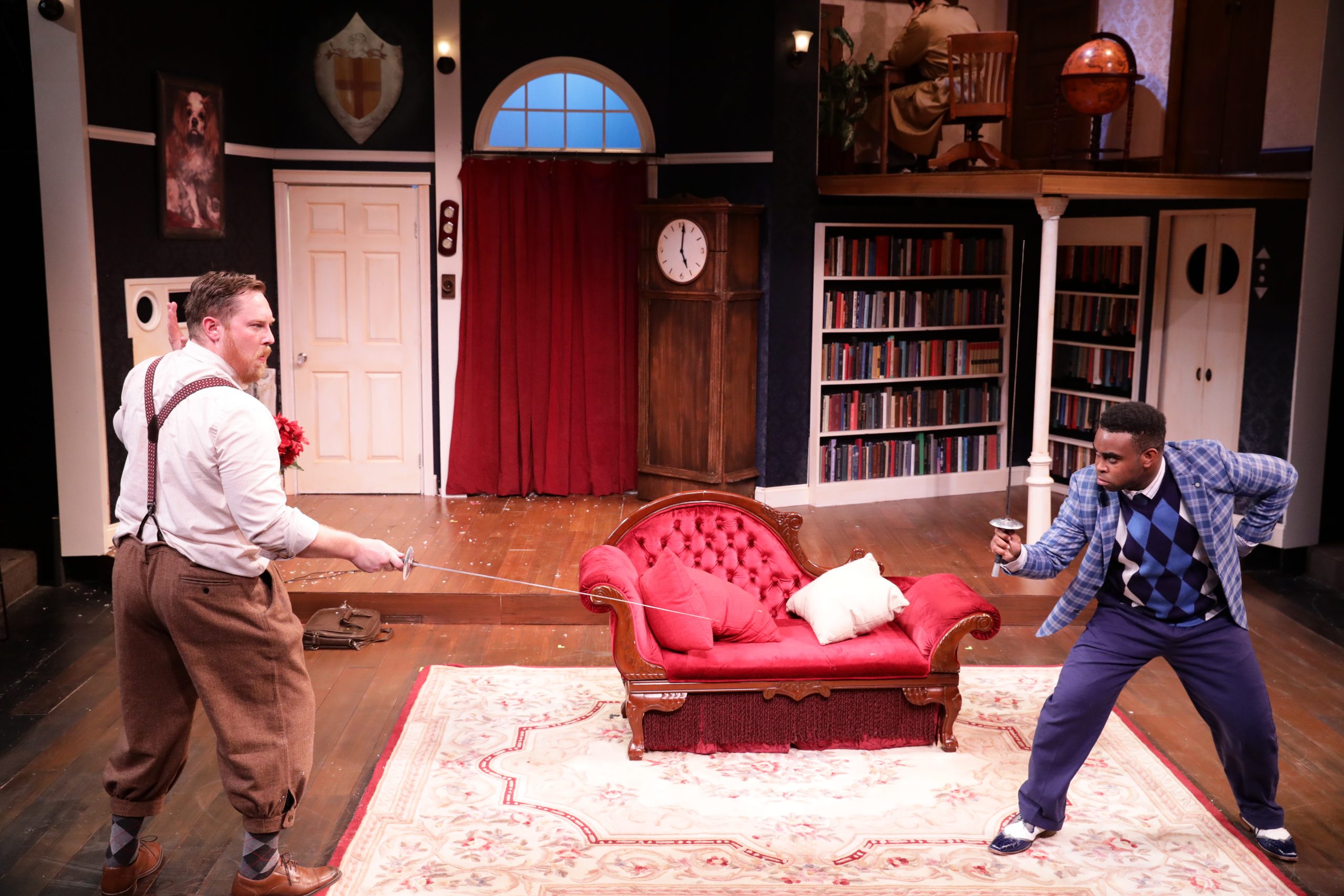 (Photo: Kelby T. Akin and Marc Pierre make their points clear in a scene from "THE PLAY THAT GOES WRONG" from Lyric Stage Company in Boston, MA. through December 18, 2022. Photo Credit Mark S. Howard)
The cast of the adrenaline-fueled "play-within-a-play" includes:
Chris Bean (Michael Liebhauser) plays Inspector Carter, doubling as the show's competent director. His level of competency will become highly questionable as the night moves forward.
Liebhauser has impeccable timing as Bean as the onslaught of mishaps hits one right after another.
Jonathan (Dan Garcia) plays victim Charles Haversham. even in "death," he is persistent in trying to re-emerge on stage and continues to get "victimized" as the show progresses.
Robert Grove (Kelby T. Akin) plays suspect Thomas Colleymore.
Feautung a commanding, booming voice, Akin is always prominent as Grove, who has many arduous acrobatic scenes, some with Liebhauser and some with Dennis Tyde (Dan Whelton) who plays "butler-with-a-secret" Perkins.
Whelton also gives a hysterical portrayal of the actor playing the hysterical butler and an actor who seems to have occasional line difficulties (note the plural there).
Sandra Wilkinson (Nora Eschenheimer) is relentlessly funny as sexy femme fatale Florence Colleymore who is onstage far too briefly before getting sidelined in an accident.
As Sandra returns…in far more briefer briefs, Wilkinson sees Stage Crew member Annie (Alexa Cadete) onstage wearing Wilkinson's costume and performing Florence's lines.
Annie hesitates at first (as she is literally...literally...thrust into the "Florence" role), but then warms up to it and refuses to relinquish it.
It is wonderful to see what feels like "full contact wrestling" enacted on stage between the feuding Eschenheimer and Cadete as they fight for "Florence dominance." Both actresses are keenly adept at the required heightened physical comedy.
Max Bennett (Marc Pierre) plays both Cecil Haversham and Arthur the Gardener with a devilish grin and mischief in his heart. Bennett also becomes embroiled in much of the physical action on stage.
Pierre delights as the smarmy, conceited yet utterly charming Max.
In addition to the physical comedy there is also a wonderfully staged "inept sword fight" scene that takes place between the characters of Colleymore and Cecil. Kudos to credited Stunt Coordinator/Fight Captain Michael Liebhauser.
Rounding out the cast is Trevor Watson (Mitch Kiliulis) who serves as lighting and sound technician (and who has a disturbing "Duran Duran" fetish).
Kiliulis is wonderfully brash as Trevor who is involved in nearly every technical aspect of the production...although he would not assume the blame for anything that goes awry.
One personal note to "Trevor", though - if you play "Duran Duran," you better crank that "Duran Duran," Mister (Mister).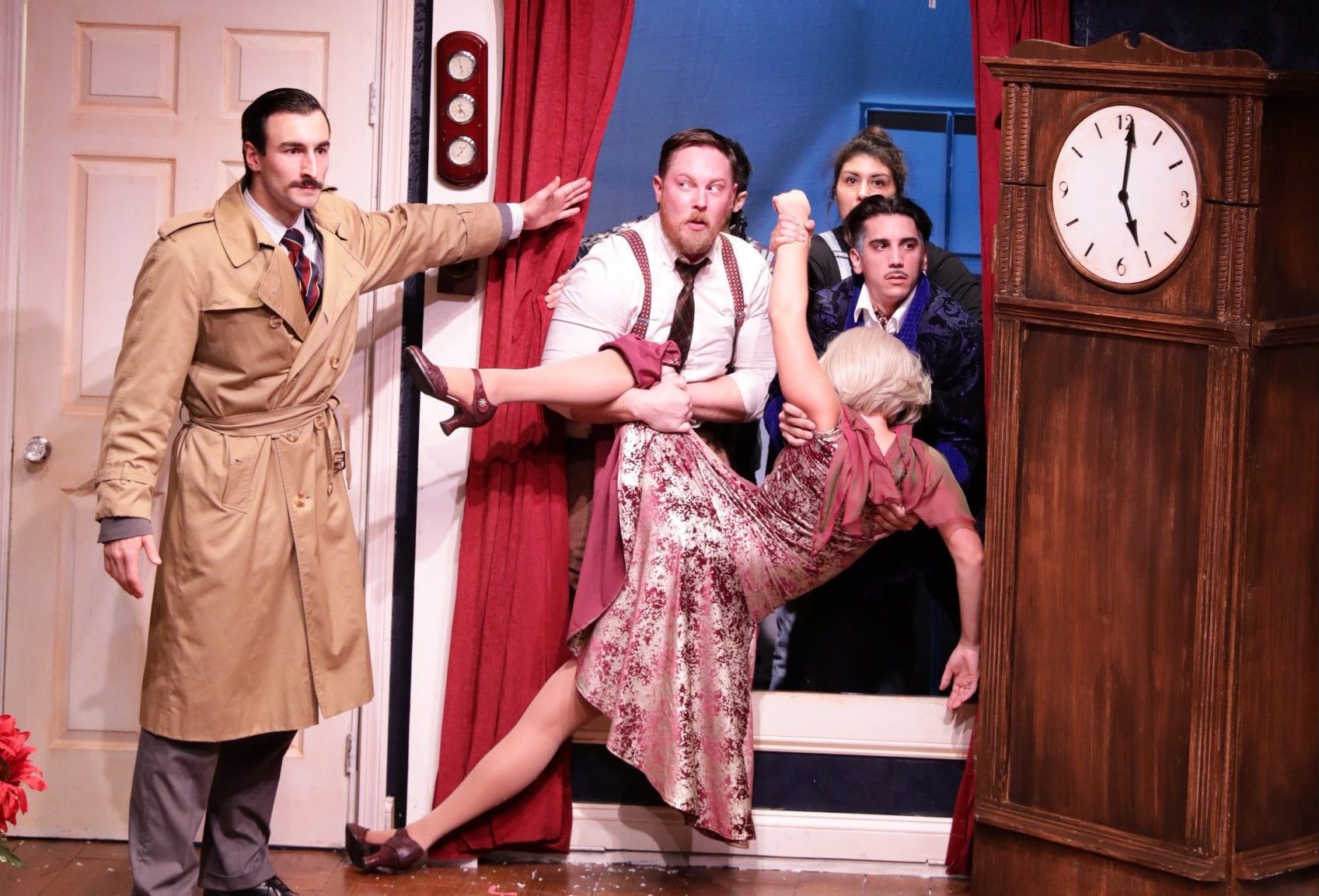 Photo: The CAST of "THE PLAY THAT GOES WRONG" from Lyric Stage Company in Boston, MA. through December 18, 2022. Photo Credit Mark S. Howard)
If one examines the actual "mystery" that is "The Murder at Haversham Manor" one will find it is an ingenious construct by Henry Lewis, Jonathan Sayer & Henry Shields, even if it does run a bit limp, exhausted and quite winded toward its conclusion...unless that is just the remaining and/or upright members of the "Cornley Drama Society"...
It is not an easy task to make floundering failure look fabulously funny but the entire, gifted ensemble and creative team from the Lyric Stage not only prevailed but flourished in this task, making "THE PLAY THAT GOES WRONG" one of the funniest plays this season.
Approximately two hours 15 minutes with one intermission.
Kevin T. Baldwin is a member of the American Theatre Critics Association (ATCA)
@MetrmagReviews
@Theatre_Critics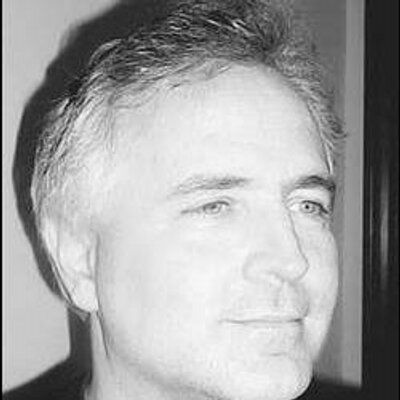 ABOUT THE SHOW
It's so bad, it's good.
"Break a leg!" takes on a whole new meaning for a woefully misguided troupe of players at the Cornley University Society's opening night performance of The Murder at Haversham Manor.
An unconscious leading lady, a corpse who can't play dead, a ruffled detective, and a word-mangling butler (among others) must battle against technical gaffes, forgotten lines, and sabotaging scenery in a quest to arrive all in one piece at the final curtain call.
Part Monty Python, part Sherlock Holmes, all mayhem, this 1920s whodunit is disastrously delightful.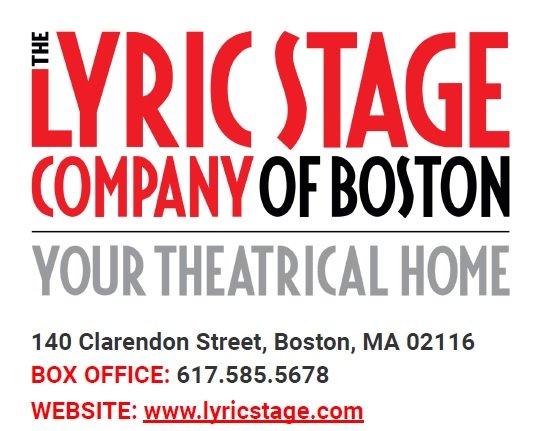 ABOUT THE LYRIC STAGE OF BOSTON
Founded in 1974 and in residence at 140 Clarendon Street since 1991, the Lyric Stage Company is Boston's oldest resident theatre company. Our mission is to produce and present live theatre in Greater Boston with an intimate approach that promotes inclusivity and connection. The Lyric Stage leads an effort to integrate live theater and theater education into the lives of all residents of greater Boston.
140 Clarendon Street
Boston, MA. 02116
BOX OFFICE: 617-585-5678