(COVER PHOTO: Cast of Exit 7 Players' "The Curious Incident of the Dog in the Night-Time" now playing in Ludlow, MA. through March 20, 2022. Photo by Ed Haber.)

By Kevin T. Baldwin
METRMAG Reviewer
Contact: 774-242-6724
"Love looks not with the eyes, but with the mind." - William Shakespeare

Exit 7 Players
Presents
"THE CURIOUS INCIDENT OF
THE DOG IN THE NIGHT-TIME"
Winner of the 2015 Tony® Award for Best Play.
Written by Simon Stephens based on the novel by Mark Haddon.
Directed by Michael O. Budnick
Cast Includes: Lucas Gonsalves, Gilana Chelimsky, Jason Rose-Langston, Jami Wilson, Nancy Wright, Jeffrey Flood, Andy Price, Dan Jarvis, Hannah Zaitz, Theresa Allie.
Performances:
March 13, 18, 19, 2022 at 8:00pm
March 12 and 20, 2022 at 2:00pm
Tickets:
Preferred $22.00, Adult $20.00, Senior (62+) $18.00, Student/Child $18.00.
Given how recent global events have had a heightened impact on travel with soaring gas prices, it becomes prudent for some to consider foregoing travel to see certain shows.
However, nobody - not one, single person - should miss out on one of the most impressive plays written in the past 10 years, "The Curious Incident of the Dog in the Night-Time" in Ludlow, executed brilliantly by the Exit 7 Players.
The play is a 2012 adaptation by Simon Stephens of a 2003 mystery novel by British writer Mark Haddon. It is an impeccably constructed script that transcends theatre and effectively opens a window to another world.
The show has won multiple Olivier Awards, the 2015 Drama Desk Award and the 2015 Tony Award for Best Play.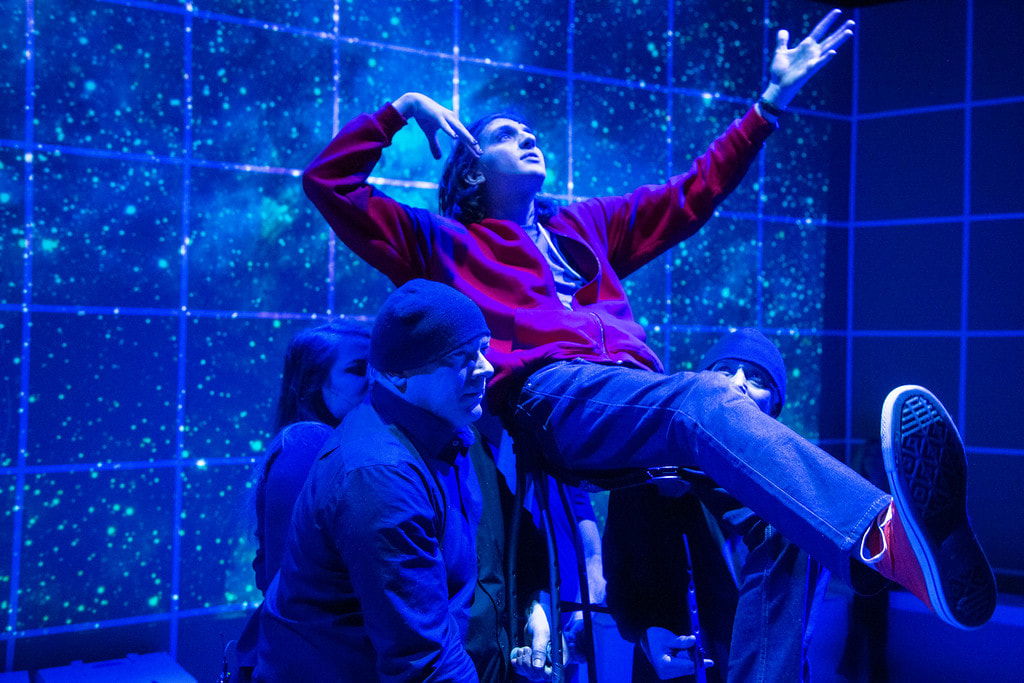 (PHOTO: Lucas Gonsalves supported by some of the Cast of Exit 7 Players' "The Curious Incident of the Dog in the Night-Time" now playing in Ludlow, MA. through March 20, 2022. Photo by Ed Haber.)
The story, told in a visceral avant-garde manner, revolves around teenager Christopher (Lucas Gonsalves) who is on the end of the spectrum formerly classified as "Asperger's Syndrome" (as described according to a statement in the program by the show's director, Michael O. Budnick).
However Christopher's condition might actually be defined, he is still high functioning. He is a mild savant, excelling at mathematics but, conversely, he struggles in all aspects of human interaction, screaming whenever someone, even a close loved one, touches him.
As the show begins, Christopher, who lives in Swindon, a working-class town west of London, comes across the murdered carcass of a neighbor's dog.
Christopher is initially accused of murdering the dog, but soon attempts to exonerate himself by investigating the "curious incident" alone.
What Christopher soon discovers is that, by unraveling the mystery surrounding the dog's demise, his investigation also reveals a bigger mystery involving his parents, Ed (Jason Rose-Langston) and Judy (Jami Wilson).
By the end of the first act, and throughout most of the second, the play takes a turn as it moves itself into a long, gripping odyssey of self discovery for Christopher. He overcomes multiple obstacles as he goes in search of answers to this new mystery in London.
The ensemble of performers, who are on stage for almost the entire length of the show, are 100 percent committed to executing the intricate staging by Budnick.
Lucas Gonsalves gives a sensitive, insightful portrayal as Christopher, playing to the full multi-dimension of the character and not just focusing on a singular aspect of that character's personality.
The script adaptation by Stephens is as insightful as Budnick's production is inventive. We cannot know what it is actually like in Christopher's mind yet, through the combined use of ensemble on stage (playing multiple roles) and with finely tuned technical wizardry on stage, the audience was mesmerized.
Outside of some white cubes that get used in many clever ways, the set is otherwise minimalist.
Along the grid-patterned back wall, graphics are projected, used in conjunction with impeccably timed lighting and sound effects.
Set design is credited to Budnick, Frank Croke and Bruce Torrey but the entire creative team has truly outdone themselves for this production.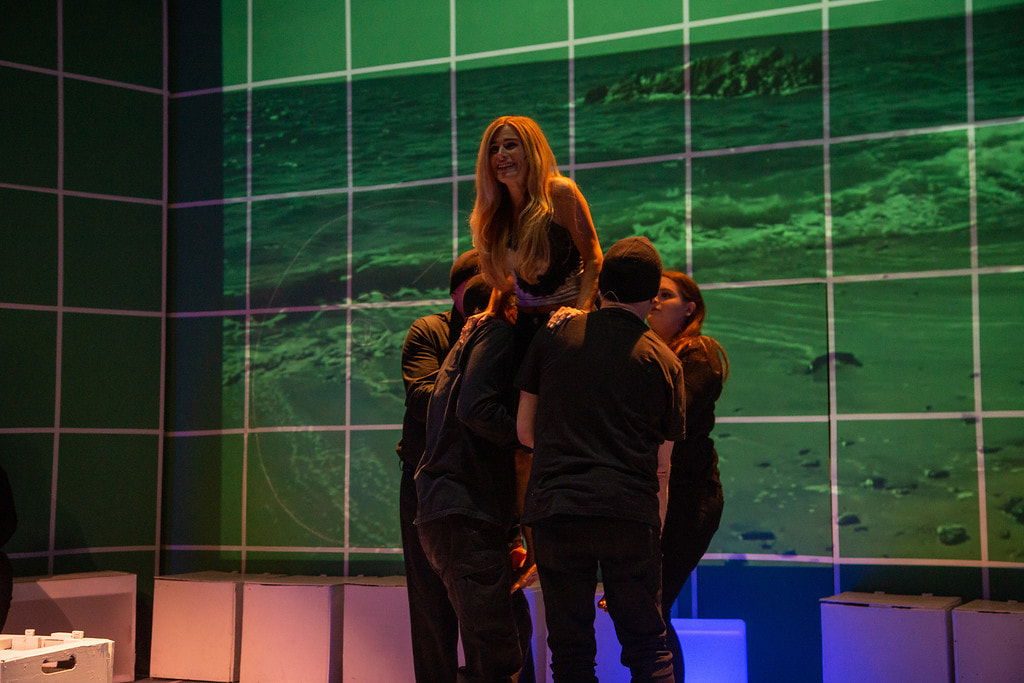 (PHOTO: Jami Wilson supported by some of the Cast of Exit 7 Players' "The Curious Incident of the Dog in the Night-Time" now playing in Ludlow, MA. through March 20, 2022. Photo by Ed Haber.)
Both Jason Rose-Langston and Jami Wilson give excellent supporting performances as Christopher's parents, navigating through the deep waters of their own difficult relationship while never wavering on their mutual love for their son.
Gilana Chelimsky also impresses as Christopher's teacher and mentor, Siobhan, walking a very fine line with fantasy versus reality at certain points when the script unexpectedly recognizes itself as a play.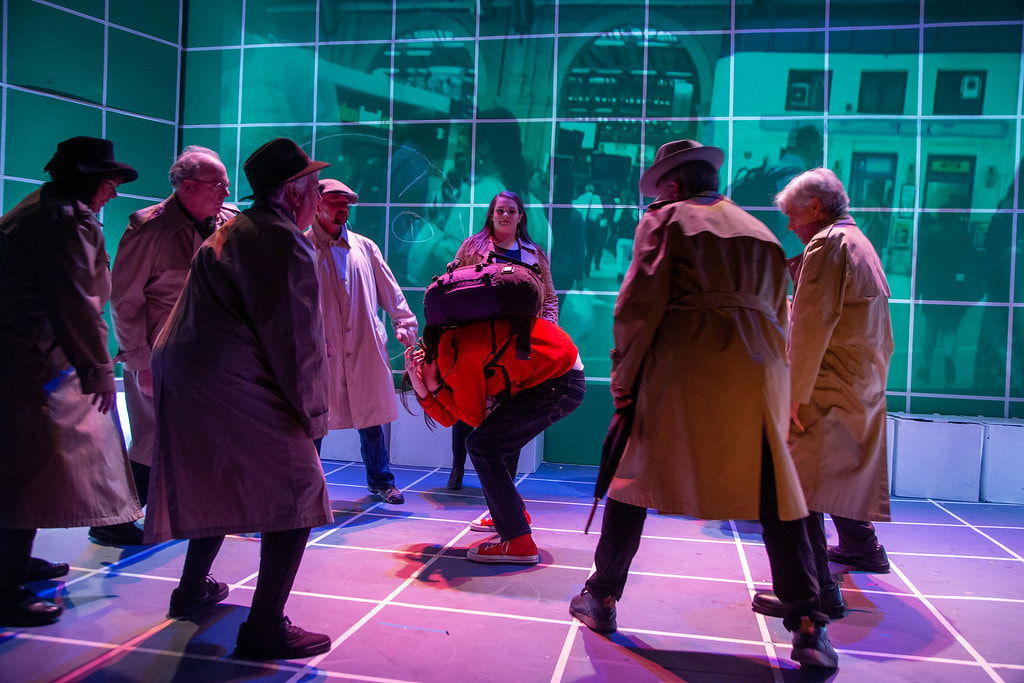 (PHOTO: Cast of Exit 7 Players' "The Curious Incident of the Dog in the Night-Time" now playing in Ludlow, MA. through March 20, 2022. Photo by Ed Haber.)
This is a journey, an odyssey, well worth taking. "The Curious Incident of the Dog in the Night-Time" is a play so inventive, so riveting, so inspiring, that it should be seen if only to remind other actors and creative teams of why they originally wanted to do shows in the first place.
The show runs two and a half hours with one intermission.
Kevin T. Baldwin is a member of the American Theatre Critics Association (ATCA)
@MetrmagReviews
@Theatre_Critics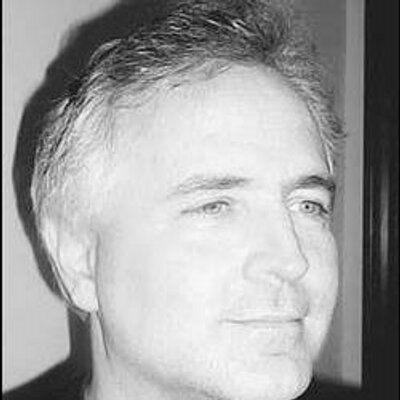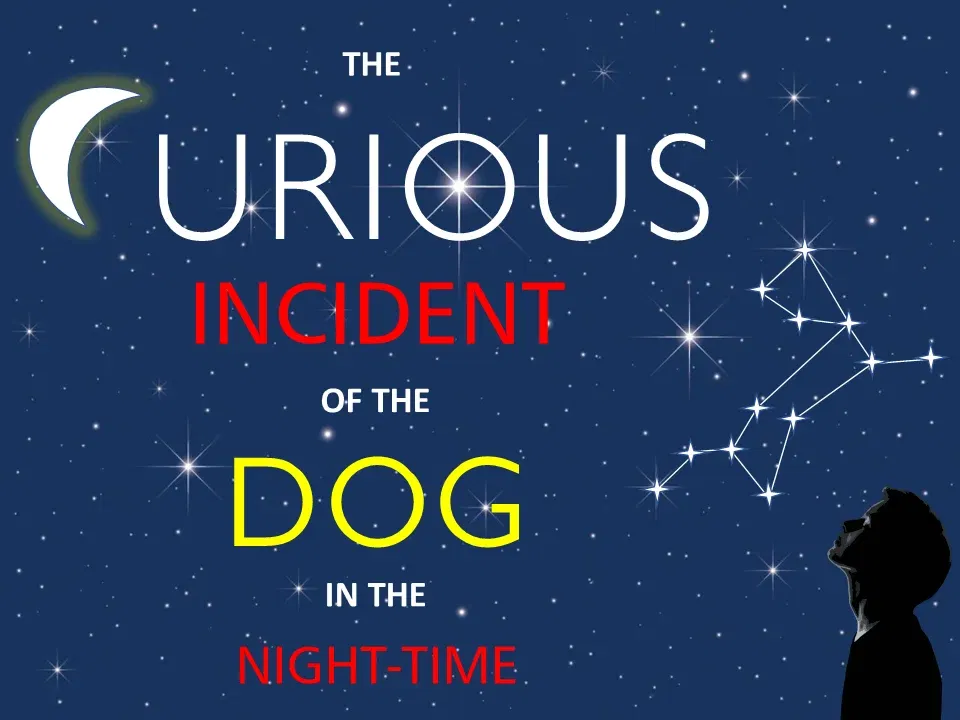 ABOUT THE SHOW
Fifteen-year-old Christopher has an extraordinary brain: He is exceptional at mathematics but ill-equipped to interpret everyday life. He has never ventured alone beyond the end of his road, he detests being touched, and he distrusts strangers.Now it is 7 minutes after midnight, and Christopher stands beside his neighbor's dead dog, Wellington, who has been speared with a garden fork. Finding himself under suspicion, Christopher is determined to solve the mystery of who murdered Wellington, and he carefully records each fact of the crime. But his detective work, forbidden by his father, takes him on a thrilling journey that upturns his world.
About Tickets
Reserved Ticket Prices: $22 Preferred (first four rows), $20 Adult, $18 Seniors (62+), Students with ID, and Children (12 and under). Prices for special shows and events may be different.
For group sales, (10 or more tickets/$15 each, Preferred seating not included) or wheelchair seating please contact the box office directly at 413.583.4301*. Preferred seating excluded in group discount offer.
For day-of-show tickets (once on-line box office closes) call 413.583.4301* or stop by the office before showtime. Tickets may be available. The box office opens one hour prior to each show.
MEMBER PERK: Any member of Exit 7 Players who has purchased a ticket and presents their membership card to the box office that evening will receive one free item from the concession stand. This applies to members listed on the card only.
SEATING: Please arrive at the theater on time. Latecomers will be seated at the discretion of the house manager.
NEW: Show a valid military ID (active military or veteran) and get one free refreshment at intermission. Parties needing to use the ramp for access to the theater should call the box office at 413.583.4301*.
"This adaptation by the acclaimed playwright Simon Stephens is intensely, innately theatrical; it is also funny and extremely moving…resonates with quality." —Telegraph (London). "…just terrific…a profoundly moving play about adolescence, fractured families, mathematics, colours and lights…dazzling." —Independent (London). "A beautiful, eloquent, dazzlingly inventive show about the wonders of life." —Evening Standard (London).

ABOUT EXIT 7 PLAYERS
Exit 7 is a community theater group located in Ludlow, Massachusetts that was founded in the spring of 1984 and began with a production of Agatha Christie's Ten Little Indians. Located on Chestnut Street in the historic auditorium of what was previously the Ludlow High School, the Exit 7 Players have focused on renovating the Chestnut Street Theater while bringing the arts to Ludlow and the surrounding communities.
Exit Seven Players LTD
413-583-4301
37 Chestnut Street, Ludlow, MA 01056