(Cover Photo: The CAST of "THE COMPLETE WORKS OF WILLIAM SHAKESPEARE (ABRIDGED)" from Calliope Productions in Boylston, MA. now playing through October 29, 2023. Photo Credit Scott Lyerly)


By Kevin T. Baldwin
METRMAG Reviewer
# 774-242-6724

"Small cheer and great welcome makes a merry feast."
- William Shakespeare

Presents the Hilarious Comedy
"THE COMPLETE WORKS OF WILLIAM SHAKESPEARE (ABRIDGED)"
Written by Adam Long, Daniel Singer and Jess Winfield
Produced and Directed by Dave Ludt
Cast Includes: Peter Arsenault, Rob Killeen and Neal Martel
Additional Creative Team:
Assistant Director and Stage Manager - Kim LiPuma; Lights and Sound - Dave Ludt; Costumes - Donna Reidy; Box Office - Karen Josbacher
Performances:
October 20, 21, 27 & 28, 2023 at 7:30pm
October 22 & 29, 2023 at 2:00pm
Calliope Theatre, 150 Main Street, in Boylston, MA.
Tickets: https://www.ticketstage.com/T/CALLIOPE
Contact the Box Office at 508-869-6887
COVID 19 PROTOCOLS
Contact Venue for Most Updated COVID-19 Safety Protocols and Information.
Calliope Productions presents a wild and crazy evening featuring manic mayhem and Shakespearean scampering, all part and parcel of "THE COMPLETE WORKS OF WILLIAM SHAKESPEARE (ABRIDGED)."
Not just improvisational comedy, the script by Adam Long, Daniel Singer and Jess Winfield has undergone extensive updates and modifications since its debut roughly 36 years ago at the UK "Edinburgh Festival Fringe."
Yet, with this Calliope production, as staged "black box style" by director Dave Ludt, "(ABRIDGED)" still has the distinctive feel of an improv show as the cast of three (Peter Arsenault, Rob Killeen and Neal Martel ) attempt to successfully complete their mission.
That mission? To present, in a "reduced form," every single play by the "Bard" - aka William Shakespeare - in hilarious execution and under 97 minutes (which is an awfully specific timeframe for a show that has an intermission and runs two hours).
However, even given such narrow parameters: Mission = Accomplished.
"(ABRIDGED)" is fast-paced, totally chaotic (but trust me, you wouldn't want it to be presented any other way), pure silliness and a joy to help forget the worries of the outside world for a short while.
So, why not just sit back and enjoy?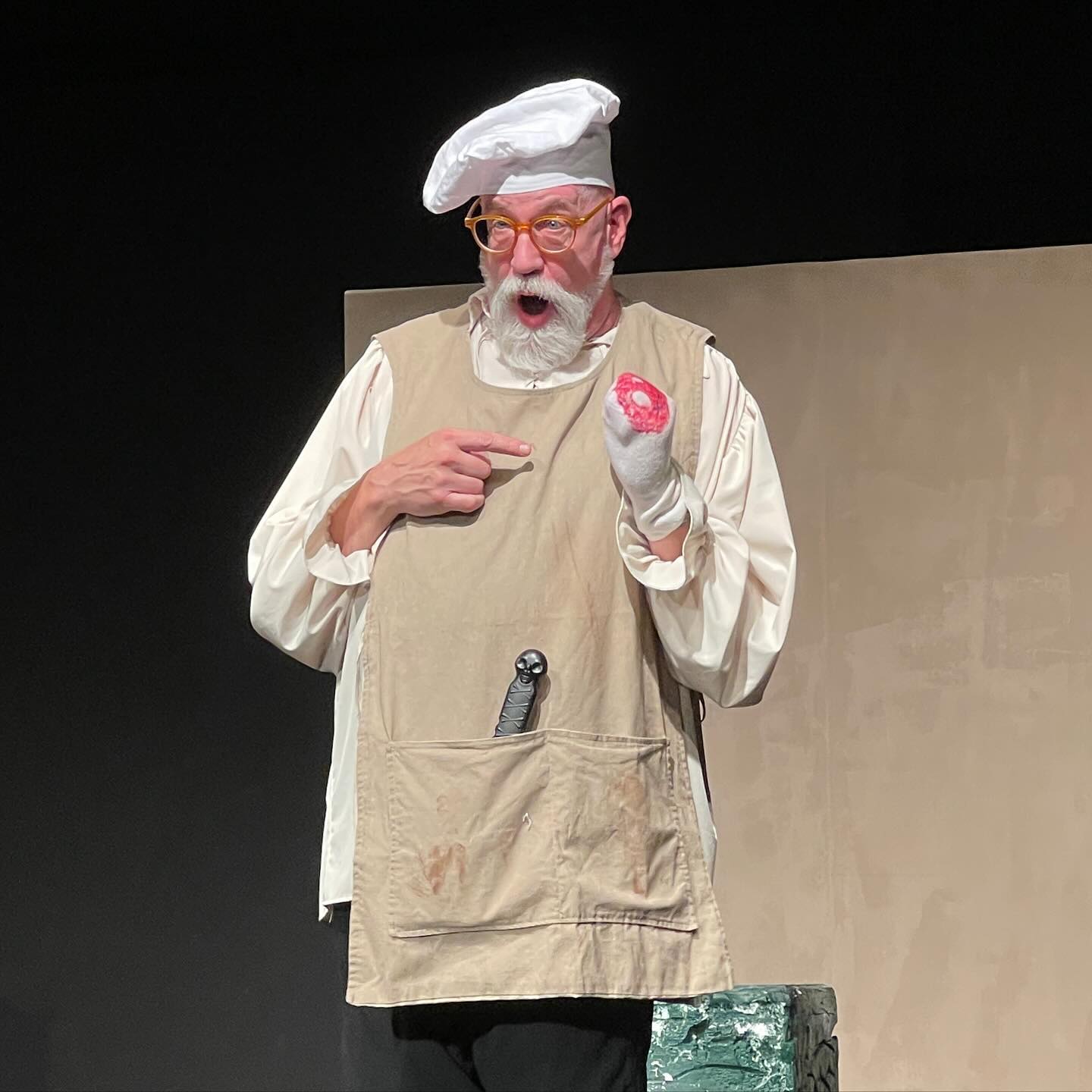 (Photo: Neal Martel is bone to be wild in a moment from "THE COMPLETE WORKS OF WILLIAM SHAKESPEARE (ABRIDGED)" from Calliope Productions in Boylston, MA. now playing through October 29, 2023. Photo Credit Scott Lyerly)
There is a lot of audience participation involved in the show, so do come prepared for a test immediately following the performance. This is a blatant lie, but it kept you reading.
As the foolishness begins, instructions are given to the audience which must be followed to the letter to prevent any potential injury or, worse, embarrassment.
Then, our illustrious trio of performers take on the arduous task parodying Shakespeare's "Romeo and Juliet."
For the sketch, Killeen gives a steadfast performance as the puerile "Romeo" (looking as if he is wearing a "Hobbit" wig from one of the "Lord of the Rings" films) with the uproarious Arsenault featured as the...uh, well, "femininity-challenged" character of "Juliet," suffering from severe appearance deficits.
Many times throughout the show, Killeen (as scripted) skillfully serves as the "nucleus" for a lot of the comic activity that takes place, having to pull both Arsenault and Martel back as needed, much like a straight man in a comedy team.
The above pretense 'floats' between the three actors but seems to land on Killeen's shoulders a bit more.
This could just be how the show evolved during those early days between Long, Singer and Winfield, but it serves to keep the show from devolving into something less than what it is - which is brilliantly clever.
"Romeo and Juliet" is followed by the tasteless tale of "Titus Andronicus" in the form of a cooking show.
Led by the exceptionally funny Neal Martel as "Titus," the segment also has Arsenault featured as his devoted, depressed and dismembered daughter, "Lavinia" (a character who instantly makes me regret any prior negative comment made about the aforementioned "Juliet").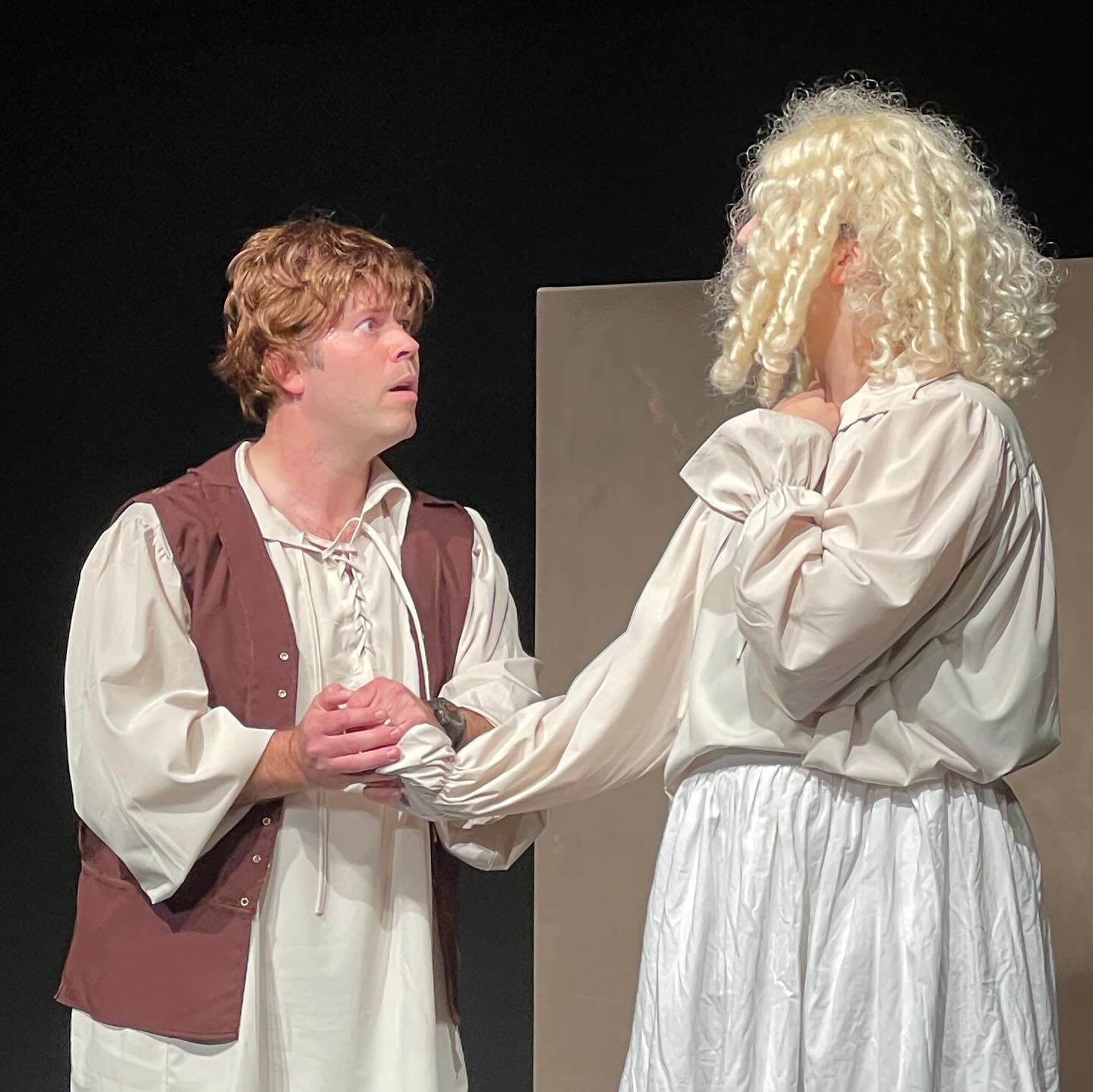 (Photo: Rob Killeen and Peter Arsenault in a scene from "THE COMPLETE WORKS OF WILLIAM SHAKESPEARE (ABRIDGED)" from Calliope Productions in Boylston, MA. now playing through October 29, 2023. Photo Credit Scott Lyerly)
Up next is "Othello" which immediately becomes problematic for the three actors for the most obvious of reasons.
Then, through what appears to be divine intervention (or, more accurately, the script) Arsenault proposes an insane idea that seems so preposterous it just might work.
Under Arsenault's guidance, the woeful story is performed by the trio as a highly inventive, retro but ultimately misguided attempt at a Beastie Boys' style "rap song."
What could possibly go wrong with this plan? Much.
While the above attempt fails magnificently as a rap song (and the surviving Beastie Boys might have a case should they decide to sue), it succeeds beautifully as comedy.
There are many great laughs throughout the show and one need not be a Shakespearean scholar or intellectual to enjoy.
An enormous number of wigs, costumes and props are included in these classical "re-enactments" and many are recycled throughout the show. Hats off to the coordinated effort by the entire creative team.
There is not much of a set to speak of but one really isn't necessary for this show. There are some well timed lighting effects used throughout the show, as well.
Next up we see "Macbeth" whittled down to a single duel between two of the actors performing in ridiculously bad Scottish accents.
The first act also focuses on other plays - from a highly entertaining amalgamation of stories containing similar plot devices; to an explanation (or lack thereof) of Shakespeare's "Apocrypha."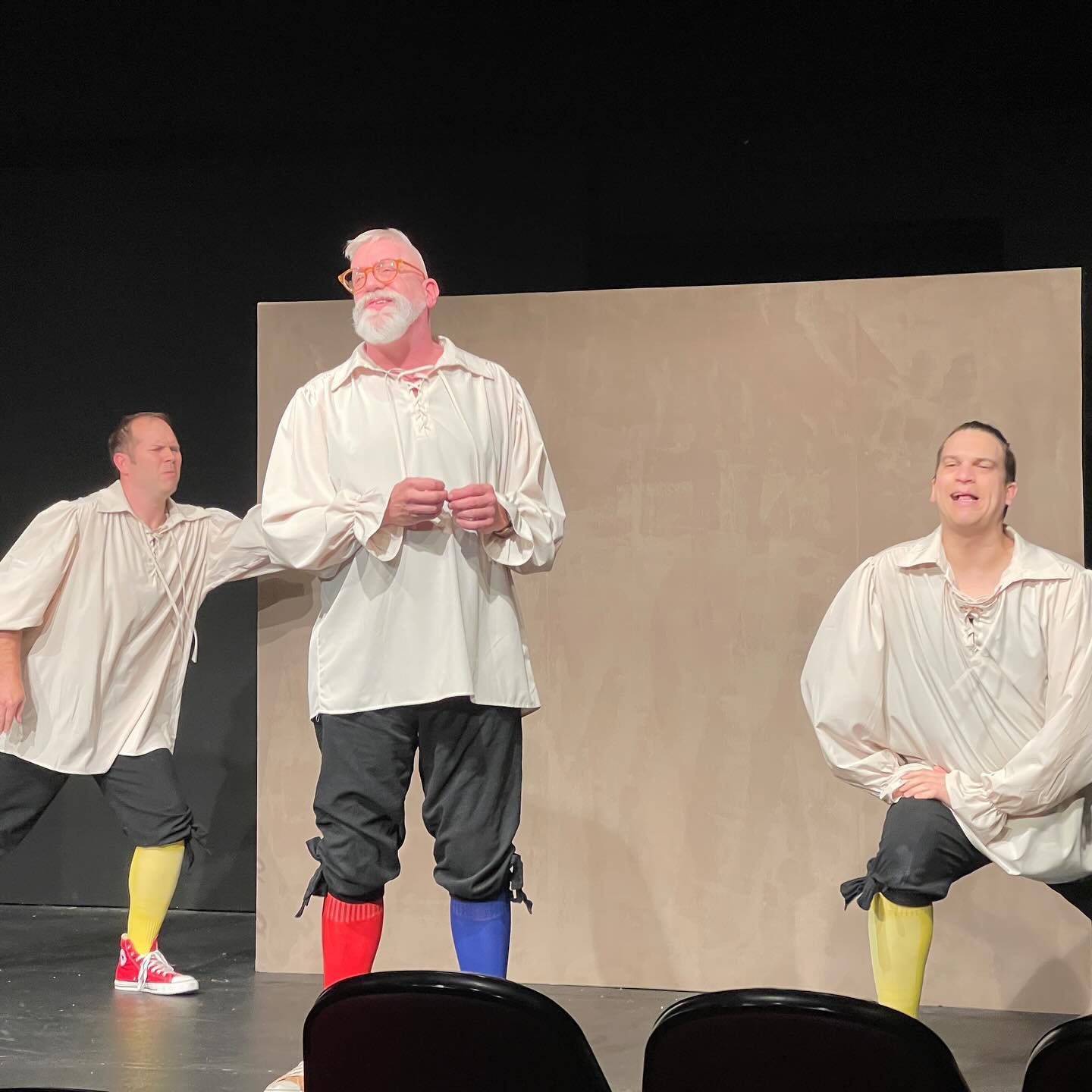 (Photo: Rob Killeen, Neal Martel and Peter Arsenault prepare themselves to prevent...present..."THE COMPLETE WORKS OF WILLIAM SHAKESPEARE (ABRIDGED)"at Calliope Productions in Boylston, MA. now playing through October 29, 2023. Photo Credit Scott Lyerly)
To review Shakespeare's "histories," we see the actors as football players (or at least like this year's Patriots) using a crown as a football, squaring off against each other, relinquishing their various dynasties (much like the aforementioned Patriots).
Some shows don't get more than a brief mention and don't blink or you'll miss the assassination of "Julius Caesar" and the fates of "Antony and Cleopatra."
By intermission, the trio discovers there is only one play left on their list: "Hamlet."
Eloquent and fun of invention, the sonnets are covered, "Hamlet" engaged and hilarity reigns supreme at Calliope.
Do NOT attempt to leave this show early as the ending of the "Hamlet" section and what immediately follows is always well worth the wait.
A suggestion: If you are a teacher of middle school or high school age students and have a classroom full of budding thespians (repeat: "thespians") or literary scholars, take them to see this show. It is an invaluable experience to expose young people to the world of Shakespeare in a fun, unique way.
To borrow (or butcher) from the Bard:
"Be not afraid of Shakespeare. Some are born understanding Shakespeare and some, well…not so much…while others have Shakespeare thrust upon them."
This is that show and we should thank our lucky stars for that.
So, come and enjoy "THE COMPLETE WORKS OF WILLIAM SHAKESPEARE (ABRIDGED)" which continues at Calliope in Boylston until October 29th after which parting will bring such sorrow.
Approximately 97 minutes (or closer to two hours, take your pick) with one intermission.
Kevin T. Baldwin is a member of the American Theatre Critics Association (ATCA)
@MetrmagReviews
@Theatre_Critics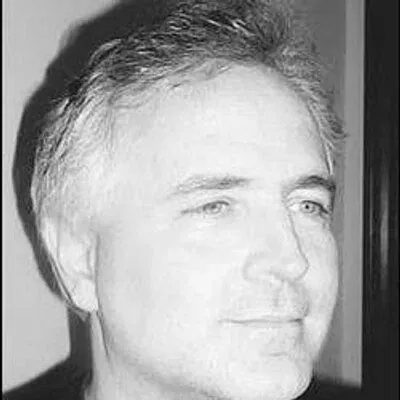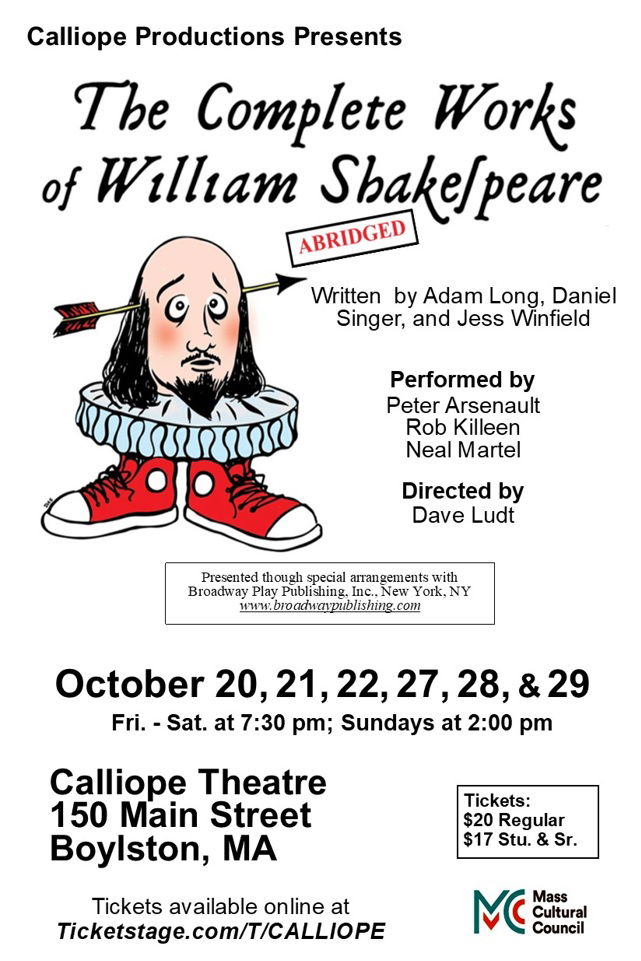 ABOUT THE SHOW
This fall, CALLIOPE PRODUCTIONS is thrilled to present "THE COMPLETE WORKS OF WILLIAM SHAKESPEARE (ABRIDGED)" - an irreverent, zany, and frenetic romp through all 37 of WILLIAM SHAKESPEARE'S plays in 97 minutes.
If you love SHAKESPEARE, hate SHAKESPEARE, or don't care one way or the other, this production is made for you!
This show broke the record for the longest-running comedy in London's West End when it closed in 2013 and is one of the world's most frequently produced plays - with productions having been staged in more than a dozen different languages around the world since its debut performance in 1987.
Join CALLIOPE'S cast of madcap men in tights - Peter Arsenault, Rob Killeen and Neal Martel – as they weave their hysterical way through all of SHAKESPEARE'S comedies, histories. and tragedies in a wild ride that will leave you breathless (and helpless) with laughter.

ABOUT CALLIOPE PRODUCTIONS
CALLIOPE PRODUCTIONS is a year-round non-profit theatre company founded in 1982 that serves the needs and interests of audiences and performers in the Central Massachusetts region. CALLIOPE PRODUCTIONS presents six main-stage productions each year, and operates performance training workshops for students (ages 9 - 18) and adults. CALLIOPE PRODUCTIONS is a member of the American Association of Community Theatre, the Eastern Massachusetts Association of Community Theatres and the Worcester Cultural Coalition.
150 Main Street
Boylston, MA 01505