(Cover Photo: Patrice Jean-Baptiste as "Petruchio" with the CAST of William Shakespeare's "TAMING OF THE SHREW" presented by Actor's Shakespeare Project in Boston, MA. now playing through October 1, 2023. Photo Credit Ken Yotsukura Photography)


By Kevin T. Baldwin
METRMAG Reviewer
# 774-242-6724

"I see a woman may be made a fool, If she had not a spirit to resist."
- ("Katherine") / William Shakespeare

Actors' Shakespeare Project
Presents William Shakespeare's
"TAMING OF THE SHREW"
Written by William Shakespeare
Directed by Christopher V. Edwards
Cast Includes: Michael Broadhurst* as "Sly/Katherine"; Paige Clark* as "Lucentio/Ensemble"; Kira Gandalfo as "Hortensio/Ensemble"; Jade Guerra* as "Gremio/Ensemble"; Julia Hertzberg as "Bianca/Ensemble"; Patrice Jean-Baptiste* as "Petruchio/Ensemble"; Mary Mahoney as "Tailor/Ensemble"; Hampton Richards as "Biondello/Ensemble"; Lisa Tucker* as "Baptista/Ensemble"; Elena Toppo as "Grumio/Ensemble"; Joni Weisfeld* as "Tranio/Ensemble"
Additional Creative Team:
Ben Lieberson - Scenic Design; Chelsea Kerl - Costume Design; Amanda E. Fallon - Lighting Design; Elizabeth Cahill - Sound Design; Saskia Martinez - Props Design; Olivia Dumaine - Intimacy Direction; Lisette van den Boogaard - Production Stage Manager; Jake Mariño* - Assistant Stage Manager.
* Member of Actors' Equity Association, the Union of Professional Actors and Stage Managers in the United States
** Represented by United Scenic Artists, Local USA 829 of the IATSE
Performances:
September 15, 2023 through October 1, 2023
(Contact Box Office for Exact Times)
Modern Theatre, Suffolk University, 525 Washington St, Boston, MA. 02111
Tickets for all performances are $59.50, with an allotment of $20 tickets released for the week's performances on the Monday of that week, subject to availability.
Student tickets are $25, available for any patron ages 25 and under.
Memberships are available starting at $210. For more information, visit www.ActorsShakespeareProject.org
Tickets:
Phone # 617-241-2200
COVID-19 PROTOCOLS
Please consult directly with venue for latest COVID-19 and any other health and safety protocols.
Actors' Shakespeare Project presents a new, updated take on "TAMING OF THE SHREW," probably one of William Shakespeare's comedies that has not endured well over the centuries, especially given its completely reprehensible sexist overtones regarding the "joys" of patriarchal domination and female submissiveness.
Wait! Don't run off! I know I used the dreaded "p" word in that opener but bear with me because, under the astute direction of Christopher V. Edwards, this new production not only flips the script on the Shakespeare text, in a very positive sense, it torpedoes it.
There might be some turned off by such an unconventional approach to Shakespeare as the one taken by Actors' Shakespeare Project with "TAMING OF THE SHREW" and choose not to see it.
However, they would be missing out on a dynamite adaptation that seeks to both amuse, entertain, engage and perhaps even inspire some further considerable thought to its content - which just might be what the Bard had intended for his works centuries ago (not that I would presume to speak for him).
The show is led by an ensemble that gels magnificently together, taking us on a very bizarre journey of the "SHREW" story, bookended by a "prologue" and "epilogue" that drives a more serious message home.
In "TAMING OF THE SHREW," marriage is not something done out of love but more for political gain or out of economic concern. Like real estate, women are depicted as property or bargaining tools - controlled first by their fathers then by their husbands.
It has been speculated that the play was written between 1590 and 1592 and first performed in the year 1603. But, as far as some of its content, as the saying goes, "It is wrong now and it was wrong then."
Examples of the Bard's misguided text:
"Thy husband is thy lord, thy life, thy keeper, thy head, thy sovereign: one that cares for thee."
"She is my goods, my chattels; she is my house, my household stuff, my field, my barn, my horse, my ox, my ass, my anything."

Hoo-boy.
This latest staging by the Actors' Shakespeare Project seeks to stay true to the material while illuminating various topics of gender politics, multiple acts of cruelty and greed, and archaic and completely overwhelming chauvinistic oppression.
It is also damn funny in the process.
The basic plot of "TAMING OF THE SHREW" takes place in Padua, west of Venice, Italy, and concerns Lucentio (Paige Clark) who loves Bianca (Julia Hertzberg) but is not allowed to wed her until her "shrewish" older sister Katherine (Michael Broadhurst) first marries.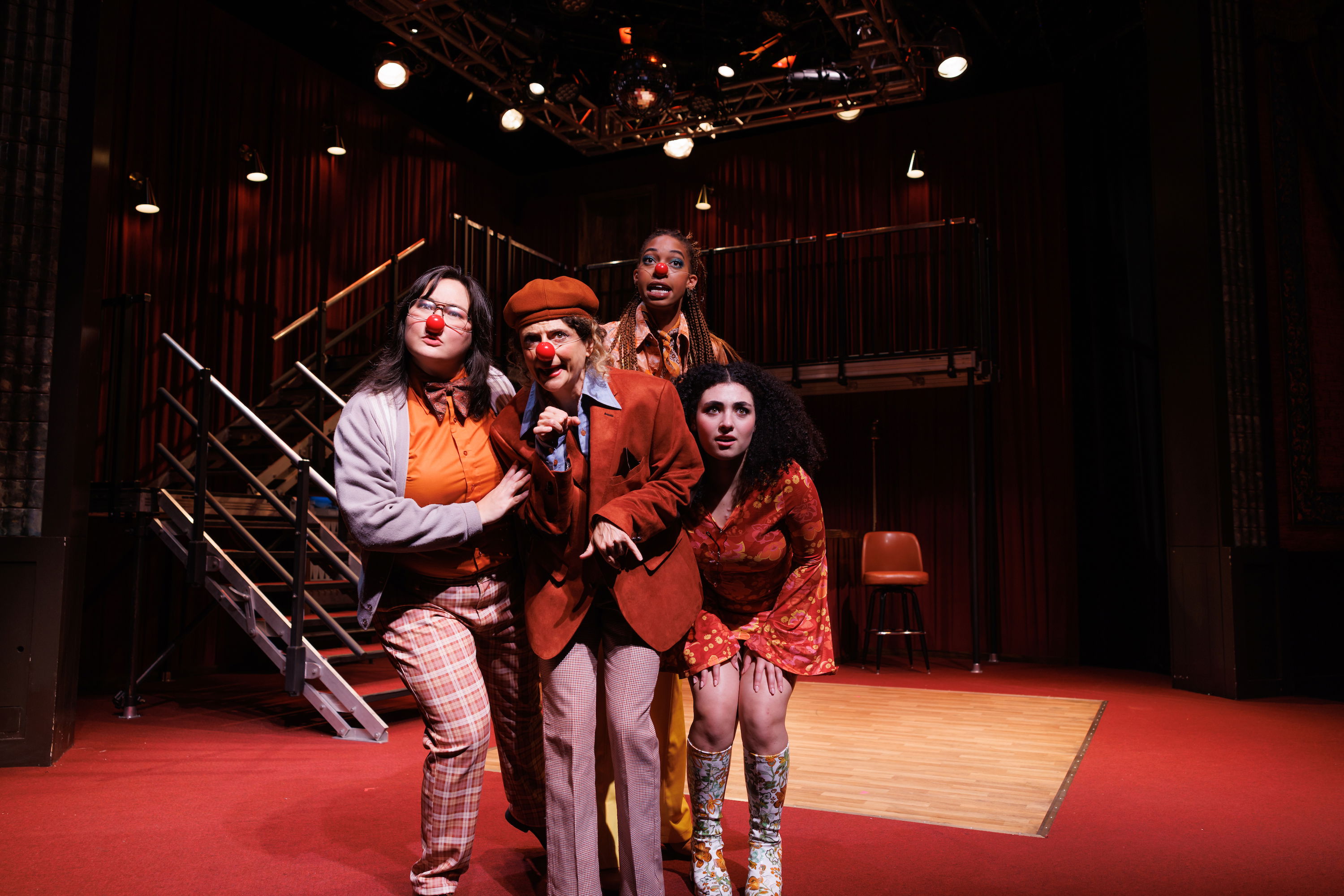 (Photo: Paige Clark, Joni Weisfeld, Hampton Richards and Julia Hertzberg in a scene from William Shakespeare's "TAMING OF THE SHREW" presented by Actor's Shakespeare Project in Boston, MA. now playing through October 1, 2023. Photo Credit Ken Yotsukura Photography)
In this adaptation's "prologue," it is the 1970s. Disco music plays as a mirror ball spins about the split level set.
There is a stairwell leading up to a second level from the first floor "bar room" (complete with barstools, a parquet dance floor and even a cigarette machine along the back wall).
Broadhurst is seen in the prologue first as slovenly, abusive, obnoxious "Christopher Sly" who passes out in a drunken stupor after a brawl and argument with a woman played by Patrice Jean-Baptiste.
The remainder of the entire cast, all women, enter and devise a plan to teach the abusive Sly a lesson.
They trick Sly into believing he is a woman, "Katherine" (with the help of some hallucinogens) and entertain him with a play in which he participates.
Okay - here is where one will need to seriously suspend disbelief...and also assume Sly never has to use the bathroom during the course of the show.
The play they perform, of course, is "TAMING OF THE SHREW" and all the women assume the male roles and Sly is cast as the "SHREW" aka "Katherine" (aka "Katarina," aka "Kate" as in "Kiss Me Kate").
Patrice Jean-Baptiste assumes the role of the abusive and predatory Verona nobleman "Petruccio" who marries the reluctant Katherine and attempts to use a number of cruel tactics to render her a more demure, passive, "obedient" wife.
Student Lucentio arrives in Padua to further his studies. Lucentio hears that the merchant, Baptista (Lisa Tucker), has two daughters.
When he sees Bianca, the pretty younger daughter, he decides he must woo her.
The chemistry between Clark as Lucentio and Hertzberg as Bianca comes across very sincere. Tucker is especially well suited for the role of Baptista.
Speaking of "suits" - costuming for this interpretation required the women to be attired in assorted men's 1970s plaid polyester leisure suits and proved, conclusively, that while these never should have been a "thing" (looking at you "Herb Tarlek" of "WKRP in Cincinnati") women wear them better.
The costuming was outstandingly bizarre as there was also the inclusion of "clown noses" - yes, clown noses - to accentuate the absurdity of the piece - or the absurdity of men, depending on your point of view.
As the female characters portraying the assorted male characters in a satirical way, the empowered performers lampoon male stereotypical characteristics and male exaggerated physicality with great aplomb. One can only speculate as to how this method was refined during the rehearsal process but it must have proved fascinating.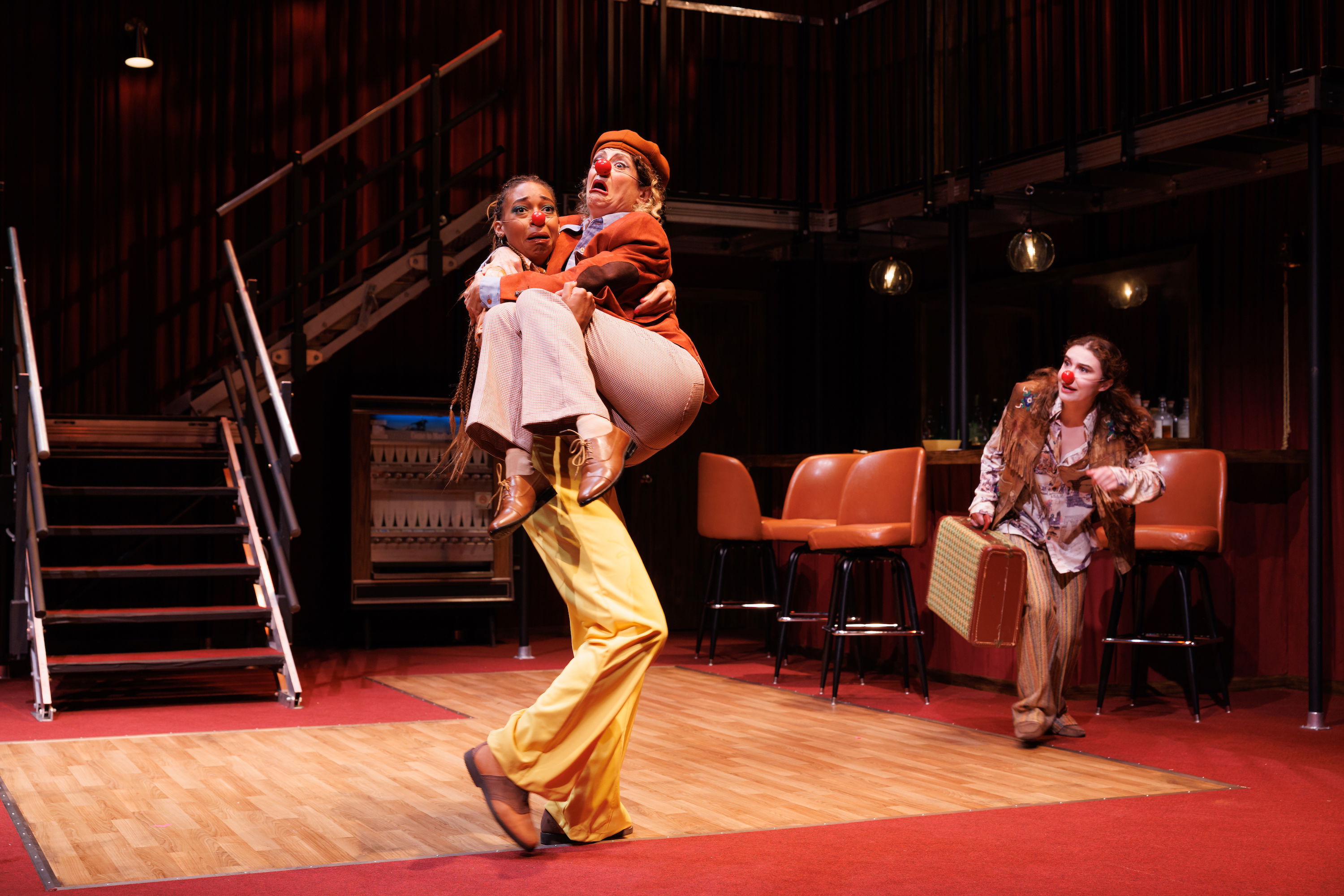 (Photo: Joni Weisfeld, Hampton Richards and Mary Mahoney in a scene from William Shakespeare's "TAMING OF THE SHREW" presented by Actor's Shakespeare Project in Boston, MA. now playing through October 1, 2023. Photo Credit Ken Yotsukura Photography)
Back to the tale of the "SHREW":
Bianca already has two suitors, Gremio (Jade Guerra) and Hortensio (Kira Gandolfo), although she cares for neither.
Both Guerra and Gandolfo are marvelous as the competing suitors and as some of the other Ensemble characters they portray.
In general, the wide arrange of distinct characters portrayed by the cast are all performed with conviction and adept comedic timing.
Baptista, says daughter Bianca may not marry until strong-willed older daughter, Katherine, first has married.
Learning that Baptista is hiring tutors for Bianca, Lucentio disguises himself as a Latin tutor in order to surreptitiously pursue Bianca..
However, the lecherous old Grumio hires the disguised Lucentio to pursue Bianca on his behalf while Hortensio also disguises himself as a musician to get closer to her.
Tranio (Joni Weisfeld), Lucentio's servant, dresses as Lucentio to convince Baptista to let Lucentio marry Bianca.
Weisfeld gives a masterful, eccentric "over-the-top" comedic performance which totally endears her to the entire audience.
Rounding out this splendid cast are Elena Toppo giving a solid performance as "Grumio," Petruccio's loyal aide; Hampton Richards as "Biondello," another one of Lucentio's hilariously faithful servants quite adept at much of the physical comedy required, and; Mary Mahoney who well distinguishes herself as a multifaceted performer by portraying a multitude of the Ensemble characters.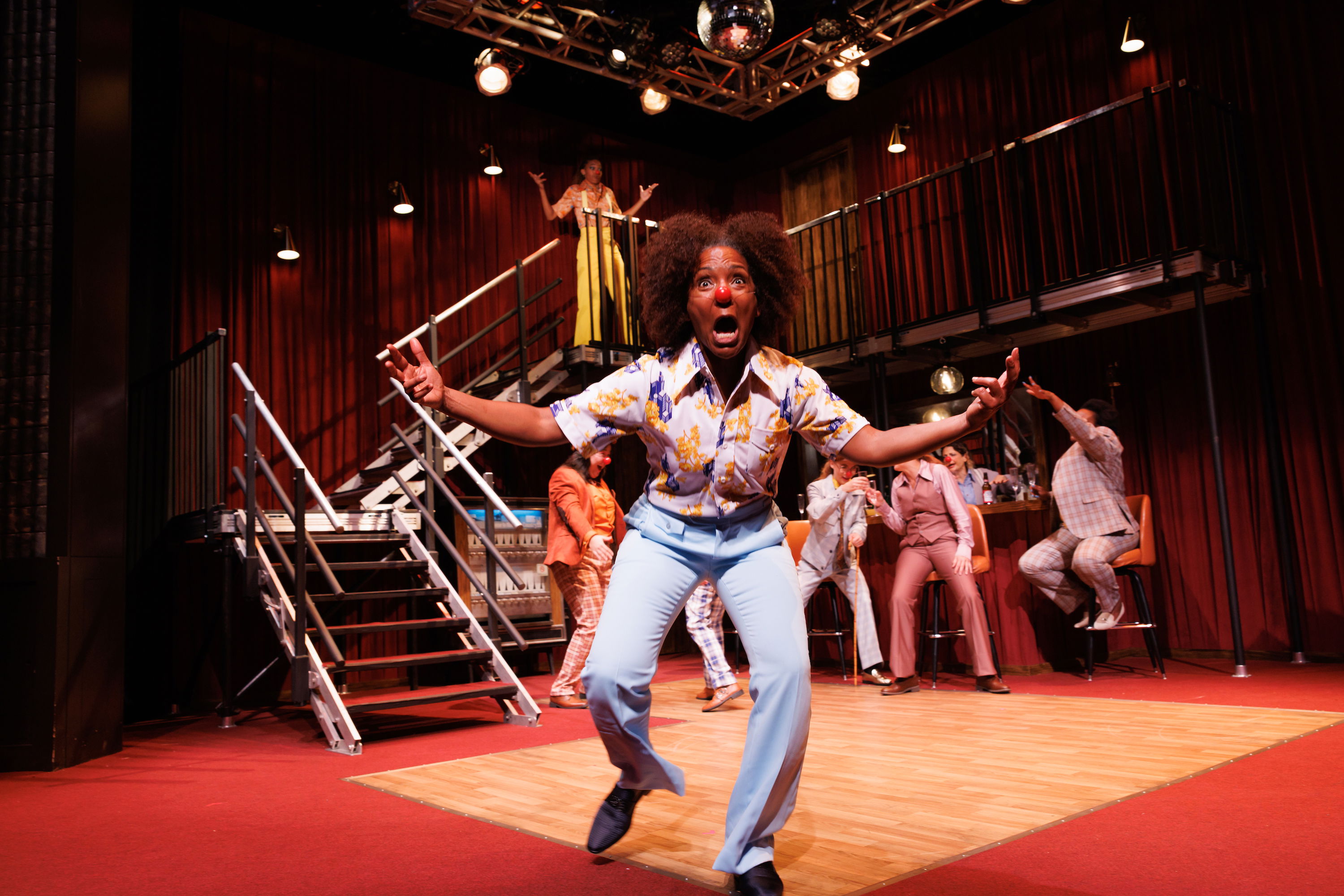 (Photo: Patrice Jean-Baptiste as "Petruchio" with the CAST of William Shakespeare's "TAMING OF THE SHREW" presented by Actor's Shakespeare Project in Boston, MA. now playing through October 1, 2023. Photo Credit Ken Yotsukura Photography)
The troupe may come across as zany and intense, but it is their collective camaraderie and the overall satire of man that prevails and, thanks to the unique approach, the execution works spectacularly.
Ultimately, what we are left to ponder from the Shakespearean text and this interpretation is: In order to combat that which we find repugnant, must we, ourselves, become something which we also find repugnant?
Shakespeare's "TAMING OF THE SHREW" continues in Boston until October 1st and, once you see the show, in between all the hilarity, you just might find yourself asking that very same question. Don't miss this show.
Approximately two hours, 45 minutes with one intermission.
Kevin T. Baldwin is a member of the American Theatre Critics Association (ATCA)
@MetrmagReviews
@Theatre_Critics

ABOUT THE SHOW
ASP's first production of the season, "TAMING OF THE SHREW," will be playing at the Modern Theatre at Suffolk University.
Directed by Christopher V. Edwards, this production will take an intersectional and feminist look at one of Shakespeare's most problematic scripts, while still retaining the witty banter, the comedic hijinks, and Shakespearean hilarity.
After a long night of drinking, disruption, and harassing barmaids, Christopher Sly finds himself trapped in the worst of predicaments: a stage play.
Thrown into the role of "The Shrew," he tumbles headfirst into a world of witty wordplay, leering suitors, and the full force of the oppressive patriarchy.
As the rest of the all-female/non-binary ensemble constructs the zany world of Padua around him, will Sly learn the error of his ways?
Artistic Director Christopher Edwards and this talented cast will turn "TAMING OF THE SHREW" inside out, flip it upside down, and stretch it to its limits in the way that only ASP can - to find what truly sits at the heart of this contentious comedy.
Approximately Two hours, 45 minutes with one intermission.

ABOUT THE ACTORS' SHAKESPEARE PROJECT
ACTORS' SHAKESPEARE PROJECT, founded in 2004, is an award­-winning professional theater company with a Resident Acting Company and extensive education, youth, and community programs. ASP performs and works in found spaces, schools, theaters and neighborhoods to present and explore the robust language, resonant stories, and deeply human characters in Shakespeare's plays and in works by other great playwrights. Our work is ensemble-­based and focused on intimacy, storytelling, language, relationships, voice, risk and artistry within and throughout the Boston area.
MISSON
ACTORS' SHAKESPEARE PROJECT believes Shakespeare's words are urgently relevant to our times. Working as an ensemble of resident company members, we bring these words into the voices, bodies, and imaginations of our actors, audiences, and neighborhoods. We do this through creative projects, including intimate productions and outreach programs that are informed by the spaces in which they happen. These projects inspire civic dialogue, build relationships between people, strengthen communities, and reveal something about what it means to be human here and now.
ACTORS' SHAKESPEARE PROJECT
442 Bunker Hill Street
Charlestown, MA 02129
Phone # 617-241-2200