Rural despondency on the menu with Stageloft's "Spitfire Grill"
By Kevin T. Baldwin
METRMAG Reviewer
# 774-242-6724
FISKDALE: Stageloft Repertory Theater presents "Spitfire Grill the Musical" by James Valcq and Fred Alley. 450 Main St # A, Fiskdale, MA 01518. Performances Oct. 12, 18 & 19 at 8:00pm, Oct. 13 & 20 at 2:00pm. Ticket prices $20 per adult. $18.00 seniors (60+) students and military, $10 per child (under 12). For tickets and reservations contact the box office at 508-347-9005 or email stageloftrep@gmail.com.
Music & Book by James Valcq, Lyrics & Book by Fred Alley. Based on the film by Lee David Zlotoff. Directed by Andrew Bigelow. Assistant Directed by Colleen Bigelow. Music Director James Joinville.
Cast includes: Morgan Ryan Doherty. Amy Matson, Cheryl Huelskamp Duggan, Justin Matson, Robert C Latino, Sarah Sirard, Zachary Taylor.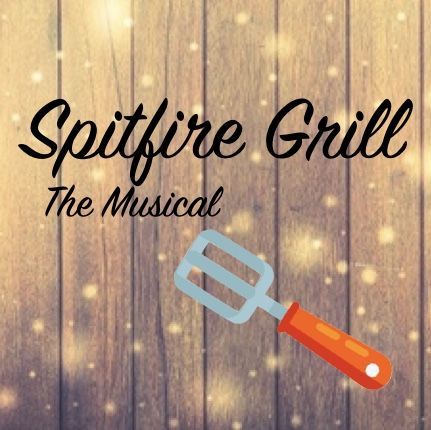 During Stageloft Repertory Theater's latest production, "Spitfire Grill the Musical," audiences will be thoroughly engaged by its characters individual and collective small town life stories eclipsed by an overwhelming economic despair.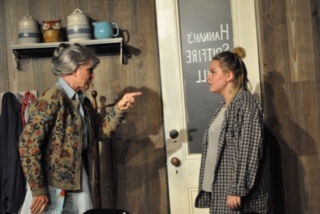 Cheryl Duggan with Morgan Doherty.
Photos courtesy of Tatumn Corracio Photography

A woman stands alone, at the beginning of the show, isolated on stage. She is at a veritable cross road - Acknowledging her present, trying to come to terms with her past, and contemplating her future. She sings:
"A place to start again. A town called Gilead. Close my eyes and count to 10."
Percy (Morgan Ryan Doherty) is a young woman who made a terrible mistake and went to prison. After serving her time, she is released and seeks a fresh start working at the Grill in Gilead, Wisconsin.
Yet, Percy cannot evade the emotional baggage and stench of ridicule that sometimes comes with being looked at as an ex-convict. She meets local sheriff Joe Sutter (Justin Matson) who helps her find work at the 'Spitfire Grill," run by owner Hannah (Cheryl Huelskamp Duggan).
Under the direction of Andrew and Colleen Bigelow, the musical is based on the 1996 film by Lee David Zlotoff. And, while Percy's own story acts as a catalyst for the supporting characters, they, in turn, have a profound impact on Percy.
Soon after Percy starts work, it is quickly evident she has very few of the required skills associated with working in a diner…such as "cooking"…So, when she tries to run the diner on her own after Hannah is laid up from an injury, Percy is assisted by Shelby (Amy Matson), the wife of Hannah's nephew.
The genuine chemistry between Percy and Shelby is almost immediate, as are their mutual scenes with Hannah. All the actresses' performances blend marvelously and the story unfolds similarly as a result.
"The Colors of Paradise," sung in Act One by Doherty and Amy Matson, is a true highlight, as are two emotional solos performed by Duggan, "Forgotten Lullaby" and "Way Back Home" the latter of which had many in the audience nearly in tears.
The musical is steeped in compassionate character performances, receiving praise and multiple Drama Desk award nominations. However, it was not nominated in any major categories at that year's Tony Awards.
The surprising relative obscurity of the musical can be, in part, attributed to the ill-fated timing of the show opening a week before 9-11 in 2001. It is truly unfortunate that more have not experienced "Spitfire Grill the Musical" as both the story and score are thoroughly appealing.
Granted, it is a plot that you probably have read or seen before. The characters are blatant stereotypes and the story seems quite familiar, like a(nother) "Lifetime" movie about a struggling small town diner, run by a woman with a crusty disposition and a heart of gold (Hanna), who takes a chance on a stressed out waitress with a checkered past (Percy).
Subsequently, both must deal with belligerent, blue collar, gossiping townspeople (ably embodied by the performance of Sarah Sirard who plays Effy, the local postal inspector for Gilead) who cannot seem to mind their own business (exemplified in the opening company number "Something's Cooking at the Spitfire Grill").
But it is the marriage of the construct of the story and the performances by the Stageloft cast that augments the otherwise trite plot.
There is simplicity juxtaposed with great depth existing in the score composed by the show's writers James Valcq and Fred Alley, which seems to have been influenced, all or in part, from the 1996 film's gorgeous original soundtrack score composed by James Horner.
Both Justin Matson as Joe and Robert C. Latino as Hannah's nephew, Caleb, are fine as two of the three supporting male cast members. They are also accomplished singers, evidenced in their solos: Latino with "Diggin' Stone" and Matson with "Forest for the Trees." Zachary Taylor in a mute role, does a fine job conveying emotion solely through his body movements as "The Visitor.
The musical redundancy of the Act One closer, "Shoot the Moon," got tiresome after 10 seconds. A true clunker in an otherwise superior score.
The single multi-functional set design by Colleen Bigelow was impressive.
There were some lighting issues that took place but not necessarily from mis-cues by the crew. It more was because the positioning of some of the overhead stage lights caused some significant dark spots on stage.
There was also a tendency to have characters overplay the "drinking" on stage which seemed to distract from some of the main action taking place at the time. And there was a minor head scratching moment where one of the characters was talking into a "touchtone phone" which was neither.
These are moderately minor complaints for an otherwise stirring show that is well worth seeing and well worth other theatre companies to consider staging in the future in effort to rescue "Spitfire" from its relative obscurity.
Show runs approximately two hours with one intermission.
Kevin T. Baldwin is a member of the American Theatre Critics Association (ATCA)
@MetrmagReviews
@Theatre_Critics